On Tuesday night (Feb.12) in New York City, neither snow nor slush, sleet nor rain stopped the parka-clad and cool-sneakered fans of young designer Christopher John Rogers from attending his second ever presentation at New York Fashion Week.
In a concrete-floored Canal Street gallery, towering models wore Starburst shades of lemon, lime, grape, and cherry in metallics, ruffles, stripes, and checkerboard patterns. They danced and posed for smartphone-wielding admirers, on a stage delineated by neon strips on the floor.
"Isn't it awesome?" asked Richie Shazam Khan, swirling in spike heels and a voluminous peplum skirt.
It was awesome. And a clear triumph for Rogers, a recent graduate of the Savannah College of Art and Design who still has a day job designing for Diane von Furstenberg, and sews his own samples in his Bushwick apartment. The clothes showed originality and expertise, and the models and attendees were markedly diverse—many of them people of color and queer, like Rogers himself.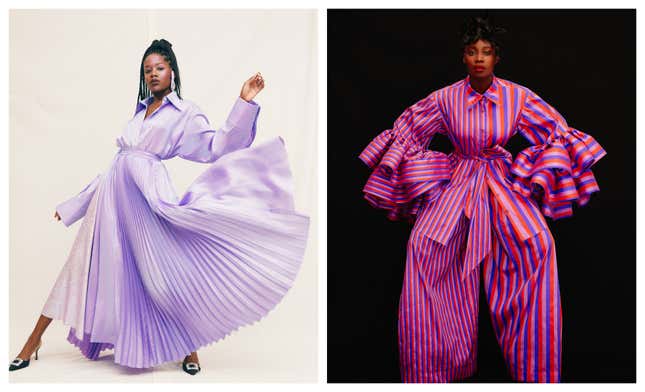 It seemed to take place on another planet from where Gucci was addressing a PR crisis in the wake of producing a black-and-red balaclava that resembled blackface; this in the same season that Prada pulled its Sambo-ish key rings from stores and Katy Perry did the same with black sandals and loafers decorated with graphic eyes, noses, and glossy red lips.
As multibillion-dollar fashion brands with global reach fumble to shed the perception that they are largely run by—and designing for—Western white people, luxury consumers are looking for alternatives to those Euro-centric legacy labels. At New York Fashion Week, it was clear that there are plenty of talented young designers to choose from.
Of course the excellence of black American designers should not be news, but for decades the power players in fashion have notoriously favored the white, thin, and cisgendered. In New York this week, Rogers and other black designers offered a glimpse of how beautiful a more inclusive future could be.
The morning after Rogers' show, Jason Rembert, a stylist to celebrities including Issa Rae, Zayn Malik, and Rita Ora, debuted his new collection, Aliétte.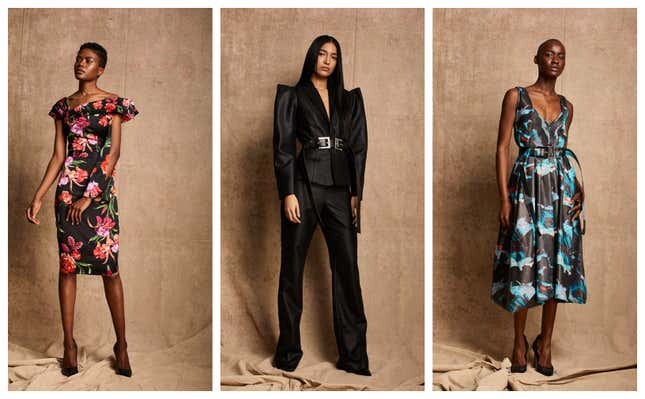 "I'm on cloud nine," said Rembert, adding that he intends to keep styling. But it's easy to imagine that he'll now be dressing clients in his own starlet-ready gowns, beaded bustiers, and floral dresses, in addition to those by more established designers. Insecure creator and star Issa Rae wore an Aliétte dress to the Critics' Choice Awards in January.
Both Rembert and his star client have used the red carpet to amplify other talented black artists. ("I'm rooting for everybody black," Rae has famously said on the carpet—a "rallying cry," noted Lindsay Peoples Wagner, who is today the editor-in-chief of Teen Vogue, and is herself black.) One of those artists, designer Carly Cushnie, appeared at the Aliétte show, her pregnant belly wrapped in a kelly-green jacket.
"He's been a huge supporter of my brand, and I'm really happy to be here to support him," said Cushnie, who had shown her own collection of sumptuous gowns and separates the previous week.
That halo of community support is likely to spread far and bright. When Rae became the first person of color to host the annual Council of Fashion Designers of America (CFDA) Awards in 2018, Rembert ensured that all of her outfits (there were at least five) were the creations of black designers.
The opening look—a single-shouldered jumpsuit with a sheer, crystal-dazzled overlay, was custom-made by Kerby Jean-Raymond, of Pyer Moss. ("Diana Ross in Mahogany"  was the direction he said that Rembert provided.) Though he skipped a show this season, Jean-Raymond was far from invisible at Fashion Week, having been the subject of New York Times profile lauding his "ability to marry elegance of line with an unapologetic demand for social justice."
Pyer Moss was also included in a timely viral article on the website Shoppe Black, alongside the aforementioned Cushnie: a simple list of black-owned luxury brands "to support instead of Gucci or Prada," in the wake of those brands' racial missteps. Since its Feb. 9 publication, the list has been shared more than 36,000 times on Facebook.
Shoppe Black cofounder Tony Oluwatoyin Lawson, who launched the site with his wife Shantrelle Lewis in 2015 to highlight black businesses, told me it was their most popular post to date. "I wrote it so that Black-owned luxury brands can get some of the attention that Gucci was getting," said Lawson.
After Gucci's balaclava incident, the Harlem tailor and Gucci collaborator Dapper Dan announced via Instagram that he had summoned the company's CEO to Harlem to further discuss the matter. And both Gucci and Prada have announced steps this week to build a more culturally inclusive corporate culture: Prada brought on the artist and activist Theaster Gates and the film director Ava DuVernay to chair an advisory council that will address the company's hiring and internal practices, and sponsor scholarships and training programs. Gucci creative director Alessandro Michele issued an apology that took full responsibility for the balaclava, and also provided some insight into how on earth it came to be, citing the 1980s performance artist Leigh Bowery as its inspiration.
Still, some young designers are heeding the advice of Dapper Dan—who outfitted hip hop royalty in the 1980s, "cutting and splicing logo-splattered luxury goods from labels such as Gucci and Louis Vuitton," as Marc Bain wrote. "Instead of going up someone else's staircase," Dapper Dan told New York Magazine last year, "we should focus on building our own."
International conglomerates should know by now that they must build better, more inclusive businesses, and collections that both reflect and respect their global consumers. At New York Fashion Week, it was increasingly clear that if they don't, someone else will.