In fashion, it's said that three is a trend—let's hope that's where this one stops.
After Sambo-ish key rings and turtlenecks at Prada and Gucci, respectively, Katy Perry's fashion label has become the latest to pull products evoking blackface from stores amidst accusations of racism.
Two styles from the singer's footwear collection, which is sold online and in US stores including Dillard's and Walmart, have been removed from websites and, according to TMZ, are being pulled from shelves. Quartz has contacted the company for comment and will update this post if we receive a response.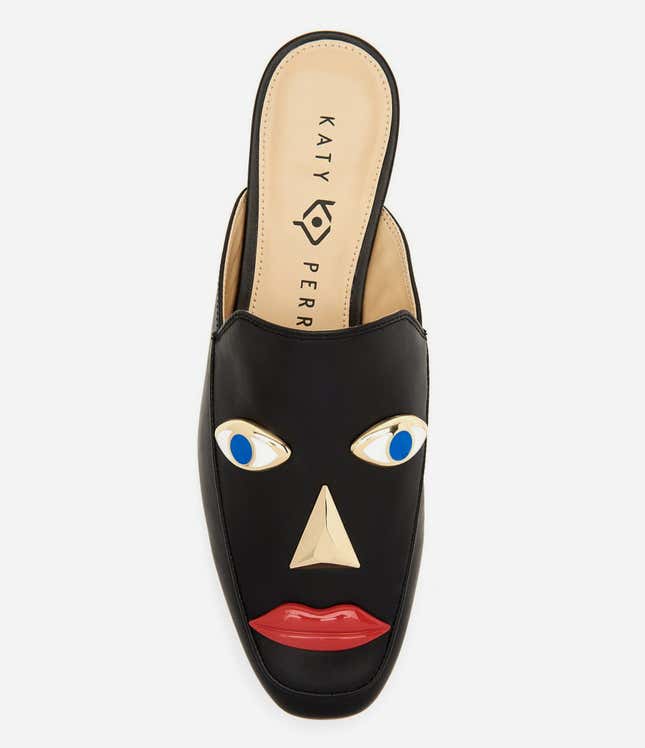 The shoes in question—a flat mule and a block-heeled sandal—have graphic blue eyes, a gold triangle nose, and glossy red lips. While it's entirely plausible that the shoes were not intended to offend or evoke racist imagery—they might very well have been inspired by Charlotte Olympia's popular "kitty flats" or Picasso's Cubist portraits—the misstep highlights an ignorance of cultural context and perhaps a lack of diversity among decision-makers. Styles for a collection as extensive as Perry's are often reviewed by several designers, merchants, and buyers before they reach shelves. It seems someone along the way should have had the sensitivity, knowledge, and power to raise their hand and say, "about that red-lipped face on the black shoe…"
As Quartz's Marc Bain recently wrote, "Brands are often rooted in one particular country and culture, which may be reflected in their hiring, but they're also asking a global, diverse audience to buy their products. Those consumers are more empowered than ever, and brands are learning fast that they need to keep all of them in mind—from the way they design products right through the way they market them. If they don't, the mistakes can be costly."
In the age of trial-by-social-media—or what Miuccia Prada called "famous web hate"—different companies have responded to such embarrassments with varying degrees of success. In January, Prada seemed to throw up her hands about accusations of cultural appropriation in an interview with WWD (paywall).
"People want respect because now there is talk of cultural appropriation, but this is the foundation of fashion, as it has always been the basis of art, of everything," she said. "How can we know all cultures? The Chinese protest, then the Sikh, then Mexicans, then Afro-Americans. But how can you know the details of each single culture so well when there can be 100 different cultures in every country?"
For its part, Gucci is showing more interest in connecting with other cultures: Just yesterday, Gucci collaborator Dapper Dan announced on Instagram that the company's CEO would be coming to meet with him in Harlem.
"There cannot be inclusivity without accountability," he wrote. "I will hold everyone accountable."