Every so often, a brand really makes a mess for itself with an ill-considered marketing campaign or culturally boneheaded misstep. Recent entries in this hall of shame include Dove, which admitted it had "missed the mark" last year with an ad showing a black woman turning white after using its body wash. H&M joined the club in January, when it was forced to apologize for a product image featuring a black child wearing a hoodie that said "coolest monkey in the jungle."
But the situation Dolce & Gabbana currently faces in China could be even more damaging. The company is embroiled in a serious racism row following a marketing campaign that many Chinese people saw as trafficking in outdated stereotypes. The problem was only compounded by derogatory comments Stefano Gabbana appeared to make about China during an argument on Instagram. (Gabbana claimed his account was hacked and he didn't make the comments.)
China is not a market Dolce & Gabbana can afford to alienate. As they are for many top European fashion labels, Chinese shoppers across the globe are likely a significant source of income for the brand, and almost certainly one of the main drivers fueling its growth. The label doesn't disclose revenue by region, but Asia-Pacific reportedly makes up about 30% of its sales, which totaled €1.3 billion (about $1.5 billion) in the year ended March 2017. That figure wouldn't even include all the purchases by Chinese nationals, who are the world's biggest luxury buyers and likely a major source of sales and growth for Dolce & Gabbana.
While boycotts and backlash are often the response to brand blunders, the fallout can be be short-lived and have a limited impact on overall business. That's in part because brands take steps to respond. H&M, for instance, reacted quickly to the hoodie gaffe earlier this year, which led South African protesters to trash H&M stores, by appointing its first-ever diversity officer. The company's sales in South Africa were also €86.3 million last year (about $98 million)—just 0.4% of the brand's total sales.
By contrast, hundreds of millions of euros in annual sales could be at risk for Dolce & Gabbana. The company has already publicly apologized to the Chinese people, but faces skepticism about the sincerity of its remorse, and its claim that Gabbana's Instagram account was hacked.
The apology, says Luca Solca, head of luxury-goods research at investment firm Exane BNP Paribas, could be enough to assuage people on the culturally insensitive marketing, but the comments on China are another matter. "They would benefit greatly from substantiating their hacking claims," he says. (The brand said on Instagram that it's investigating.)
Nor can Dolce & Gabbana easily take the safest approach to dialing down controversy: eliminating its cause.
"Dior was facing an equally awkward situation at the time of John Galliano's antisemitic rant," Solca notes, referring to the former Dior creative director's public, drunken rant in 2011. "But they could come through that unscathed, as they took swift action to remove the cause of the problem." (Galliano was summarily fired.)
At D&G, Stefano Gabbana's name and vision are part of the brand's identity. "Once we will be dead, we will be dead," he told Reuters in April when asked who might inherit the group's fortune. He added: "I don't want a Japanese designer to design for Dolce & Gabbana."
Still, when speaking to WWD about the fallout (paywall), a number of sources wondered whether Gabbana could be dismissed. Even if it were possible that he might leave, who knows if the brand he helped create would ever be the same.
"There are many theories, including perhaps a division of the brand, but the results of this are unexpected and uncertain as well as difficult to put in action due to slow and complex industrial processes," Armando Mammina, a marketing and strategic consultant based in Milan, told WWD.
Already, a number of major retailers in China have dropped the label, including Tmall, JD.com, and Secoo, which are vital to foreign brands looking to make inroads in the country. Online luxury seller Yoox Net-a-Porter removed the brand from its Chinese-language sites, while Hong Kong-based retailer Lane Crawford pulled Dolce & Gabbana from its stores and website. Chinese celebrities and KOLs, or key opinion leaders, who offer a valuable route to reaching Chinese customers, have also distanced themselves from the brand. Many were slated to attend or even take part in the giant Shanghai runway show that the offending ads were originally intended to promote.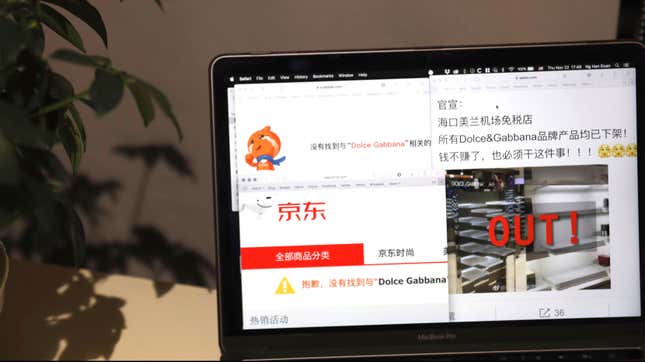 The damage isn't restricted to China, either. Luisa Via Roma, a retailer based in Florence, has ditched the brand. It would likely take a major gesture from Dolce & Gabbana to win back these accounts, and some shoppers may be disinclined to buy Dolce & Gabbana regardless if they feel the brand doesn't align with their values
Perhaps the best Dolce & Gabbana can hope for is that shoppers' Instagram-era attention spans come with equally short memories.