Virgin Atlantic's announcement this week that it would no longer require its female cabin crew to wear skirts or makeup while working marked a step forward in making appearance standards more equal between male and female staff.
Many Asian and Middle Eastern airlines, however, continue to build their brand image around the sexualized ideal of young and attractive female attendants. Some airlines, including the Dubai-based Emirates, are known to require heavy makeup. Others, such as South Korea's Jeju air, only started allowing its cabin crew to wear glasses and nail art last year.
VietJet's bikini-clad women
The low-cost Vietnamese airline VietJet caused a furor last year when it sent bikini-clad women on a flight to greet the country's under-23 football team. The airline evidently didn't learn its lesson from 2012, when it was fined by Vietnamese aviation authorities for staging a mid-flight dance by scantily-dressed women.
Nok Air's sexy calendar
The Thailand-based low-cost Nok Air in 2013 rolled out a calendar featuring models from Maxim Magazine. "When it debuted on Facebook, we had over 200,000 likes. I'm happy," then-CEO Patee Sarasin told CNN.
The "Singapore Girl"
But it's not just about bikinis. Singapore Airlines prides itself on its iconic "Singapore Girl." Created in the 1970s and relatively conservatively-clad in her signature sarong kebaya, she's the heart of the carrier's brand—in fact, to many, Singapore Girl is Singapore Airlines. As a corporate emblem, Singapore Girl has been wildly successful for the airline, a representation of Asian hospitality in all its charm, graciousness, warmth, and efficiency. But critics see her as a sexist marketing tool, reinforcing stereotypes of subservient Asian women.
With such a meticulously constructed visual embodiment of its brand as the Singapore Girl, the airline unsurprisingly has detailed grooming and make-up guidelines for its cabin crew, including "recommendations on a make-up color palette for each rank to best complement their uniform," according to a company spokesperson. The airline has no intentions of following Virgin Atlantic's lead in making skirts and makeup optional, the spokesperson said.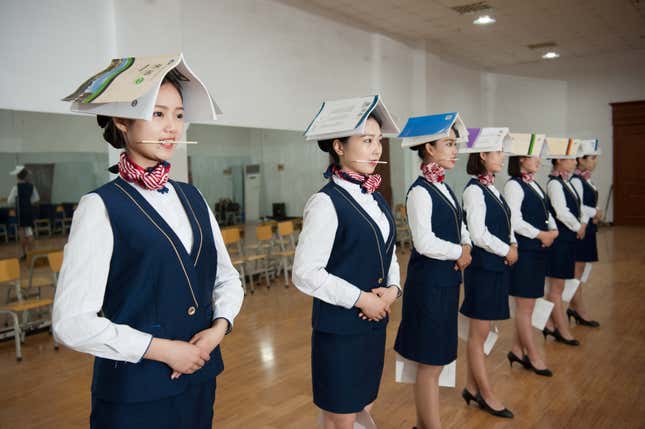 Cathay's makeup rules
Cathay Pacific, the Hong Kong-based international airline, has similarly elaborate requirements. While it finally ended its skirts-only rule last year after a hard-fought battle by its female staff, the airline still requires women to wear eyeshadow, lipstick, foundation, and blush at all times in specifically approved shades and to check it at regular intervals, according to an official guidebook. Male staff, on the other hand, are banned from wearing makeup and are simply required to "maintain a clear complexion at all times."
In the #MeToo era, the objectification of female attendants and an emphasis on the aviation industry's sex appeal continues to be a problem, the Cathay Pacific Flight Attendants Union leader Dora Lai told AFP. And while ending the airline's 70-year-old no-skirt rule is a step toward gender equality, there needs to be a greater public and staff awareness to fully address the issue of sexual harassment in the industry.