As I prepared to bend the knee and pledge loyalty to the army of the living, a priestess stopped me and whispered something in my ear, in what I believe was the fictional language of Valyrian. I'm not quite sure what she said, but the tone of her voice suggested it was something along the lines of: "Nah, we're good. We don't need you."
You'd think they'd want as many fighters as possible to defend against an imminent White Walker invasion, but, alas, I didn't make the cut. Quartz media reporter Ashley Rodriguez did, however, so I suppose she'll soon be off to the front lines to help save Westeros. It's probably for the best, as I'm not sure how I can cover the final season of Game of Thrones if I'm on the front line alongside Jon Snow, Daenerys Targaryen, and her dragons, trying to ward off an icy apocalypse.
For the second year in a row, HBO partnered with the experiential marketing agency Giant Spoon to erect a massive promotional experience at SXSW in Austin, Texas. Last year's installation was for Westworld, while this year's took attendees on a journey to Westeros to prepare for the final season of the biggest show in the world, Game of Thrones.
Dubbed "Bleed for the Throne," attendees were given the option of donating blood before entering the experience. According to HBO, it was "the largest blood donation promotional effort by an entertainment company in American Red Cross history." (Full disclosure: Ashley and I did not donate blood—we had both recently landed in Austin and had barely eaten anything all day. SXSW tends to do that to you.)
Once inside the experience (Austin's Fair Market event space converted into the kingdoms of the HBO show), festival-goers were given a headset to follow a mysterious audio tour through the installation. That's when the hints about the final season presented themselves.
The four: Jon, Cersei, Tyrion, Arya
Each of the four rooms of the activation was focused on one character. Jon Snow's room reminded us of the sacrifice he already made—dying and coming back to life for reasons still unclear.
Cersei's room also referenced a low point in her life, mimicking her infamous "walk of atonement" as a holographic projection of a Septa of the Faith of the Seven screamed "Shame!"
Tyrion's room featured a life-sized model of Gregor Clegane standing atop some rubble. And Arya's room was a nearly pitch black space meant to recall her fight with the Waif in the dark.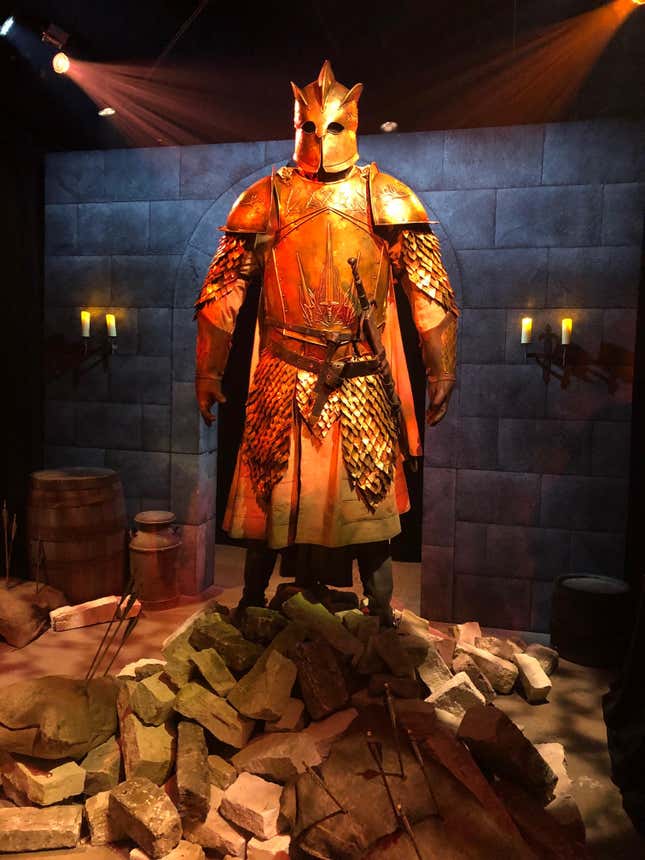 Why these four characters were chosen for the experience is a mystery, but Ashley and I are guessing that they're all going to die in the final season. Their faces were printed in blood-red ink on banners outside the building. An air of melancholy washed over the whole audio tour. Whatever they're trying to say about these characters, it doesn't seem good.
And then things got even more interesting.
The loyalty ceremony
We were brought into the Iron Throne room where we watched a full choir sing original music from the show. (HBO said they sung 27 minutes of music in total, over 62 pages of score.) Then the priestess arrived, made a spiel about fighting for the living against the dead, and called us by name to rise in our seats and then line up one-by-one to pledge fealty to the cause.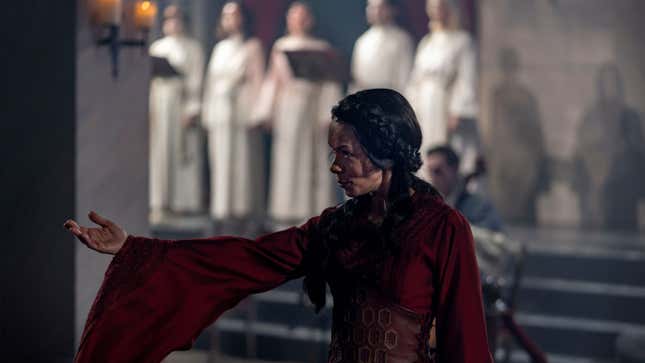 This part appeared to suggest, as the show itself has, that the last season will feature an uneasy alliance of characters that we've known to traditionally be enemies. In order to defeat the zombie-like White Walkers, it seems humans will have to put aside their differences—at least until their mutual undead enemy is dealt with.
All attendees were then given a Hand of the Throne pin—even those, like me, who weren't allowed to kneel. Finally, we were off to our favorite part of the experience.
The Game of Thrones "renaissance fair"
Outside the building is what can most accurately be described as a Westeros-inspired renaissance fair. Actors in full Game of Thrones regalia milled about, interacting with attendees (which often meant making fun of our modern clothes). There were horses, a mandolin player, fire pits, swordsmen training, and, of course, the whole thing was catered by Shake Shack.
HBO said that more than 80 actors were needed for the experience, many of whom hang out in character in this courtyard area. We saw Dothraki, Wildlings, and Unsullied all interacting together—again, suggesting a very uneasy alliance of folks who normally don't see eye-to-eye.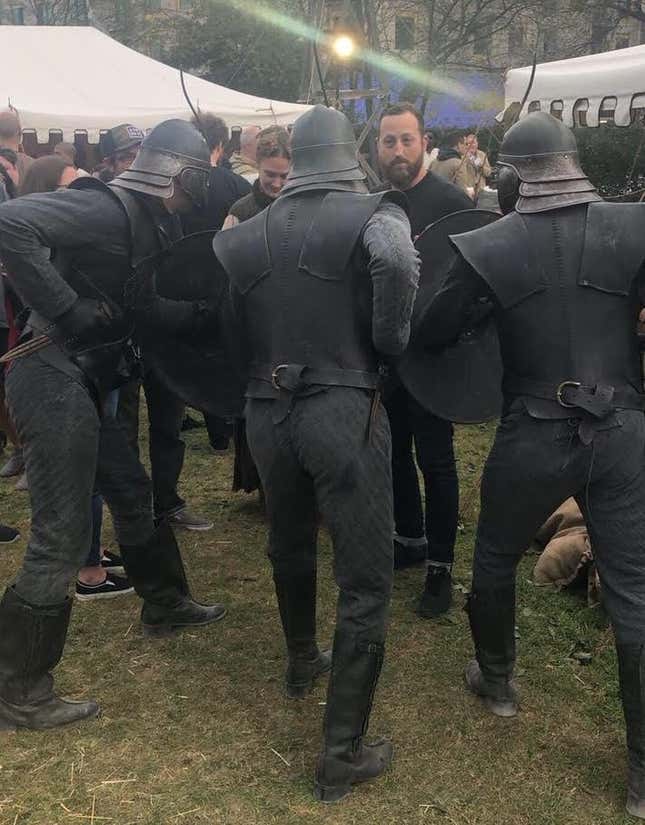 The various groups would constantly yell at each other and act as if they were about to throw punches, but this being a SXSW activation and not the real Westeros, it only ever got as far as some trash talk. The actors were given over 100 pages of scripts and character backstories, HBO added.
This guy, for instance, was not thrilled with me taking his photo:
Overall, the Game of Thrones experience wasn't quite as sprawling as last year's two-acre Westworld recreation, but it was certainly enough to prepare fans for the highly anticipated final season of the series. I walked away from the activation a tad disappointed I wasn't drafted into the army of the living, but more terrified for Tyrion and Arya's lives.
For me, this was just a game—for them, this is the game of thrones.