People who went to a party in the basement of Brooklyn Bazaar on April 20, 2018 would remember a damn good time. Skype Williams mixed techno into a smooth R&B tune; DJ Jody showcased the work of new female rappers—the DJs were overwhelmingly people of color, and mostly women. The crowd, just as diverse as the performers, vibed with the DJs' high energy, recalls Monifa Foluke, one of the event organizers.  Friends danced along to an entire spectrum of musical genres, and people just came as they were without worrying about what they looked like.
The vibe of inclusiveness at this party is not common. White male DJs dominate club circuits and festival lineups, perpetuating a culture within electronic music that is neither inclusive nor diverse. A growing number of collectives and spaces—including SISTASPIN, which was responsible for the 4/20 party at Brooklyn Bazaar—are helping female DJs of color succeed, which in turn makes more diverse audiences feel comfortable at live music events.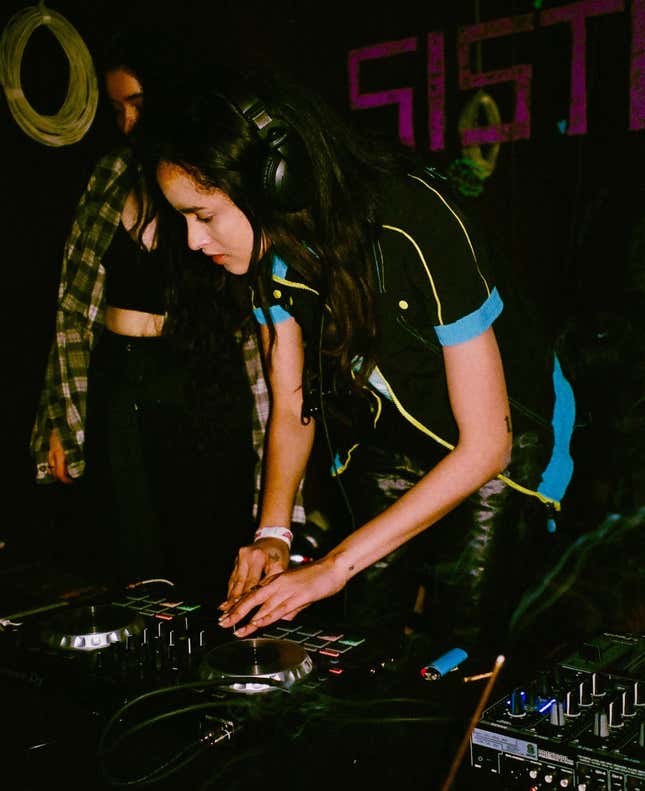 At its most fundamental level, a division this stark means there's a barrier for anyone other than white men to succeed in a given industry. But it's particularly important in music, where the rhythms and words gain a following and can influence a generation. Today, women rarely feature in industry rankings: DJ Mag's Top 100 2018, an annual list of the world's best DJs contains only seven women, and none of them are in the top 20; Forbes' lists of the world's highest-paid DJs has only ever featured men. A study by creative agency HoneyBook, which analyzed over 200,000 invoices and surveyed more than 3,000 people, found that on average, female DJs were paid only 46% of what their male counterparts earned, the least amongst the creative professions HoneyBook highlighted. Considering that in the US, women make 80% of what men do on average, deejaying is one of the least equitable professions.
This makes a difference to audiences, not just DJs. Lineups at music events can affect the atmosphere. A report by Nielsen found that 52% of the US population attended a live music event in 2018, including concerts, festivals, and club nights, and about half that number was female while at least 30% was non-white. Nielsen Music's head of brand partnerships, Matthew Yazge, told Billboard that the number of people attending concerts and festivals is growing—up 2% and 5% respectively from 2017. The number of Hispanic attendees at live music events increased by 7%.
For some music fans, these spaces can be unsafe. "If you're going to parties as a woman, or queer, or someone who looks like a cis-woman, it's not the safest place all the time," Foluke, one of the founders of SISTASPIN, told Quartz, which made it difficult for them to  "just relax and enjoy ourselves." These events can range from themed nights at a club, to parties and festivals. A platform for women of color and nonbinary artists helps change what it can feel like for people to move through those spaces, to be accepted and appreciated as they are. "A lot of the girls that we let DJ at our parties say thank you for giving us the opportunity where people can hear them aside from the internet," Foluke said.
SISTASPIN is a New York-based collective of black and brown women, femmes, and LGBTQ DJs and producers. They put on events and help connect artists with gigs. The founders, Foluke and Jordyn Simmons, decided to form the collective in January 2018 after observing how many music events were dominated by straight white males and many talented female artists lacked opportunities to perform.
What SISTASPIN offers is a winning move all around. For club owners, hiring more diverse DJs is good for business, since a range of performers and sounds is more likely attract a diverse audience. For Thanushka Yakupitiyage, a Sri Lankan-born, Brooklyn-based artist, DJ, and activist who performs under the name Ushka, organizing a successful live music event, like a party at a club, involves "creating an intentional environment, and DJs are a big part of that." iBomba, an immigrant-centered club night for people of color and the queer community, which Yakupitiyage co-runs, is doing exactly that. "The music we play is from all over the world, especially the global south… We genre-blend, so in one set you'll hear vogue, and dancehall, and soca, and that was always really intentional," Yakupitiyage said. "It's an ode to migrants."
SISTASPIN and iBomba aren't the only organizations worldwide helping LGBTQ people and people of color feel empowered and safe, Yakupitiyage points out. But New York seems to be home to some of the most prominent. There's the Brooklyn-based dance party Papi Juice, which celebrates queer and trans people of color, and GUSH, a dance party for queer people of color with a lesbian focus. Collectives like Discwoman, a New York-based roster of female-identifying DJs that also functions as a talent agency, also revolve around helping women and women of color DJs book jobs.
But for these communities to really succeed, they also need support from the wider entertainment and music industry. That includes club owners, booking agents, and fellow artists—including those who are not minorities or women. "The biggest challenge has been [gaining] access to venues and finding people who believe in us," Foluke said. "It's finding people who take us seriously, and believe in the mission aside from black and brown people. We need to get to a point where it's completely normal to have [a diverse] line-up." Women make up an average of 19% of musical acts on festivals in the US, according to MixMag.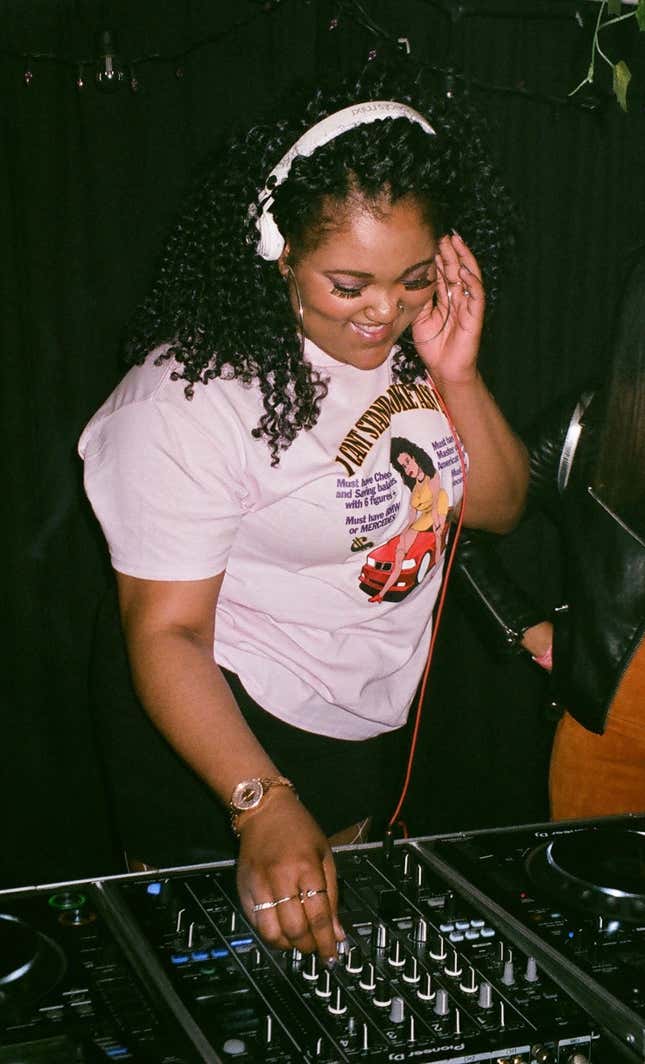 However, DJs from marginalized communities can't end up on the mainstage if they don't start somewhere, and equipment and classes are expensive. "More and more [the equipment is] a barrier to entry," Yakupitiyage said, highlighting that DJ setups can cost up to $7,000. "You have to have the connections and support." Women's Audio Mission (WAM), a San Francisco-based nonprofit, is helping women get the skills they need to DJ, or to start careers in music and sound production through a variety of training programs.
While investment in this kind of education is crucial, however, the music industry as a whole has to be on board for it all to pay off. "The responsibility [to increase diversity] falls pretty squarely on all roles," Terri Winston, executive director of WAM and a member of the Recording Academy's diversity and inclusion task force, told Quartz. Record labels and artists, Winston said, can make a difference by reaching out beyond inner circles and making a point of hiring an equal proportion of women to help write and produce music. Gender inequality in the industry has enough exposure now, she said, and the critical thing is to act against it. "That's how innovation happens, and they've proven that in business—your return on investment is tied to diversity," Winston said.
It's vital for a wider range of people to feel like they can express themselves, and see people who look like them doing so freely and successfully. Not only can that expression bring different people together and promote a greater understanding between them, but it can also make the marginalized feel less alone. "It's about breaking out of that trap that you have to do or be XYZ to be successful," Foluke said. "Hopefully with more women in the industry, girls can say 'she did her own thing, and I can do my own thing.'"
This story is part of How We'll Win in 2019, a year-long exploration of the fight for gender equality. Read more stories here.