Like the dating app it was modeled on, the online fashion service Stitch Fix's "Tinder for clothes" game—called Style Shuffle—is incredibly addictive.
Instead of a potential date, the game serves up a clothing item or outfit with the question "Is this your style?" and only two options: thumbs up or thumbs down. Once you make your choice, a new item pops up, ready to be judged. "Keep going," the app urges after you finish a batch of ratings.
Style Shuffle is more than just a fun game to keep customers entertained between clothing shipments. It's an extremely effective way to learn about their style, and what they're most likely to want to wear—and buy. And those learnings have made customers spend more per shipment, even if they haven't played the game.
Game on
Started in 2011, Stitch Fix's model has relied upon predicting customers' tastes. Customers fill out an 80-plus question survey when they sign up for the service. Then on a quarterly, monthly, or on-demand basis, the company sends each subscriber boxes curated by its "stylists" with five items based on the customer's stated preferences and a little algorithmic magic. Customers send back the items they don't want, and they are charged for what they keep. Many also provide extensive feedback on the clothes in each shipment, or "fix."
And Stitch Fix has always been data-centric. "Data science isn't woven into our culture; it is our culture," founder Katrina Lake wrote (paywall) in the Harvard Business Review last year. The company now employs over 100 data scientists. But with customers only receiving 12 boxes of clothes a year, at most, the data wasn't flowing fast enough.
Chris Moody, Stitch Fix's manager of data science (and a PhD in astrophysics), wanted a way to get more data, and faster, from customers. That's why he built his "Tinder for clothes" game prototype and shared it with Stitch Fix employees and stylists. He knew he was onto something when a small percentage of customers were given a chance to play with the prototype of what became Style Shuffle.
"And there we're like, holy crap," Moody said. "We got a lot of engagement on this."
Since the game officially launched in March 2018, more than 75% of Stitch Fix's 3 million active clients have played Style Shuffle, generating over a billion ratings.
The Latent Style algorithm
To turn all the thumbs ups and thumbs downs in Style Shuffle into something meaningful, Stitch Fix leveraged an algorithm it calls Latent Style.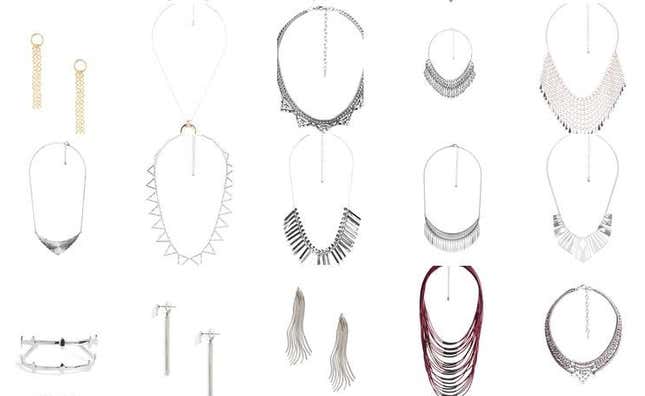 Based on Style Shuffle ratings, the Latent Style algorithm knows the customers that like beaded necklaces, for example, are also going to like chunky necklaces, and it has created a vast map of clothing styles—giving peasant blouses, A-line dresses, and pencil skirts each their own geography in the Stitch Fix universe.
"And so it's not like I'm looking up a database and looking at what categories are these items and put them together," Moody said. "This is inferred, learned directly from our clients."
The algorithm groups items in the company's inventory together based on user ratings, rather than manual notations. In other words, no one went through to match up by hand the "classic" items such as little black dresses and white button downs. It's a lot like how Spotify and other streaming music services create such spot-on playlists, catered to each listener's taste, or how Netflix knows exactly what you want to binge-watch next.
Mapping style
Stitch Fix's map of Latent Style is called Style Space, and it's a visualization where the land masses are made up of clothing, shoes, and accessories that customer app ratings have shown to be congruent within the logic of customers' tastes. You can view the incredibly detailed, zoomable version of style space here.
Each customer also has an individual Style Space map, put together from their hundreds or thousands of app ratings. In the map below of my Style Space, based upon over 9,000 of my ratings in Style Shuffle, each dot represents one item. Regions with items that I liked have a blue hue, while those I disliked are shown in red. The darker the color, the stronger my feelings about that type of clothing or accessories. By comparing it to the full zoomable version, it's possible to see which parts of style space I love, and which I would never be caught dead wearing. (I've annotated the map to show some of the insights the company has gleaned—and I have to admit, it's pretty accurate.)
As Stitch Fix adds new items to Style Shuffle and customers rate those items, the Style Space map shifts and expands. Even though off-the-shoulder blouses may not be in fashion next season, and therefore not make it into the boxes customers receive, the ratings on those blouses can still inform where a new item might fall on the map and which customers might want to buy that new item.
Stitch Fix also pairs Style Shuffle ratings about each item with the feedback it receives when customers get that item in one of their boxes. Those aggregated indicators are "where the magic really happens," Stitch Fix CTO Cathy Polinsky told me.
"Let's say we sent you that turquoise chunky necklace and you hated it," Polinsky said. "We can see similar people who hated that chunky turquoise necklace also hated the purple chunky necklace. And so we can make sure that we don't send you that item. Even though there's nothing about your style profile that had explicitly told us that you wouldn't like that, we can implicitly gain that based on similarities of other people who liked or disliked certain items that we sent you that you kept or returned."
Combining those data points means the company has a pretty good idea of whether a customer would like a particular item, even if they've never played Style Shuffle.
Getting customers to take their medicine
Unlike other businesses that rely on algorithms to learn customer preferences, Stitch Fix purposely shows Style Shuffle users items they might not like. There's little value to Netflix to surface a TV show you might hate, but a "thumbs down" on a flowery top can reveal a lot about what a customer is likely—and not likely—to spend money on.
"We learn as much if not more from when clients dislike an item as they do when they like an item," Polinsky said.
Some of the items customers see in Style Shuffle are an almost guaranteed "thumbs up" based on what Stitch Fix knows about users from previous ratings and their overall style profile. Moody calls those items "candy." They give customers a quick dopamine hit and keep them playing the game.
Other items—the "medicine"—are ones Stitch Fix wants ratings for so it can better learn about the player's style preferences and those of its clientele generally. Stitch Fix is also careful about not overwhelming customers with unlimited ratings or churning through the entire inventory. Items typically come in batches of about 10, and users can only rate a few batches a day.
"We try to come up with some themes and questions that we want to have answered. So we might do a theme around dresses or bottoms or edgy clothing or general knowledge," Polinsky said.
The medicine ratings are fed back into the Latent Style algorithm and matched with other data Stitch Fix has collected—all with the ultimate goal of getting customers to buy more.
Knowing you better than you know yourself
Interestingly, customers don't always characterize their own style correctly—or at least, the adjectives they use to describe what they like or don't like in the onboarding surveys and shipment feedback doesn't always match up with the way Stitch Fix categorizes the items in its inventory. Style Shuffle's simple thumbs up/thumbs down paradigm works better because it doesn't use words. That means everyone is speaking the same language.
"What we find is sometimes customers say that they have a 'classic' aesthetic, but they're disliking all the classic styles, and what they're calling 'classic' might be more 'refined' or 'edgy,'" Polinsky said. "And so we can kind of map what they're trying to say more to the clothing itself."
Playing Style Shuffle also provides style indicators that customers may never even think to explicitly tell the company, Polinsky said: "If you rate enough times we can tell that you hate red. You don't have to tell us that because you've rated 200 items and every single red item you've disliked."
The company's stylists also play the game, and the customer might be matched with a stylist with a similar Style Space. When Stitch Fix expands its inventory, it thinks about where there might be gaps in the general style space or which regions could be expanded based on demand. Style Shuffle can also be a place to test out items from the company's in-house brands before they're even made.
"We're just scratching the surface of using this data," said Polinksy. "But there are just so many capabilities that we can have, to get to know you better and better."
Clarification: An earlier version of this article described Stitch Fix as a "subscription fashion service." While customers can sign up to receive recurring shipments, the company also offers one-off, on-demand fixes.