A friend of mine swears that if she ever won the lottery or came into a substantial sum of money, she would change her life in just one way—she'd have a salad bar installed in her kitchen and eat all of her meals from it. I'm not quite that passionate about salad, but I do find it to be immensely satisfying as a main course, and one of my favorites is what I think of as the refrigerator-clean-out salad. Greens topped with whatever combination of vegetables that are in the crisper, a hard-boiled egg, some crumbled bacon, goat cheese, olives, and maybe the dregs of a can of chickpeas, all topped with a yogurty, herby dressing is a frequent lunch for me. In my house we often repurpose grilled chicken or carnitas from taco night into taco salads, by tossing it with greens, avocados, pickled red onions, and tomatoes.
Here are three classic salads you can serve as a main course that are delicious, substantial, and loaded with vegetables. Make them from a proper recipe, or follow my loose instructions.
One dressing to rule them all
My go-to dressing is from Saltie: A Cookbook, and it's designed to be made in a mason jar, and then simply shaken and applied when needed. It's an all-purpose vinaigrette that tastes good on almost anything and can be customized by adding more mustard, changing the vinegar, or using a pinch or thyme, oregano, or whatever herbs you have. In a jar, or other sealable container, combine a shallot or two garlic cloves, finely minced. Add two teaspoons of dijon mustard, a pinch of kosher salt, a half cup of red wine vinegar, and a cup and a half of good olive oil. Shake to combine, dress your salad. Will keep in the fridge about a week before the garlic gets weird.
 Cobb salad
For a salad that is absolutely, positively not going to be sniffed at as "rabbit food," you can't do much better than a classic Cobb salad. A signature dish at the legendary Brown Derby restaurant in Los Angeles, it's one of the most American dishes I can think of.  Note that while modern restaurants often serve the Cobb dressed with ranch, it really sings with a mustardy vinaigrette. Alison Roman has a great recipe for a Cobb salad in her New York Times cooking column, but it's also ridiculously easy to wing, if you want to be breezy about it. To make Cobb salad for two, start with one boneless, skinless chicken breast and prepare the way you like it best, whether that's grilled (my choice) or cooked in a cast iron pan or in the oven. When it has cooled, slice into strips. Cook four slices of bacon (realistically, cook a whole package and set the remainder aside for BLTs or breakfast). Boil two eggs to your preferred level of doneness, and then cut in half lengthwise. While your chicken, eggs, and bacon are cooking, wash and roughly chop about half a head of romaine lettuce, and arrange on a plate or in bowls. Slice an avocado and fan the slices atop the lettuce. You can embrace moderation and only use half, but… why? Personally, I'm not that into tomatoes on salads when it's not a tomato salad, if you know what I mean, but a handful of cherry tomatoes on each would be lovely. Arrange your sliced chicken and egg halves on the greens. Crumble the bacon and sprinkle blue cheese over the top—I like gorgonzola or Danish blue for salads. Dress.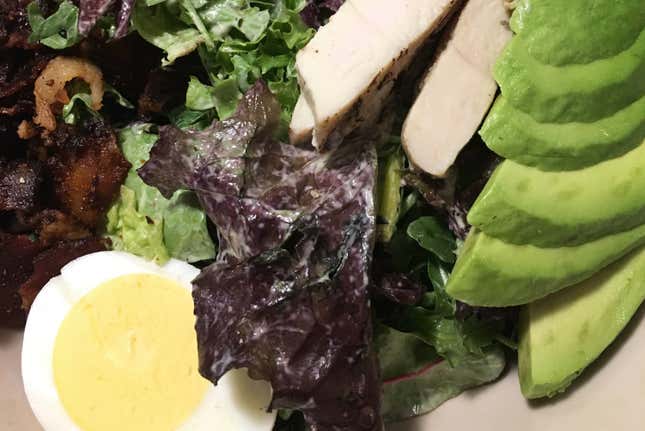 Niçoise salad, with or without lettuce
Traditionally, salade niçoise is served as a composed dish—haricot verts, boiled potatoes, olives, eggs, and tuna fillets arranged on a plate and dressed with vinaigrette. Often, in the US this combination is served on a bed of greens, and it really works family style, too. Use high-quality, oil-packed tuna for this—I like Tonnino, which comes in a jar. If you're after a careful recipe, this one from Saveur also features beets and radishes, and really shows off how beautiful this salad can be.
For a looser interpretation, for two to share, cook two eggs to your desired yolk hardness. Boil about half a pound of small white or red potatoes until tender. Use the potato water to blanch two handfuls of green beans—just drop them in for 1-2 minutes and cook until bright green, then drain the potatoes and beans together and rinse under cold water to stop the cooking process. Wash and dry a small head of lettuce, something like Bibb, or Boston, or Little Gem would be especially nice. Arrange on a platter. Pile potatoes, beans, eggs halved lengthwise, plus a handful of cucumber medallions, a small handful of cherry tomatoes and one jar of oil-packed tuna (the Tonnino is in 6.7-ounce jars, perfect for two) on top of the greens. Add as many olives as you'd like (oil-cured ones are especially nice). Serve the vinaigrette on the side so that each person can dress their own plate.
Fattoush
Fattoush is a wonderfully bright and crunchy Lebanese salad that uses torn pita the way panzanella, which is also a summer salad I love, uses crusty bread—as an anchor for the vegetables. Bon Appétit has a fattoush recipe spiked with lemony sumac and herbs that is a great starting place. For fattoush for two, I tear two to three pita into bite-sized chunks then toss in a bowl with a glug of olive oil, a pinch of salt, several grinds of pepper, and a finely minced garlic clove (you can also add one teaspoon of sumac, or just do olive oil and two teaspoons of za'atar spice blend). Spread on a sheet pan and toast at 400°F for 8-10 minutes, longer if you want them super crunchy. Wash and roughly chop half a head of romaine or Bibb lettuce. Place in a large bowl and toss with a handful of washed and picked parsley, and a handful of mint (about a cup of herbs, total, basil works, too). On top arrange one large cucumber, peeled and chopped; one ripe tomato, cut into wedges, and your pita chips. For a more substantial salad, I like to add a cup of cooked chickpeas and a handful of crumbled feta. Dress with vinaigrette—adding a teaspoon of sumac to the dressing will give it a little zing.