For the longest time I resisted the idea of sheet pan dinners—the often-touted solution to the weeknight cooking conundrum where all the elements of the meal are roasted together. Something about them seemed boring to me, and I worried that everything would come out tasting the same.
I was missing out. Done well, sheet-pan dinners accentuate the differences between their base ingredients. And they're a great way to knock out a delicious meal without generating a lot of dishes to wash, or having to mind the stove too closely.
The trick to a great sheet pan dinner is a hot oven, and a good sheet pan. Nordic Ware makes an excellent, heavy duty one that costs $20. (A half-sheet works for standard ovens, but if you have a tiny oven, a quarter sheet may be a better fit.) They work for everything from pizza to sheet pan dinners, to cookies. Having two in the cupboard is ideal.
One thing to keep in mind with sheet pan meals is that you don't need to put everything in the oven at once. So you can roast potatoes and salmon on the same sheet, but you start the potatoes first, then add the salmon, which doesn't need a lot of time in the oven.
Lining the pan with a silicone baking sheet or parchment paper makes for even easier clean up, though you lose some of the crisping power if you go this route. Foil allows for more crisping.
Salmon with potatoes and broccoli
Preheat your oven to 400° F (200 C°). In a large bowl, whisk together two tablespoons of olive oil, a teaspoon of dijon mustard, and a pinch of salt. Cut about a pound of waxy yellow or red-skinned potatoes into bite-sized cubes and toss in the oil-mustard mixture. Spread on a sheet and put in the oven. You'll want these to cook for about 45-50 minutes, until slightly crispy and golden brown.
Rinse the bowl, then add a tablespoon of olive oil, the juice of half a lemon, two crushed cloves of garlic, and a pinch of salt. Red pepper flakes are also delicious here. Cut a head of broccoli into florets and toss. (Pro tip: If you have children or others who don't like spicy food, add the pepper flakes to half the broccoli and separate the two batches with potatoes.)
Sprinkle two salmon filets with salt and pepper. When the potatoes have been in the oven for 30 minutes, pull the pan out and make room for the broccoli and the salmon, skin side down. You can kind of pile the potatoes up at this point, since they'll be nicely browned. Cook for an additional 15 minutes, until the fish is cooked through, the potatoes are golden brown and the broccoli is well roasted. Serve with lemon wedges for the salmon and broccoli. Note: If you like your broccoli quite brown and crispy, you can add it earlier and cook for 30 minutes instead of 15.
-Annaliese Griffin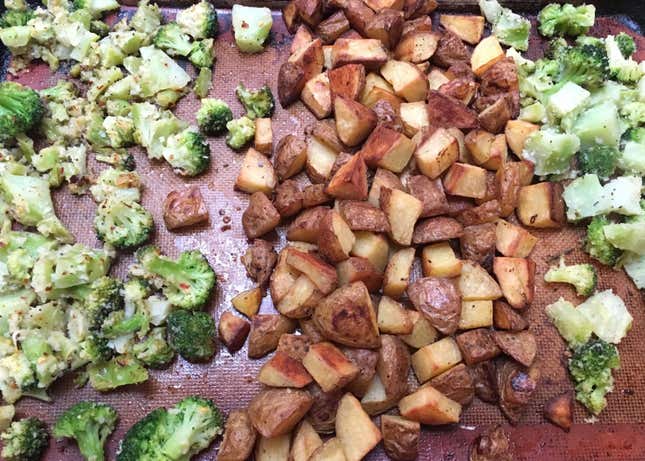 Chickpeas and cauliflower
This makes a lot, so if you don't like leftovers, just halve the recipe—but having a container full of roasty cauliflower and crispy chickpeas in the fridge is such a great base for a vegetarian or vegan meal.
Preheat oven to 450° (230 C°). Measure four tablespoons of olive oil into a large bowl. Add two good pinches of salt, a few grinds of black pepper, a teaspoon of cumin, a teaspoon of coriander, and a half teaspoon of turmeric and whisk to combine. Drain two 15-ounce cans of chickpeas and add them to the oil mixture, tossing gently to coat. Thinly slice a red onion and add to the bowl, along with a head of cauliflower, cut into small florets. Spread evenly on a sheet pan and cook 30-40 minutes, until cauliflower is tender and golden brown.
Serve piled on top of farro or rice, drizzled with tahini or yogurt sauce, and finished with chopped cilantro. Or pile the cauliflower and chickpeas in a bowl with a scoop of hummus, and top with feta and squeeze of lemon. Or stuff it into a pita with pickled beets, tahini, and parsley.
-Annaliese Griffin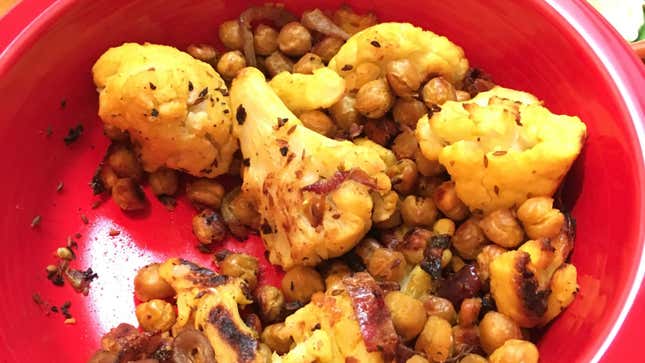 Chicken thighs
These garlicky chicken thighs, fragrant with lemon zest and rosemary, are a mainstay at my house—easy enough for a weeknight dinner and tasty enough to serve to guests. This recipe serves 4-6 people. If there's any left over, I like to shred the meat and skin from the bones and store it that way, to easily tip into a frying pan and crisp it up the next day.
Preheat oven to 400° F (200 C°). In a small food processor or pestle and mortar, make a rough paste of eight crushed garlic cloves, the chopped needles from a large sprig of fresh rosemary, the grated zest of one lemon, a teaspoon of salt, a few grinds of pepper, and a quarter cup of olive oil. In a large ziplock bag or bowl, massage the marinade into three pounds of bone-in, skin-on chicken thighs (about eight thighs). Refrigerate and marinate if time allows, for up to four hours—though if you don't have time to marinate, this dish will still be delicious.
Lay the thighs out on the baking sheet, skin side up, and roast for 40 to 50 minutes, checking every now and then, until he skin is crisp. Serve the chicken with crusty bread and a green salad.
-Indrani Sen