In March of last year, Puma surprised a lot of people when it announced that, after a two-decade hiatus, it would relaunch its basketball business. Within a few months, it had signed Walt "Clyde" Frazier—an NBA legend and the namesake of Puma's Clyde sneaker—to a lifetime deal. It inked what were reportedly pricey endorsement contracts with top NBA prospects Deandre Ayton and Marvin Bagley III. It revealed that it would release its first basketball shoe in 20 years. And it named rapper Jay-Z creative director of Puma basketball.
Since, Puma's sales in the Americas—its second largest market after Europe, the Middle East, and Africa, which it reports as a group—have been rising. Last week, when Puma reported earnings for the start of 2019, CEO Bjørn Gulden called it the company's best quarter ever. Sales in the Americas were up nearly 20% from a year ago, and the brand, though still much smaller overall than rivals Nike and Adidas, is outpacing their growth in the region.
The products that have been selling best for the company over the last several months, though, haven't necessarily been in basketball. Puma has pointed to categories such as clothes and lifestyle sneakers, particularly RS and Cali styles—both modern remakes of 1980s models—as top earners on recent earnings calls.
So what role did basketball play? According to Adam Petrick, Puma's global brand director and its head of basketball, getting back into the market for performance basketball sneakers was "table stakes" for a broader goal, which is as much about branding and culture as it is about selling basketball products.
The timing of Puma's relaunch in basketball could hardly have seemed worse. In the US, sales of performance basketball sneakers have been sliding for years. Americans are buying plenty of sneakers, but they're buying them less for specific sports and more for everyday use. Research firm NPD Group, which tracks sales at most big US sneaker retailers, such as Foot Locker, estimated that performance basketball shoes had plunged from 13% of US sneaker sales in 2013 to about 4% by the end of 2018. The category continued to struggle through the start of this year.
Still, Petrick says the reentry into basketball was an inflection point for the brand. "That was the thing that really kickstarted the growth again in the US territory," he explains. "We've been OK in the US in the last couple of years, but really now we're starting to grow at a good pace again."
It was the latest move in a strategic shift the company launched in 2013, when Gulden joined as CEO and Puma decided its brand was in need of a reboot. Through the 2000s, Petrick says, the company had wandered too far from its roots in major sports, expanding into golf, motorsports, sailing, and beyond. "Basically we were for a very long time, probably considered a style brand or a fashion brand or whatever," he explains. It became harder for Puma to define itself in the marketplace, and to build a culture around its brand. Puma decided to recommit to being a sports label first. It was a "fundamental shift," according to Petrick.
In the US, which was a top priority for growth, it became clear that basketball offered a better platform than any other sport, largely because of the cachet and brand-building ability the NBA and its athletes have. "That kind of machine for story creation doesn't exist in any of the other major US sports," Petrick notes. "We're able to really capitalize on the intersection point between hip-hop and sports, or fashion and sports, or gaming and sports—or any of the other lenses of culture that are out there."
The partnership with Jay-Z is an example. Puma has worked with him since 2013 through his entertainment company Roc Nation, which represented singer Solange Knowles when Puma first partnered with her that year and singer Rihanna when Puma enlisted her for their successful collaboration. When Puma was considering its reentry into basketball, it asked Jay-Z his thoughts—and then if he would be interested in working on the project. Now Jay-Z, who understands hip-hop and entertainment in the US, helps Puma basketball make decisions on everything from the tone of voice it uses, to how it works with athletes, to the events it holds. (Puma also gets to use some of his star power in a sneaker market increasingly influenced by pop stars.)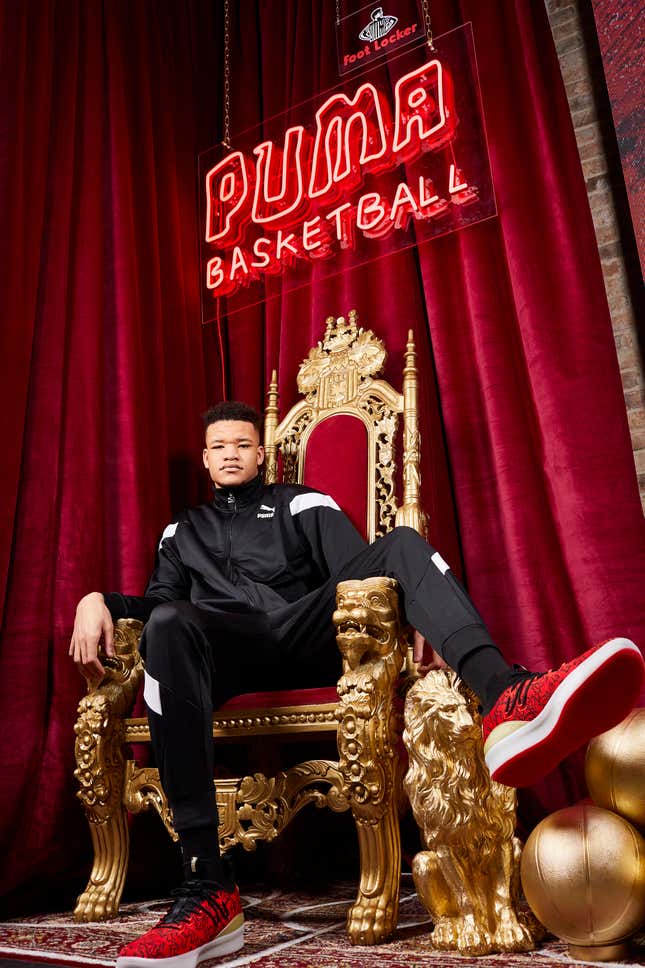 Puma has a lot of other factors working in its favor right now. In the sneaker business, smaller brands have been growing faster than the big players, and Puma, though more than 70 years old, is small next to rivals such as Nike and Adidas. The company has also capitalized on the trend for updates of chunky, retro running sneakers, and its new line with singer Selena Gomez is selling. Basketball is another cultural platform to get its brand out there.
Petrick says that, despite the softness in the market for them, performance basketball sneakers are part of Puma's plan to keep growing. That growth is likely to moderate some (paywall) after its sharp rise last year, but Petrick says it's because Puma wants to be smart rather than just trying to grow as fast as possible. As for the brand, he believes it's back on track, and will stay committed to being a sports brand first.