Another Met Gala has come and gone. Last night's affair brought hordes of celebrities to the Metropolitan Museum of Art's flamingo pink carpet. Some of them embraced the event's "camp" theme, others eschewed it, and many simply wore loud prom dresses and retroactively claimed a camp-y inspiration.
Now that the Big Thing is over, it's time to step back and look at the costume exhibition itself. The Andrew Bolton-curated "Camp: Notes on Fashion" explores the "camp sensibility," from its Molière roots to Versailles, and all the way up to the camp couture of Jeremy Scott's frothy Moschino collection from summer 2018.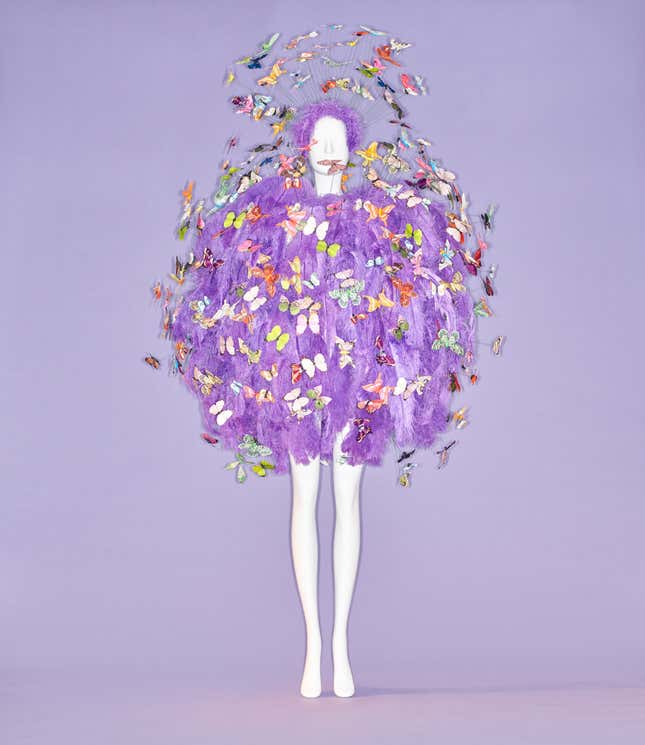 The exhibit, which opens to the public this Thursday (May 9), has big (proverbial) shoes to fill. Last year's show, "Heavenly Bodies: Fashion and the Catholic Imagination," was the most popular in the world in terms of overall attendance. It remains to be seen if camp, a niche "sensibility" grounded in highfalutin literature, can attract the masses the way fashionable organized religion did. Perhaps Catholicism was just what the inaccessible world of couture needed to generate mass appeal, whereas camp could be making it more esoteric.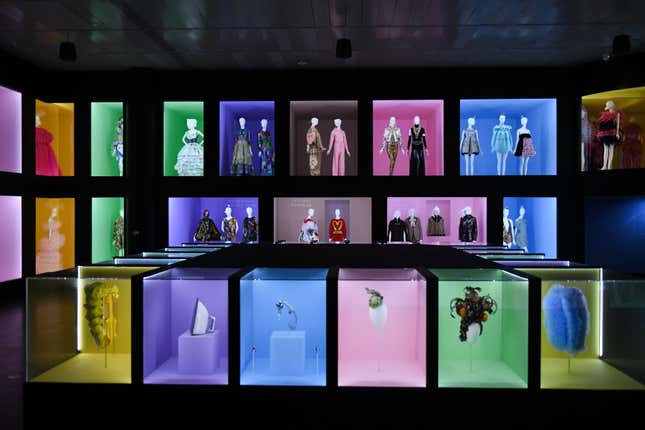 If there's a democratizing force at play, however, it's that "Notes on Fashion" might be the Met's most Instagrammable costume exhibit yet. Whereas "Heavenly Bodies" was solemn and church-like, this year's show is gooey and ebullient. In a word, it's fun.
The exhibition opens with Judy Garland warbling Somewhere over the Rainbow as viewers squeeze through several pink-washed galleries, each with a different mediation on camp—"The Beau Ideal," "Isherwoodian camp," "Sontagion camp"—but whose relationships to each other are never really clarified. Indeed, explanations are scarce, and by the time you enter the main enclave, it's still unclear how Balenciaga platform crocs ended up in the same wing as a 16th century statue of a nude Antinous.
In spite of the disconnect, it's a feast for the eyes, and a layperson with no background in camp can spot a common theme. There's excess and strangeness, a plethora of gross, discarded things made to look fashion—a fascinator that looks like a cabbage, an iron that is a purse. Some might recognize camp for its proximity to pop culture: the show includes Cardi B's widely-memed vintage Mugler Grammy's gown under a section on "failed seriousness," and a more chic-looking latex version of Gaga's infamous meat dress. All of this in a technicolor playhouse begging to be photographed.
The narrative thread running though the exhibit itself is tenuous, and is also selective about camp's history. For better or for worse, the Met has taken upon itself to re-introduce camp into the mainstream, and it did so with a sort of heavy-handed dedication to the specifically white, homosexual roots of camp. It's an approach that glossed over the role queer people—specifically queer people of color—played in camp's creation and development.
It's a glaring flaw, but in spite of it, camp, when properly understood and executed, is relevant. Whereas Catholicism was thematically divorced from the zeitgeist, camp is perfectly in line with 2019: as Bolton told the New York Times last year, "whether it's pop camp, queer camp, high camp or political camp—Trump is a very camp figure—I think it's very timely."
Whether or not "Notes on Fashion" communicates this importance remains to be seen. If anything, visitors can photograph it, and maybe that's enough.