Not long after Adidas gave out 200 pairs of its Futurecraft.Loop sneakers to various content creators, influencers, and media in April, it ran into an obstacle. Unlike other performance running shoes, Futurecraft.Loop is 100% recyclable, a feat the company achieved by making all the components from a single plastic material. Once everyone had worn the shoes about a month, Adidas planned to grind them up, melt them down back into raw material, and use them for the next generation of the Futurecraft.Loop.
But first, it needed the shoes back. "Honestly one unexpected challenge was less on the technical side and more on the bring-back side," says Dharan Kirupanantham, senior manager of future technology innovation at Adidas. "We didn't get all the shoes back as quickly as possible."
It was one of the lessons Adidas learned as it prepares a public release of the shoes, currently scheduled for spring 2021. The Futurecraft.Loop is part of its effort to find feasible ways to "close the loop"—industry speak for turning old products into new ones with minimal virgin resources involved.
Other fashion and sports brands have taken up this challenge as their environmental toll on the planet grows. Yesterday, Adidas unveiled the second generation of the Futurecraft.Loop, made from the first generation of shoes plus some recycled production waste and, still, a lot of virgin material.
Right now, only about 10% of the material in generation two is recycled. According to Kirupanantham, while all material from the first generation is reused, it only appears in the second generation in parts such as the hard outsole, the tongue label, the eyestays, and some internal reinforcements. Kirupanantham adds the reason the recycled material is only used in a small percentage of the shoe is because it takes more time to turn it into things like fiber or Boost, the midsole cushioning Adidas uses on its running shoes. Doing it this way allows the company to develop much faster.
Adidas still sees that 10% as a victory since it was able to recycle all the shoes regardless of their condition. I was a recipient of one of the first 200 pairs and wore them around New York City and on a hiking trip in New Mexico. They performed great, but I sent them back to Adidas quite dirty: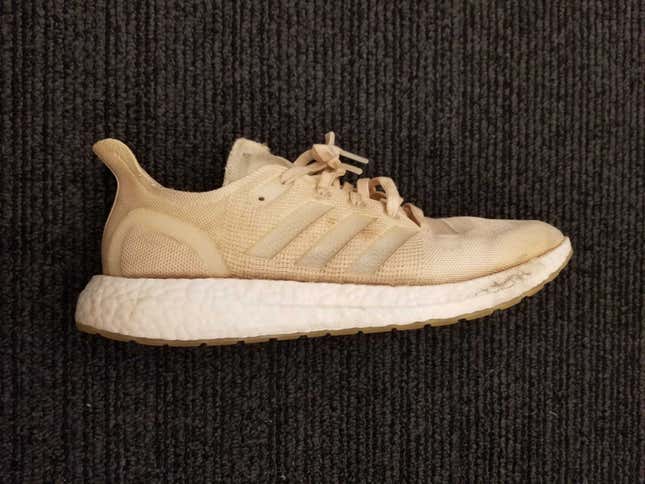 Kirupanantham says some shoes had dye from jeans on them. Others looked hardly used. It took the company about six months to clean them, break them down, turn them back into new parts, and test their performance to make sure they were up to standard.
One difference Adidas noticed in the recycled material was a slight beige tinge. Adidas also added some color to the new iterations to show it could liven up the shoe's look without sacrificing design.
The company's ideal scenario is a one-to-one exchange: one old sneaker comes in, and a new one made entirely of the recycled material goes out. But Adidas is still discovering what's possible. "It's not something that's ever been done before," Kirupanantham says.
Adidas isn't sure, for instance, how many times it can recycle the shoes without degrading the material. Typically, each time plastic is recycled, its quality declines. With the help of its partner, chemical firm BASF, Adidas chose a process tailored to preserve the integrity of the plastic. But it won't know more until it actually recycles the shoes several more times.
In any case, it's thrilled with the current progress. "This is another step for the industry, we feel, because we went ahead and actually did it," Kirupanantham says. As for when generation three might come out, that's to be determined.