The $2.5 trillion fashion industry is one of the largest users of water globally (pdf), according to the United Nations Economic Commission for Europe (UNECE), noting that producing one cotton shirt requires 2,700 liters of water—"the amount a person drinks in 2.5 years." The agency also estimates that one in six people worldwide works in a job related to fashion, an industry whose supply chain has a reputation for unsafe conditions, child labor, and other exploitative practices, especially for girls and women.
Fashion is not usually at the top of the agenda for UNECE. Its aim is to promote economic integration and cooperation among its member countries, which include European nations, the US, Canada, Israel, and several countries in Central Asia.
But the agency does have a stake in advancing the UN's list of sustainable development goals, such as reducing poverty, providing people everywhere with clean water and sanitation, promoting gender equality, and offering decent work to all. And that's why fashion is an industry it can't ignore.
At a March 1 event in Geneva, titled "Fashion and the Sustainable Development Goals: What Role for the U.N.?", the organization cautioned that the fashion's industry's practice of churning out increasingly large volumes of cheap, disposable clothing is an "environmental and social emergency."
For the event, the UNECE invited several different UN organizations, as well as representatives from the fashion industry, to discuss fashion's problems and potential solutions. It is "clear that the fashion industry needs to change gears," Olga Algayerova, executive secretary of UNECE, said at the event, WWD reports (paywall).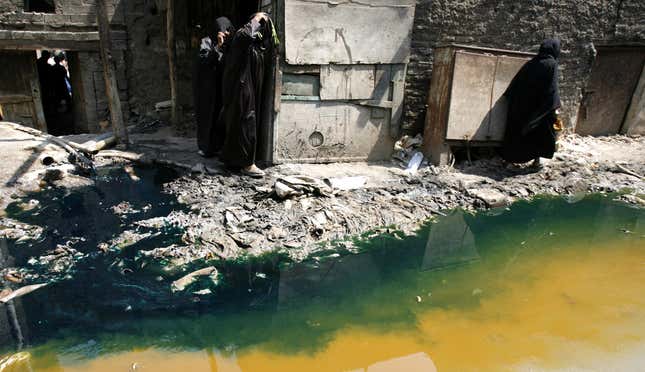 Today, the average shopper buys much more clothing than they did a few decades ago, but keeps items half as long—a cycle of clothing made fast and cheap, worn out fast, and then discarded fast.
The US and Europe have led the way in this behavioral shift, but the pattern is repeating now in countries such as China. "By 2030, there will be 5.4 billion people in the global middle class, up from 3 billion in 2015," the UNECE says. "This will lead to an increased demand for clothes and other goods that define middle-income lifestyles. If consumption continues at its current rate, there will be three times as many natural resources needed by 2050 compared to what was used in 2000."
Resource use isn't the only concern. The apparel industry is also a heavy polluter, due to the energy required to grow raw materials and produce fabrics, as well as the number of chemicals involved in dyeing and finishing all that fabric. Cotton farming, in particular, uses a disproportionate amount of the world's insecticides. In a report released in February, ClimateWorks Foundation and Quantis, a sustainability consultancy, calculated that the apparel and footwear industries together account for 8% of the world's greenhouse gas emissions, and unless something changes fast, apparel's climate impact will increase 49% by 2030.
Linda Greer, a senior scientist in the health program of the Natural Resources Defense Council (NRDC) said the the report should be a call to action: "These numbers should better motivate all of us—multinational apparel retailers and brands, designers, policy wonks, NGOs, and ordinary customers alike—to more urgent and effective action to stem the tide of the accelerating damage that the fashion industry is causing."