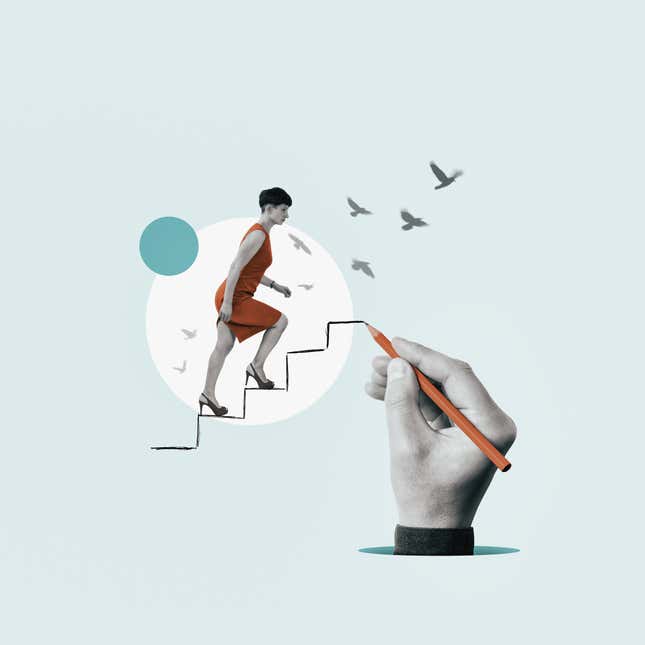 While the term 'quiet quitting' may be having its zeitgeist moment, it's just a new name for a very old behavior—and it's a lot more nuanced than an employee simply doing the bare minimum at work.

Research conducted by Lattice found that employees who self-reported having quiet quit in the last year were just as likely to report working beyond their expected hours once a week or more as those who did not, and 69% of these quiet quitters had been in their current role since before the pandemic. Many of these employees are long-standing talent with institutional knowledge who, in many cases, are not pulling back on their work—rather, they're just deeply disengaged from it. Our research also surfaced two major culprits: Quiet quitters reported feeling less trust from their employers and less clarity in their career paths.
Quiet quitting is often less about an employee's willingness to work harder and more creatively and more about the relationship with their manager and employer—one that can keep them engaged and growing if it's on the right track.
We can learn from quiet quitters and take the lead in developing strategies to reengage employees who may be pulling back but likely still have a lot of value to offer your organization. Here are three strategies to reengage employees who aren't as connected as you'd like.
3 ways to provide growth opportunities
Leverage IDPs
With quiet quitters, growth is especially key to demonstrating the opportunity for growth at your organization and, more importantly, what that growth could be and how to get there. Give employees the ability to develop IDPs (individual development plans) and easily collaborate with managers on their progress over time. This hands-on approach will help employees feel that they have agency over their career paths and give managers clear lines of sight into how they can best help employees meet their goals.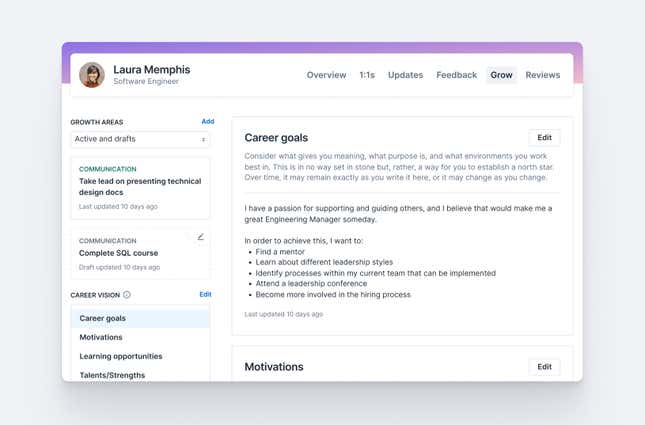 Leverage hybrid learning
It's no surprise that increasingly distributed workforces have pushed organizations to evolve how they build connection and culture. If you're intentional about it, being remote-first can also positively impact your culture. Some ways to build this intentionality into your organization:
Use your office as a base for collaboration around specific moments in time, not just somewhere employees are expected to clock in day after day.
Offer meaningful virtual training. Many remote employees (especially from younger generations) are still prioritizing and seeking out learning and training opportunities that fit into the flow of their new working environment.
Update processes that simply won't work the same in a hybrid world. For example, you can shift to a digital onboarding process that enables cohorts to move through a virtual process together, giving them the benefit of perspectives from across different locations as well as departments and teams.
Know what freedom they want—and take steps to offer it
Beyond career growth, employees increasingly value (and are willing to make trade-offs for) flexibility and freedom. Perhaps an employee has quiet quit because she feels it's unfair that she needs to be in the office five days per week when an office in another city is still fully remote. Understanding that she values working from home and coming up with a balanced solution that works for both parties is one way you could reengage this employee.
At Lattice, we have embraced a remote-first model since the start of 2022. This means many different things to different organizations. For us, it meant that across most roles, employees would have the choice to be either fully remote or connected to an office. But importantly, we also decided not to require any specific days in-office, even for those employees near office hubs.
Taking steps to optimize for a world in which most employees are virtual while also maintaining our office hubs and investing in in-person gatherings has given Lattice the ability to offer our employees a level of flexibility and agency—often from the moment a candidate enters our interview process. For example, on our engineering team, we already seek to organize teams based on location preference; when hiring a new engineer, we match them with the team aligned to their preference of being office-based or remote.
Helping leaders hone in
Employers should not be expected to bend to every employee's whims and desires, but when a request is within reason, there is room for both learning and correction. Simply asking and listening to what that employee wants could provide a fairly swift resolution that reengages the employee without meaningful sacrifice on the employer's behalf.
We've seen so many examples of this principle in practice at Lattice: One of our employees was experiencing challenges with her mental health during the pandemic, and her manager could tell. They picked up on a noticeable change in the tone and content of her weekly updates she was sharing through our tool. Her manager proactively raised this in a one-on-one, and they worked together to make changes to her workload and ensure she had access to additional resources. They also addressed core issues in the employee's overall workload, identifying lower-impact projects that could be shifted off the employee's plate. They also honed in on new avenues of focus better aligned with her role's core objectives to help her day-to-day contributions feel more meaningful.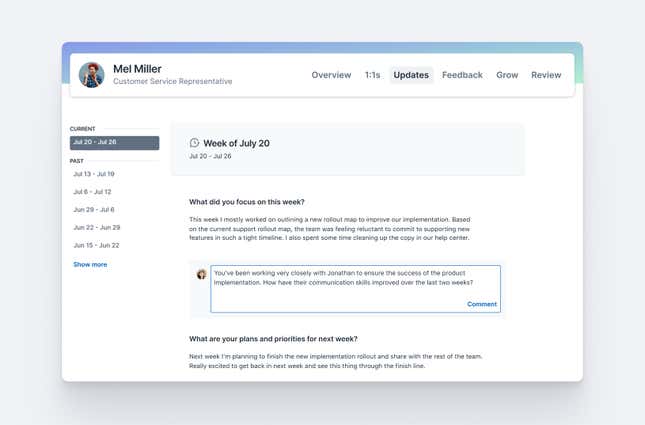 Employees don't only push back on specific goals or projects due to stress and burnout. When they don't see alignment with their scope or clear ties to larger business goals, companies may be forcing quiet quitting.
Despite their assumptions, managers must continue to ask what motivates each individual on my team? By understanding—and encouraging—our employees' desire for input and acknowledging that they are motivated by different values, we can create the trust and transparency necessary to combat quiet quitting.
---
Cara Brennan Allamano has deep experience scaling HR operations, recruiting, and learning & development at fast-moving, global companies. Prior to joining Lattice as chief people officer, she was SVP of people at both Udemy and Planet Labs and served in HR leadership roles at Pinterest, Efficient Frontier (now Adobe), Young and Rubicam, and Knight Ridder, among others. Cara is also co-founder of PeopleTech Partners, a group of HR leaders working to bring new HR/recruiting technologies to market.