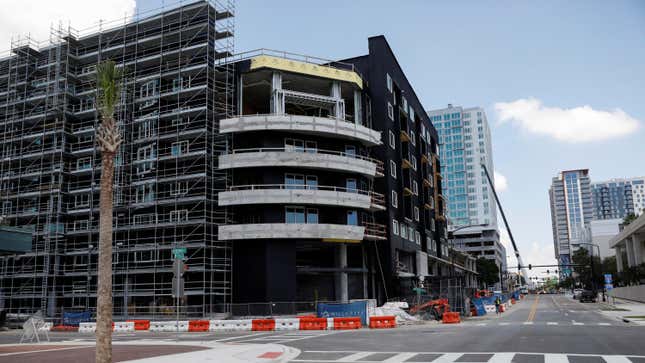 Average rent prices moved up a mere 0.5% in March, according to the latest Consumer Price Index report, offering a tantalizing hint that rent inflation has peaked.

Quartz Smart Investing with Meera Pandit, Part 1
The Consumer Price Index lags behind rent surveys from the private sector. The CPI includes both current and new leases when calculating the average price of rent, whereas private indicators of rent tend to just focus on new leases, offering a better indicator of the current state of the market.

In the year prior to March, asking rents inflated by 6% according to Zillow—but that is a massive decline in the rate of inflation from February 2022, when year-over-year asking rent inflation was 17%.
"Last month we flagged that monthly rent growth had climbed much closer to its pre-pandemic average for February, but still tracked below it; this month showed no further progress in climbing back up to pre-pandemic averages," wrote senior Zillow economist Jeff Tucker. "At the risk of reading too much into one month's data, this suggests that the market is not imminently at risk of reheating into another phase of above-average rent growth."
Both of these indicators could continue to slow their increase as supply of apartments grows, pushing up vacancy rates and making the market more friendly for renters.

CoStar Group's Apartments.com expects the next 90 days to determine what rent prices will look like for the rest of the year. Spring leasing season generally determines the level of demand—but the US will also add more supply this year than it has in any one year since the mid-1980s. The US had more than 1 million multifamily units under construction in the first quarter of this year.
This doesn't necessarily mean that Americans will see a drop in their rent prices, but it does mean that they'll may no longer see the kinds of leaps in rent that were typical of 2022.