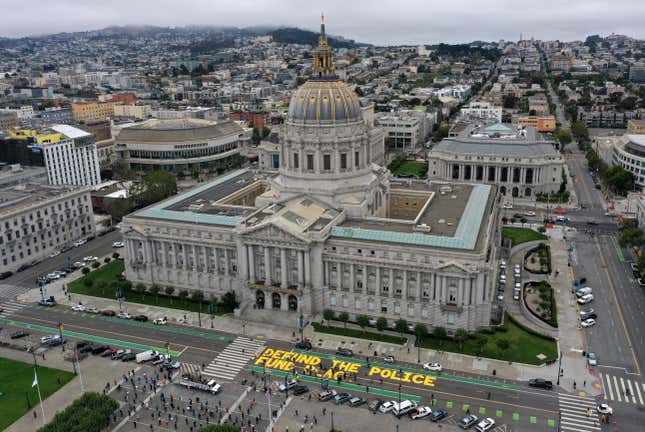 The San Francisco Board of Supervisors voiced broad and enthusiastic support for a draft report containing over 100 recommendations on how to compensate eligible Black adults for centuries of systemic racism and slavery.

Why a tightening of credit conditions could lead to a weak economy
A hearing held yesterday (Mar. 14) culminated in the unanimous adoption of a resolution to accept the reparations plan report. One proposal recommends the city give a lump-sum payment of $5 million to eligible Black residents, while other options include erasing personal debt and tax burdens, providing San Francisco homes to families for $1, and guaranteeing annual incomes of $97,000 for 250 years.
The report is a product of the city's 15-member African American Reparations Advisory Committee (AARAC), which was formed in 2021 and tasked with exploring what form reparations might take for the city's Black residents.
Should the city go through with any of the recommendations, it will become the first major US city to fund reparations, only second to the Chicago suburb of Evanston which began offering financial compensation to Black residents in 2021.
Quotable
"This is not about Black people just having their handout. This is about hundreds of years of free labor, about being removed from our homes, not allowed to be educated, not allowed to earn a wage, not allowed to reproduce and raise families, pushed out of San Francisco, forced to pay the education of others without the same benefit, isolated and redlined, and the list goes on."
–A comment from resident Naj Daniels, at the San Francisco Board of Supervisors reparations hearing held on March 14, 2023
How will San Francisco's reparations work?
The concrete details of the city's reparations plans have yet to be determined, but city supervisors during the meeting were vocal about their commitment to financially compensating residents.
"It is not a matter of whether or not there is a case for reparations for Black people in San Francisco, it is a matter of what reparations will and should look like," said District 10 supervisor Shamann Walton, who sponsored the plan.
Critics have said reparations in the city are financially unfeasible. Several city officials, including supervisors Joel Engardio and Hillary Ronen, have expressed their desire to address the lasting effects of slavery and ongoing systemic discrimination, but said the city's budget constraints would make the $5 million payment plan unrealistic.
What is the case for reparations?
Other critics, especially online, have said that California was historically recognized as a "free state," not a slave state, and questioned the logic of reparations in San Francisco. But Black residents of San Francisco have long felt the impact of racist and discriminatory policy.
San Francisco's federal and city-funded Urban Renewal program, carried out during the 1960s and 70s, impacted as many as 20,000 Black residents. The policy not only forced people from their homes, but also destroyed hubs of Black culture, including the famous Fillmore District, which was known as the "Harlem of the West." Nearly 900 businesses in the area were closed during the development push, and over 4,700 families displaced.
San Francisco's Planning Department has since acknowledged that the city chose to demolish homes based on the race of residents in order to reduce the Black population.
Related stories
🍎 The case for education-centric reparations
🌊 Is the tide turning on reparations to Africa?
😔 A British family wants to make amends for its slave ownership past