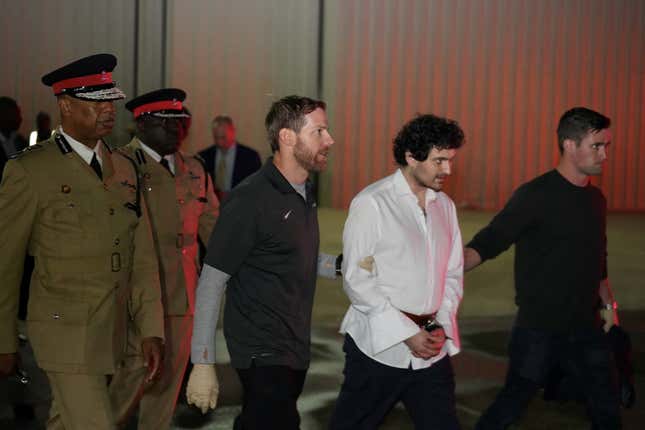 Former crypto billionaire Sam Bankman-Fried used millions of dollars in customer deposits to donate to both the Democratic and Republican parties ahead of the US midterm elections last November, according to a fresh indictment (pdf) led by federal prosecutors on Aug. 14 in a New York court.

Should you buy McDonald's and Caterpillar stock right now?
The founder of fallen crypto exchange FTX was charged with seven counts of conspiracy to defraud his customers. Bankman-Fried was accused of allegedly funneling $100 million in customer deposits towards political donations in the 2022 election cycle, evading restrictions and gaining influence in both parties to "lobby for favorable government regulation."
The indictment said Bankman-Fried failed to disclose to the Federal Election Commission (FEC) that his donations came from customer deposits via Alameda Research, his other company. He did this by directing his co-conspirator, Gary Wang, to alter FTX' s computer code which gave Alameda improper unlimited access to customer deposits on FTX. The court filing reads: "Over time, Bankman-Fried directed that Alameda's credit limit be raised so high that, in practice, Alameda was permitted to draw on FTX accounts funded by customer assets on an unlimited basis."
U.S. Attorney for the Southern District of New York Damian Williams told reporters last December that Bankman-Fried's funds were "disguised to look like they were coming from wealthy co-conspirators, when in fact the contributions were funded by Alameda Research with stolen customer money."
Bankman-Fried was one of the GOP's (and the Democrats') biggest donors
Bankman-Fried was a known Democrat donor—one of the party's biggest, in fact, but only after FTX collapsed did he reveal he had donated to the Republican party, too. In one interview last November, Bankman-Fried admitted to donating roughly equal amounts to Democrats and Republicans but made sure that "all my Republican donations were dark." He said he did this because he felt the press had a tendency to "freak" when donations were made to the Grand Old Party (GOP). At the 2022 midterm campaign funding cycle, he said he may have been the "second or third biggest" GOP donor.
Among the various donations, Bankman-Fried gave $27 million to the "Protect Our Future PAC," a group advocating for pandemic preparedness. This was 95% of the $28.5 million raised by the group, which spent $24.2 million to support 19 Democratic House candidates. Other FTX executives made donations in their own names. For instance Ryan Salame, co-CEO of FTX Digital Markets, donated $24.5 million to Republican candidates through the party's "WinRed" platform.
The new indictment came days after US judge Lewis Kaplan revoked the $250 million bail he had granted Bankman-Fried last December over alleged attempts to influence witnesses involved in the case. Now, the man who once dreamt of buying the island nation of Nauru using stolen money, is awaiting his trial in a New York prison infamous for its poor living conditions—the Metropolitan Detention Center (MDC) in Brooklyn.