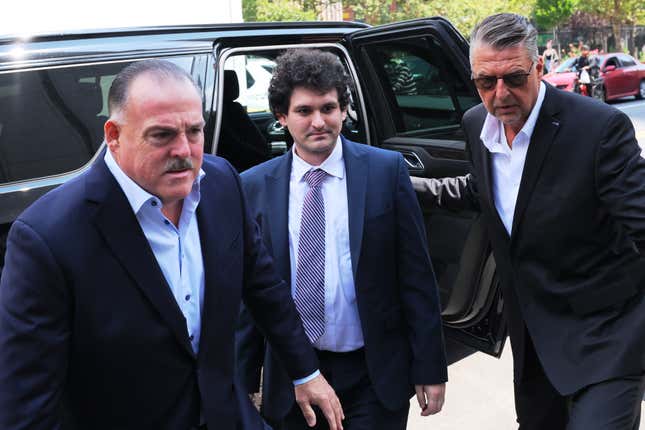 The New York federal judge presiding over cryptocurrency exchange founder Sam Bankman-Fried's criminal trial rescinded his $250 million bail on Friday (Aug. 11). That decision will send the disgraced former billionaire to the Metropolitan Detention Center (MDC) in Brooklyn.

Why a tightening of credit conditions could lead to a weak economy
US district judge Lewis Kaplan's ruling ends months of house arrest in Palo Alto, California, where Bankman-Fried was allowed to stream Netflix and make calls via a flip phone at his parents' home. Now, SBF will await his trial in a cell at the MDC, a prison notorious for poor conditions and corruption.
Kaplan explained that his decision stemmed from Bankman-Fried's repeated attempts to influence witnesses due to testify about his alleged criminal activities as CEO of cryptocurrency exchange FTX. The judge cited Bankman-Fried's recent leaking of documents to journalists and a documentary filmmaker, in violation of a gag order forbidding contact with reporters.
"He has gone up to the line over and over again, and I am going to revoke bail," Kaplan said at the Southern District courthouse in Manhattan, also criticizing Bankman-Fried's use of a virtual private network (VPN) to stream an unsanctioned football game.
Mark Cohen, one of Bankman-Fried's lawyers, said he plans to appeal the judge's decision, arguing that his client's correspondence with the press was covered by the First Amendment.
After the ruling, US marshals directed Bankman-Fried to remove his jacket, tie, and shoelaces before placing him in handcuffs.
What is Bankman-Fried accused of?
Bankman-Fried has been accused of widespread fraud by three US regulatory agencies: the Department of Justice, the Securities and Exchange Commission, and the Commodity Futures Trading Commission.
He has pled not guilty to all charges. If convicted, he could face decades in prison. The criminal trial is expected to start on October 2.
Quotable: Prison conditions
"[The MDC] is not on anybody's list of five star facilities." —Judge Lewis Kaplan, admitting he was aware of the Brooklyn detention's center reputation
Bankman-Fried will be held at a controversial prison
In the past few weeks, with the status of Bankman-Fried's bail in question, his lawyers have repeatedly asked Kaplan not to send him to the MDC, citing chronic staffing shortages and unsafe conditions.

Even the prosecution suggested that Bankman-Fried should be held at the medium-security Putnam County Correctional Facility, about 50 miles (80 km) north of New York City. Kaplan said he was open to transferring Bankman-Fried upstate, but added he wasn't sure that holding him in a jail so far from the courthouse was "doable."
The MDC—only two miles from Brooklyn's famous Prospect Park—has been accused of breaking international standards for imprisonment, with inmates complaining of inadequate lighting, moldy food, and a lack of toilets. The Department of Justice also recently convicted a former MDC correctional officer for bringing in drugs and other contraband for prisoners.
The de facto holding cell for federal prisoners being tried in New York, the MDC is currently home to high-profile criminal defendants like Juan Orlando Hernández, the former Honduran president accused of drug trafficking, and Guo Wengui, a Chinese billionaire charged with fraud.
Hernández's lawyers have said he's being held in solitary confinement while being treated like a "prisoner of war."
Related stories:
🎙️Sam Bankman-Fried cannot shut up
⚖️ Sam Bankman-Fried arrested: A quick guide to the charges

📉 Sam Bankman-Fried's first public appearance since FTX collapsed