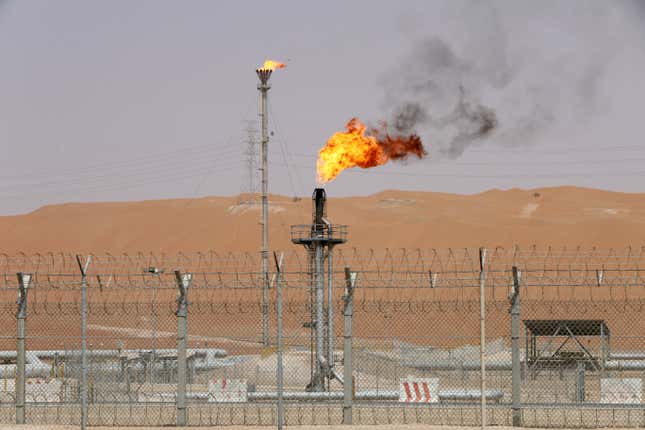 Saudi Aramco announced a 19% drop in quarterly profits compared to the same period in 2022, largely thanks to lower global oil prices. It's the first year-over-year dip for the company since 2020. Despite that decline, Aramco—primarily owned by the Saudi government—is still among the world's most profitable oil producers.
Its first-quarter profit of $31.9 billion (down from $39.5 billion a year earlier) is nearly three times larger than the $11.4 billion earned by ExxonMobil Corp., the biggest US oil company.
Aramco also beat expectations for a $30.5 billion profit, forecast by analysts polled by Reuters, which is good news for shareholders. The company announced that it would pay its first-quarter dividend of $19.5 billion in the second quarter.
Oil prices have fallen worldwide, with the price of Brent crude down almost 25% over the past year, mostly due to European Union and US efforts to combat inflation, including recent interest rate hikes.
Three years of Aramco earnings


OPEC countries are trying to drive oil prices back up
OPEC countries (including OPEC plus nations not formally part of the group) announced significant cuts to oil production last month—by up to 1.2 million barrels a day—in an attempt to rally falling prices. The decision, orchestrated by Saudi Arabia, immediately drove global prices up as much as 7%.
This move took the markets by surprise, with the OPEC countries saying they didn't plan to cut production just days before the announcement. Russia, an OPEC member, has struggled to keep up domestic production after an exodus of multinational companies from the country, as well as US-imposed price caps on oil exports.
The US criticized OPEC's move to increase oil prices, as the White House takes steps to keep energy costs low amid high inflation.
"We don't think that the production cuts are advisable at this moment, given the market uncertainty. And we made that clear," said John F. Kirby, the spokesperson for the National Security Council. "But we also don't have a seat at that table."
Related stories:
For the first time, India imported more Russian oil than from Saudi Arabia and Iraq put together
Why it matters if Saudi Arabia sells oil in Chinese yuan instead of US dollars
Saudi Arabia and Iran agreed to restore trade and diplomatic ties in a deal brokered by China