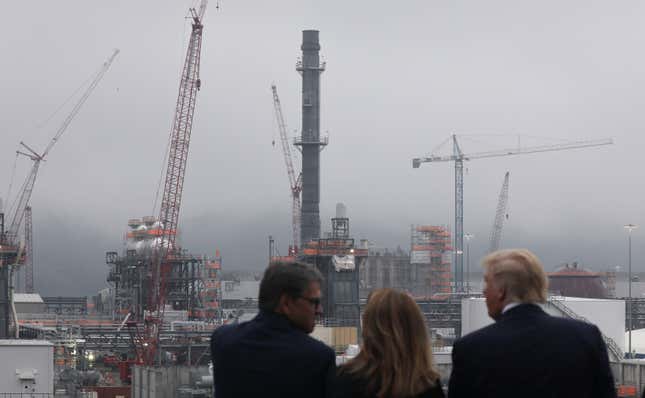 Shell has agreed to pay for breaching emissions limits at a plant in Pennsylvania—but not to stop polluting altogether.

3 considerations before your company takes a stance
According to a press release from Pennsylvania governor Josh Shapiro's office yesterday (May 24), Shell "formally acknowledged that the company exceeded total emission limitations for air contaminants, agreed to make repairs to reduce future exceedances, and agreed to pay nearly $10 million to DEP [Department of Environmental Protection] and the local community" for violations at its vast petrochemical facility in the Potter and Center Townships, Beaver County. Quartz contacted Shell for comment.
After about five years of construction, the refinery located just over 30 miles west of Pittsburgh finally kicked off operations in November 2022. Almost immediately, the plant that "cracks" ethane to produce polyethylene (PE)—a practice that is criticized for raising emissions and discourages use of recycled plastics—drew ire from residents and environmentalists alike. The Clean Air Council and Environmental Integrity Project even filed a federal lawsuit accusing Shell of repeatedly violating permitted air pollution limits, which exacerbate health issues like asthma, lung disease, and more.
The $10 million fine—which environmental activists have likened to a parking ticket because of how paltry a portion of Shell's bottom line it is—is likely the first of many, as the governor's statement noted Shell anticipated breaching the emissions limit in the near future "during the commissioning phase into autumn 2023." Governor Shapiro said his administration "will be prepared to hold them (Shell) accountable for any future violations." The authorities said the company will pay additional monthly civil penalties for the rest of 2023 for any further exceedances.
Last week, Shell said the plant would be in shutdown mode for a few weeks, or sooner, to fix flaring and water waste issues. According to the governor's statement the company was ready to start operations already on Wednesday (May 24).
Quotable: Shell's violations must be curbed
"Shell's persistent law-breaking must end. The community will not tolerate dangerous pollution events that risk the health of families across Beaver County and beyond."—Joseph Minott, Clean Air Council Executive Director and Chief Counsel.
More than "technical niggles" at Shell's Pennsylvania plant
Shell's newly-minted CEO Wael Sawan chalked some of the problems up to "technical niggles that startups typically have." The 116-year-old company suspended ethylene and polyethylene production to make repairs and perform maintenance towards the end of March.
However, these aren't small kinks to iron out quickly. The company still needs to obtain approval to repair its totally enclosed ground flares, get an engineering evaluation on the efficacy of pollution controls, and get permits to install any additional controls, the Pennsylvania governor's office said.
And Shell's laundry list of problems—and thus compliance—is long. In addition to emissions violations, the DEP also cited Shell for flaring, malodor violations from its wastewater treatment plant, and more.
Shell's Pennsylvania petrochemical plant, by the digits
$4.94 million: The civil penalty Shell will pay Pennsylvania
$5 million: The additional amount Shell will spend for environmental projects to benefit the local communities
$6.2 million: The fund allocated for projects in western Pennsylvania that benefit the environment, heath, and quality of life of the local communities
39: Malfunction reports Shell has submitted to state regulators since January 2022, including over a dozen since the facility came online
$6 billion: How much Shell projected it would cost to build the refinery, which took years to build.
3.5 billion pounds (1.6 billion kilograms): Amount of polyethylene the plant is expected to produce annually at full capacity
1.9: The facility's score on Google Maps, where several residents posted pictures and testimonies of increased light and air pollution
One more thing: Trump's (fake) claim to the plant's fame
In August 2019, when then-president Donald Trump visited the soon-to-be-completed Pennsylvania plant, he tried to take credit for building the facility, saying, "This could have never happened without me and us." But Shell had actually announced plans to build the complex in 2012—during Barack Obama's term in the White House, four whole years before Trump was elected.
Back then, a Shell spokesperson had said that the company has "the project will actually help improve the local air shed as it relates to ozone and fine particulates."
Related stories
🇳🇬 A legal loophole has enabled years of environmental damage by global oil companies in Nigeria
💨 Every country has terrible air pollution, but these are the world's worst
🧾 Even Shell's CEO admitted taxes on energy companies are a way to deal with inflation