For many years much of the environmental damage in Nigeria's delta regions has been largely blamed on international oil companies operating in the area. Both oil spills by the companies and vandalism of the companies' oil installations by militants have resulted in years of devastating environmental pollution to the land and water, but just as significantly, gas flaring continues to cause severe air pollution in the region.
Gas flaring in particular remains prominent no thanks to one misplaced word in the law set up as a deterrent to the practice. To prevent companies from flaring, Nigeria has sought to enforce a fine of $3.50 for every 1,000 standard cubic feet (SCF) of gas flared. Rather than expensively process gas for domestic and other uses, major oil companies resort to the cheaper option of flaring gas a waste product.
In trying to make it a more expensive option, the law sought to fine companies for flaring but the money to be paid was worded as a "charge" rather than a "penalty," international oil companies continue to flare while paying the charges which are tax deductible rather than hefty fines as intended. "Just that one word has potentially cost us billions of dollars," Kemi Adeosun, Nigeria's finance minister has said.
Oil companies in Nigeria flare over 313 million standard cubic feet of gas annually, according to satellite data estimates from Nigeria's environment ministry. The flared gas in turn results in the emission of 16.5 million tonnes of carbon dioxide. Adeosun says the government is now looking to amend the wording of the law.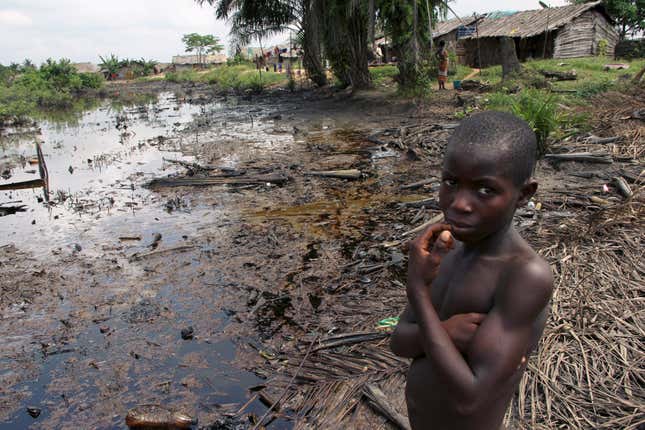 For Nigeria's oil rich south, also often referred to as Niger Delta or Ogoniland, being blessed with the resource has come at a great cost. Farmlands have severely damaged and water-bodies have been polluted, affecting the livelihoods of residents.
But it's not a problem that's going away soon. In 2015, Shell Petroleum Development Company agreed to a clean-up of major oil spills in Bodo community in the Niger Delta region and, showing the scale of the problem, the clean up is expected to cost around $500 million and will take up to ten years to complete. In a rare victory for such communities, Shell also agreed to pay £55 million ($84 million) in settlements to Bodo community for the devastating effects of the spill.