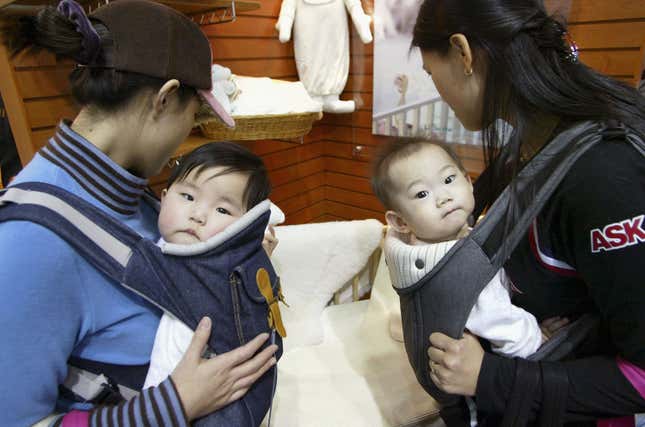 South Korea's birth rate has reached alarming new lows. Births shrank to 0.78 per woman last year, from 0.81 in 2021, which already put the country lowest in the world. If that trend continues, South Korea's population will be less than half what it is now by the end of the century.

Here's how to support an employee through IVF
Comparable countries, even those with notoriously low fertility rates, still rank well above the Asian nation: Spain has 1.23 births per woman, Italy 1.24, and Japan 1.34. To maintain a stable population, the rate must be 2.1.
The situation has pushed president Yoon Suk Yeol to call for an "emergency mindset," proposing new measures to encourage South Koreans to have children.
Those efforts try to address what seems to be the root cause of hesitancy to procreate: Children are too expensive.
The $770-a-month baby
On March 28, president Yoon announced that his government is significantly boosting the monthly allowance already in place for parents of children under a year. Starting now, that sum will more than double, from 300,000 won (about $230) to 700,000. Another hike in 2024 will bring it up to 1 million won, or roughly $770 per month. The average monthly salary in South Korea was about $3,400 as of December 2022.

This move will further increase the huge investment the country has already made in trying to raise its birth rate. Over the past 16 years, South Korea has spent as much as $200 billion without much to show for it, as fertility has continued its steady decline.
The allowances won't be the only measure. Acknowledging the need to address the other factors keeping people from having children, Yoon also discussed plans to expand childcare services, help newlyweds with housing, and cut health expenses for young kids. But more incentives might be required to support children as they get older, beginning with education. South Korea has one of the most expensive education systems in the world relative to income.