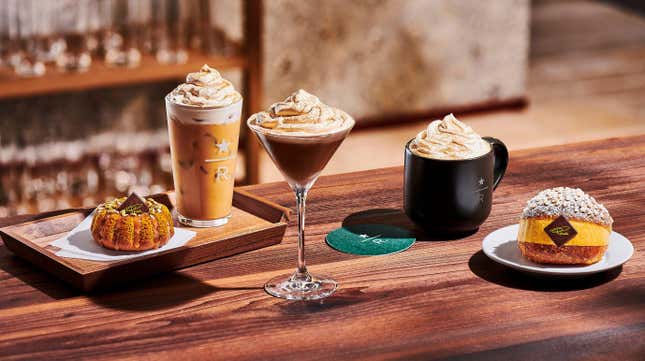 For the 20th year in a row, Starbucks' famed seasonal drink, the Pumpkin Spice Latte (PSL), is back on the menu as of today (Aug. 24), for the fall ahead.

If you think the PSL arrives sooner and sooner each year, you wouldn't be entirely wrong. This year, Starbucks has brought the drink back a whole six days earlier than last year, according to Axios—and a whole two weeks earlier than in 2015. Even so, rival chains have stolen a start. Dunkin' introduced several pumpkin-flavored treats on Aug. 16. Krispy Kreme and 7-Eleven got a start on their pumpkin-themed food more than a week before that.
Introduced in 2003 as a test in just 100 stores in Washington, D.C., and Vancouver, Canada, the iconic fall beverage has claimed its place in cafés—Starbucks or otherwise—and pop culture. The PSL may be polarizing, but its scent and taste have made their way into all manner of other products, from cream cheese and dog treats to candles and face masks.
This year, the old PSL comes in other guises as well: a new tea-based iced drink and an alcoholic version.
One big number: PSL lifetime sales
600 million: The number of Pumpkin Spice Lattes—iced, hot, or blended into Frappucinos—that Starbucks has sold since the drink's inception.
Another big number: The draw of the PSL
25.7%: The rise in foot traffic in Starbucks stores when the PSL returned to the menu on Aug. 30 last year

Explained: What's in the Starbucks PSL?
"The handcrafted beverage combines Starbucks Signature Espresso and steamed milk with the celebrated flavor combination of real pumpkin, cinnamon, nutmeg and clove," Starbucks says. "Topped with whipped cream and pumpkin pie spices, the PSL is available hot, iced or blended."

Since 2015, Starbucks has added actual pumpkin to the beverage.
Drink of interest: Iced Pumpkin Cream Chai Tea Latte
Try rapping out the name of that drink in a hurry.

On the occasion of PSL's 20th anniversary, Starbucks is introducing another pumpkin-derived drink : the Iced Pumpkin Cream Chai Tea Latte. (Starbucks must know, by now, that "chai tea" just means "tea tea." Even the Indian Spiderman, Pavitr Prabhakar, explained that in Spider-Man: Across the Spider-verse. So what's with the nomenclature, Starbucks?)
The new beverage, inspired by a popular customer and barista customization, combines "the warm spice flavors of chai and pumpkin seamlessly...creating a creamy and comforting iced beverage," said Bill Altieri, a beverage developer at Starbucks.
Starbucks is not only tapping into the pumpkin fever, but also the burgeoning iced drink trend. Gen Z, which ordered more cold coffees than hot coffees in the first half of 2023—no matter the weather—will likely lap it up.
Another cold seasonal option making its debut on what is now effectively a dessert menu is a (non-pumpkin-themed) Iced Apple Crisp Oatmilk Shaken Espresso. There's also the Pumpkin Cream Cold Brew, which returns for a fifth year.

One more thing: Pumpkin Spice...with alcohol now
The six Starbucks Reserve stores around the world, branded as exclusive roastery locations, have served alcoholic drinks since the first one opened in Seattle in February 2018. This year, they will also offer a boozy twist on the PSL, with the likes of a Pumpkin Spice Whiskey Barrel-Aged Iced Latte and a Pumpkin Spice Espresso Martini.
Related stories
☕ The untold history of Starbucks' Pumpkin Spice Latte
🎃 Durex shuts down rumors of a "pumpkin spice" condom
🇮🇹 The curious story of how transatlantic exchange shaped Italy's illustrious coffee culture