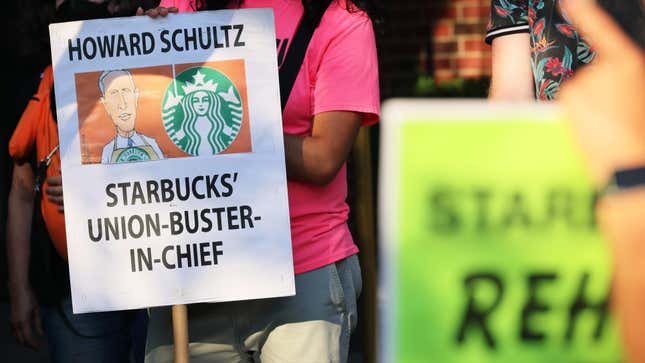 Starbucks can't get away with union-busting.

Michael A. Rosas, an administrative judge in New York, ruled on Wednesday (Mar. 1) that Starbucks repeatedly violated federal labor laws in responding to a union campaign in the Buffalo area. Roses said the company was at fault for "egregious and widespread misconduct demonstrating a general disregard for the employees' fundamental rights."
According to the judge, the Seattle-headquartered coffee chain illegally monitored, penalized, and even fired employees attempting to organize over 18 months of a unionizing campaign.
Starbucks is expected to appeal the decision, which includes directives to reinstate fired workers and reopen bargaining efforts at a store that failed to unionize, by Mar. 28. "We believe the decision and the remedies ordered are inappropriate given the record in this matter and are considering all options to obtain further legal review," the company said in a statement.
A non-exhaustive list of how Starbucks tried to suppress unionizing efforts
👁 Closely surveilling union activity, be it photographing members or stationing additional managers to monitor. High-ranking officials also made unprecedented visits
🤑 Prohibiting employees from discussing wages among themselves
💼 Overstaffing stores with upcoming votes with additional employees via transfers or new hires to dilute the pool
📌 Restricting employees from posting union literature at stores where the posting of other types of literature is permitted
📝 More strictly enforcing a bunch of policies—dress code, attendance, leave, covid log, free food item and beverages while working—targetedly for union workers
🏪 Temporarily closing stores in response to union activity
Quotable: Starbucks workers' fight to unionize goes on
"This is truly a historic ruling. We will continue to fight and hold billionaires like Howard Schultz accountable for their actions. We will not rest until every Starbucks worker wins the right to organize." —Gary Bonadonna Jr., the regional head of Workers United, the union organizing Starbucks.
Starbucks unionizing and union-busting, by the digits
9,300: Stores Starbucks has in the US
258,000: Starbucks employees, whom the company refers to as partners. Around 248,000 are at company-operated stores, and the rest work in corporate support, store development, roasting, manufacturing, warehousing and distribution.
49: Baristas and shift supervisors who signed an August 2021 letter—the first shoots of unionizing activity at the company
7: Buffalo-area Starbucks workers who were unlawfully discharged from the company and have to be reinstated, according to the National Labor Relations Board (NLRB) judge Rosas' ruling
More than two dozen: Workers who suffered retaliation that affected their compensation, such as a reduction of hours, that the company has to back pay and give damages to
13 pages: How long is the notice Starbucks CEO Howard Schultz has to read or be present for the reading of, promising to refrain from committing a series of labor law violations in the future
8 to 12: Starbucks' losing vote at the Camp Union outlet in Buffalo in 2021. Judge Rosas ordered Starbucks to reopen negotiations there.
32: Unfair labor charges made by Workers United against the company for its actions between August 2021 and July 2022 at 21 stores in the Buffalo area, including the first Starbucks location to unionize.
Charted: Starbucks' state of the unions
Congress is ordering some more scrutiny for Starbucks
Recently, Schultz declined a request from Vermont senator Bernie Sanders to testify in front of the Senate Committee on Health, Education, Labor and Pensions (HELP) in an upcoming hearing on Starbucks' compliance with labor laws. Yesterday (Mar. 1), Sanders called a vote to subpoena the Starbucks chief.
"A multi-billion dollar corporation like Starbucks cannot continue to break federal labor law with impunity. The time has come to hold Starbucks and Mr. Schultz accountable," Sanders tweeted.
One more thing: A white-collar uprising at Starbucks
The same day as the NLRB ruling, dozens of white-collar Starbucks employees and managers—40 named signatories and 22 anonymous ones–signed an open letter saying the company was "not listening to partners." They took issue with the company's January mandate asking workers to return to office three days a week, and its alleged union-busting.
"After Howard issued his edict, I definitely did not feel good working for Starbucks any more—it felt like I am working for a dictator," Starbucks app developer Peter de Jesus, one of the employees who signed the letter, told Fortune. "I feel like this is not the Starbucks that I signed on for."
Person of interest: Laxman Narasimhan
Boomerang CEO Howard Schultz is a staunch opponent of unions. When he steps down in April, he hands over the reins to Laxman Narasimhan. Investors are hopeful he takes a softer stance with union negotiations. But even if Narasimhan wanted to, other board, and C-suite members may not agree with a less hostile approach. "I don't believe he's going to have that leeway or authority to do anything like that," BTIG LLC analyst Peter Saleh told Bloomberg about the possibility of Narasimhan changing Starbucks' course on unionizing.
Whatever he decides, Narasimhan must get ready to inherit a whole bunch of pending NLRB litigation.
Related stories
✨ Can Starbucks fight unionization without damaging its pro-worker image?
🏬 Are Starbucks and Chipotle union-busting by closing stores?
💸 Starbucks is raising pay—but only for workers at non-union stores