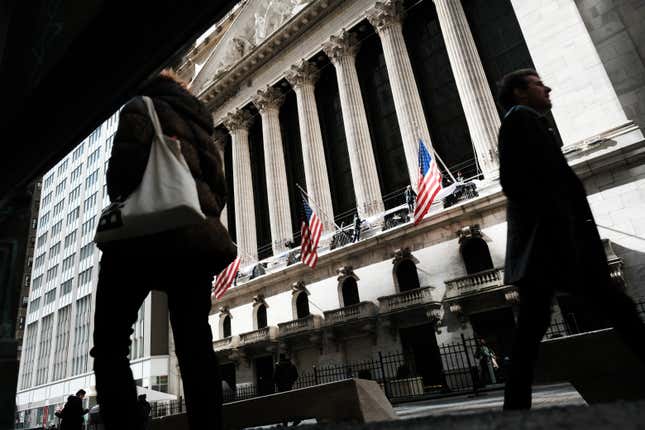 Prior to 2008, the majority of Americans, up to 63% in 2002, owned stocks. That all changed during the Great Recession, when stock ownership plummeted. And then it fell some more. The lowest year for stock ownership was five years after the recession, in 2013, when 52% of Americans owned stock.
The numbers have been recovering ever since. But according to Gallup's April Economy and Personal Finance survey, stock ownership remains below 60%, a threshold it hasn't crossed since before 2008.
Even the rise of trading apps and the surge in retail investing that came with pandemic lockdowns failed to dramatically widen access to stock markets. The portion of Americans owning stock, at 55% when the covid pandemic hit the US, rose to 56% in 2021 and 58% in 2022.
Even in the wake of the dot-com bust, stock ownership was more common from 2001 until 2008, when an average of 62% of US adults reported owning stocks.

Americans who can afford stocks
The Gallup survey measures stock ownership based on individual stocks held, as well as shares included in mutual funds or retirement savings accounts. It suggests strong correlations between stock ownership and household income, education, age, and race.
For example, the rate of stock ownership was 89% for survey respondents from households earning at least $100,000, versus 25% for those from households earning less than $40,000. People with a postgraduate education were also more likely than average to own stock (79%).
Age and race also are factors in the likelihood of stock ownership. While 64% of non-Hispanic white adults own stock, only 46% of all people of color own stocks, according to the survey.
Americans who own stock also tend to be older. People ages 50 to 64 own the most stocks, at 67%, along with a significant 62% of people ages 30 to 49. Before the age of 30, a majority of Americans do not own stocks; the survey found that only 41% of Americans ages 18 to 29 were stock investors. The number of Americans owning stocks starts to dwindle again after age 65, with 59% of those Americans owning stocks.