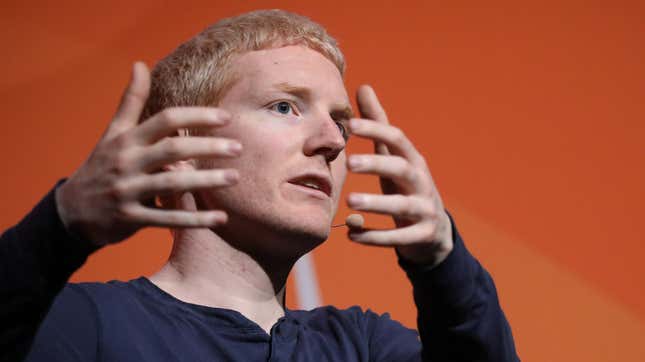 Payments company Stripe keeps trimming its worth.

In the latest revision, Stripe cut the internal value of its shares by about 11%, bringing it down to $63 billion from $74 billion six months ago, according to a report in The Information.
The internal valuation, known as 409A, is a stark departure from its external valuation. Stripe was valued at $95 billion by marquee investors like Sequoia and Fidelity during its last funding round in March 2021, at the height of a pandemic boom that benefited fintech firms like the Irish company.
The discrepancy between internal and investor valuations is not necessarily a cause for alarm.
The 409A reason behind Stripe's devaluation
A 409A price change is not tied to what a venture backer or other investor thinks. It's a process regulated by the Internal Revenue Service agency where a third-party appraiser sets a fair market value. Companies are supposed to do them annually, but Stripe is apparently conducting them more often than once every 12 months.
Unlike lofty investor estimates, this assessment is more conservative. It considers external factors like the macroeconomic situation as well as industry conditions—for instance, how competing public companies are faring (not well, in Stripe's case).
Cost may be one downside to getting fresh 409As—it costs between $1,000 to $20,000 depending on the maturity of a company. However, there are some upsides to updating 409A figures for those who can afford it, including:
Issuing new stock-based compensation to employees at a lower price for better hiring and retention prospects
Resetting investor expectations ahead of a potential IPO
Charted: Stocks of publicly traded payment companies slid in the last year
Stripe, by the digits
40%: How much Stripe's internal valuation has been reduced by in the past six months
14%: Staff cuts announced in November. "We were much too optimistic about the internet economy's near-term growth in 2022 and 2023 and underestimated both the likelihood and impact of a broader slowdown," brothers and co-founders Patrick and John Collison in an email to staff announcing layoffs
$12 billion: Stripe's revenue in 2021
2: Startups valued at over $100 billion globally—TikTok parent company Bytedance and Elon Musk's SpaceX have both been pegged to be worth around $140 billion. Note: These are investor valuations during fundraising.
20%: Stripe's share of the payment processing market, a distant second to PayPal (42%)
60%: Share of new startups choosing Stripe over its rivals
Is Stripe's IPO coming in 2023?
Business insights provider Crunchbase predicts 2023 is the year Stripe finally goes public. The company filed its intention to go public in July 2021 but hasn't made any big moves since. In November 2021, John Collision said "we are very happy as a private company," adding that Stripe was still in the early stages of its journey.