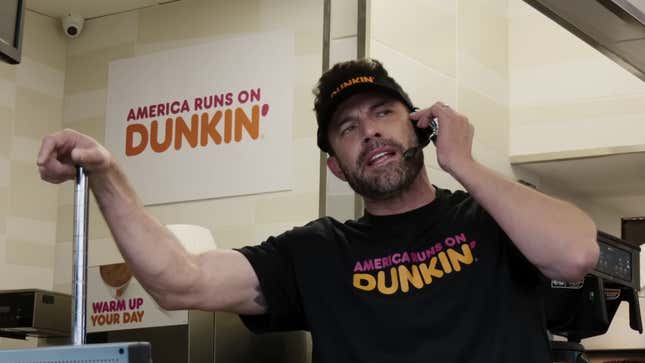 Dunkin's Super Bowl ad debut is all thanks to its biggest celebrity fan, Ben Affleck.

Carin Pai, Part 2: Reasons to de-risk your portfolio
Over the years, paparazzi have often pictured Affleck with Dunkin' bags and iced coffees, but on Feb. 12, the Oscar winner was featured on the other side of the drive-thru order window. The donut-and-coffee chain's first-ever national Super Bowl ad featured Affleck taking orders in a strong Boston accent from unsuspecting customers while donning an "America Runs On Dunkin" t-shirt.
Fans knew something of this sort was brewing after photos of the Hollywood star filming at the Dunkin' in Medford, Massachusetts, outlet, alongside his singer-actor wife Jennifer Lopez, were shared on social media. Lopez had a cameo in the ad, asking Affleck: "What are you doing? Is this what you do when you say you're going to work all day?"
But the plan wasn't always to air this during the National Football League's mega-advertising event that draws hundreds of millions of eyeballs. Dunkin' had initially pitched the ad as a scripted one, with the actor visiting its corporate boardroom. Instead, Affleck proposed going undercover as a staffer at a Boston-area Dunkin' for a day, the company's chief marketing officer Jill McVicar Nelson told the Wall Street Journal. Only after seeing the results of the hidden-cam experiment did the company decide to buy a spot in the game.
Affleck had turned down several requests to star in a Dunkin' campaign but finally agreed for a business-driven reason: To put his newly launched production company, Artists Equity, to work.
A brief history of Artists Equity
Affleck, actor Matt Damon and Gerry Cardinale, founder and managing partner of investment firm RedBird Capital Partners, launched Artists Equity in late 2022. Affleck is the CEO and Damon the chief content officer.
The talent-first studio's business model calls for sharing a portion of each project's profits with the performers and other creative talent involved. This will apply to the Dunkin' project, Affleck told the Wall Street Journal.
The production house's first feature film Air about the birth of Nike's Air Jordan sneakers, written and directed by Affleck and starring Damon, is due for release later this year. The company has more films in the pipeline and is aiming to churn out at least five projects annually. After Dunkin', it also plans to move into more TV and commercial work, Affleck told the WSJ.
Watch: The Ben Affleck Dunkin Superbowl ad
Quotable: Ben Affleck's love affair with Dunkin'
"It's amazing! I have Dunkin' Donuts every day. It's very weird, I have it every day and people are always like, 'Where is that? Is that near here?' So, I feel like I'm spreading the word." -Ben Affleck in an interview with Collider in 2019
One more thing: There's more from Ben Affleck's Dunkin' stint
The 30-second spot doesn't fully cover the whole day's work Affleck put in at the Dunkin' store. And there's some interesting interactions that didn't make the cut.
"It's Boston, after all, so we had some rather coarse and agitated people who were willing to voice their displeasure in a colorful way, and I'm still lobbying to include the most interesting of those in some of the edgiest social spots," Affleck told WSJ.
Already, scenes that weren't in the Super Bowl ad are starting to show up on the company's social media profiles. Dunkin' will also air a scripted ad shot at the store in coming weeks, a company spokesman told WSJ.
One big number: The cost of a 30-second Super Bowl ad
$6-7 million: How much Fox reportedly charged for a 30-second spot.
A non-exhaustive list of Super Bowl's big ad moments
🍎 Apple Music became the new sponsor of the Super Bowl halftime show. It replaced Pepsi, which had backed the show for 10 years.
🍻 Annheuser-Busch ended its exclusivity deal after three decades, making way for more alcohol brands, like beer brands Heineken and Molson Coors and liquor brands Remy Martin and Crown Royal, to advertise. The parent of the Bud, Ultra and Busch beer brands, remained the top alcoholic beverage company to run ads with three minutes of airtime nationally.
🌐 A year after Crypto.com, Coinbase and FTX Trading all bought ads at the NFL event, crypto companies were absent from the ad roster. The company that came closest to the category is Web3 gaming company Limit Break, which planned an "NFT giveaway" of sorts but when the ad aired, scanning the QR code just took viewers to the CEO's Twitter page.
🍬 M&M's "spokecandies"—anthropomorphized M&M characters—have drawn flak from certain political corners for swapping out the Green M&M's shoe from heels to sneakers, as well as changing the Brown M&M's stilettos into more reasonable pumps, and running an International Women's Day campaign featuring female candies. Its Super Bowl commercial replacing the animated chocolate candies with actor Maya Rudolph as the official M&M spokesperson, advertising clam-flavoured"Ma&Yas," had everyone perplexed. But it was all staged. In a press conference afterwards, the original candy mascots announced they were "back for good."
🍿 DC released its ad for its The Flash starring the controversial Ezra Miller during the Super Bowl. Former Batman—no, not Affleck—Michael Keaton will reprise his role.
🎤 Rihanna, the world's wealthiest singer that generated a buzz for her fiery red jumpsuit and now-confirmed pregnancy, is perhaps the only advertiser who didn't have to pay to market her product. She smartly weaved in a subtle nod to her Fenty Beauty brand during her halftime show performance, touching up her makeup on stage.
Related stories
🤑 Rihanna is the first woman billionaire to play the Super Bowl halftime show
🏈 How the Super Bowl became an unrivaled US cultural phenomenon