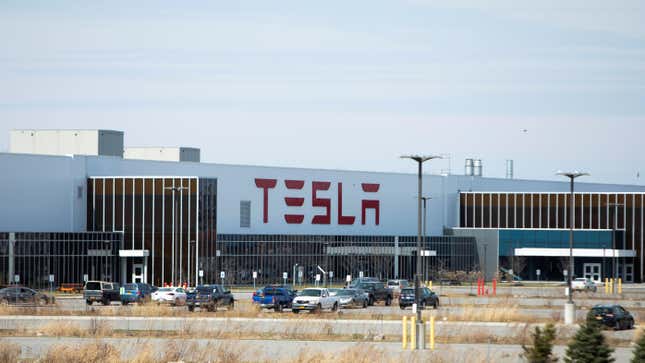 A labor union accused Tesla of firing people at an upstate New York plant in retaliation for their campaigning efforts.
What inspired Elon Musk's design for Tesla's Cybertruck?
Workers United Upstate New York, the union a group of Tesla workers in Buffalo announced it would seek to join on Feb.14—said the carmaker fired more than 30 employees "in retaliation for union activity," Reuters reported.
The union's complaint with the US National Labor Relations Board (NLRB), filed on Feb. 15, also stated that the workers received an email with an updated policy that prohibits recording workplace meetings without all participants' permission. "This policy violates federal labor law and also flouts New York's one-party consent law to record conversations," the union noted.
Tesla claims the decision to fire workers in Buffalo pre-dates unionizing efforts
Tesla denied firing workers for their involvement in campaigning in a Feb. 16 statement. The company claims it fired 4% of its Autopilot team at the Buffalo site as part of a global performance review practice conducted every six months.
"The employees let go as part of this process received prior feedback on their poor performance from their managers over the course of the review period. Despite feedback, they did not demonstrate sufficient improvement," the company said.
Tesla stated the workers who were laid off "were identified" on Feb. 3, before they became aware of organizing activities "approximately 10 days later" and that only one of the 27 laid off employees was "officially identified as part of the union campaign."
If Buffalo workers succeed in their campaign, they would form the first US-based union at the electric carmaker, which has a history of falling foul of the NLRB over union-busting practices.
Tesla's Buffalo factory, by the digits
2,000: Workers employed at the Buffalo factory
5,000: Clean energy jobs Tesla aims to create over the next decade
675: Employee base of the labeling team in Buffalo as of Feb. 13
$19: Starting hourly pay
Quotable: Fired Buffalo Tesla worker feels "blindsided"
"I feel blind sided, I got covid and was out of the office, then I had to take a bereavement leave. I returned to work, was told I was exceeding expectations and then Wednesday came along. I strongly feel this is in retaliation to the committee announcement and it's shameful," —Arian Berek, one of the employees laid off and an organizing committee member. 
A non-exhaustive timeline of Tesla's labor law violations and anti-union efforts
February 2017: Jose Moran pens a Medium blog post saying Tesla employees in Fremont have been talking about unionizing and reached out to United Auto Workers.
Throughout 2017 and 2018: A CNBC report says Tesla hired a PR firm to monitor a Tesla employee Facebook group, and to conduct research specifically on organizers on social media in 2017 and 2018.
May 2018: Musk tweets employees who unionize would "give up stock options for nothing." The NLRB later asks him to delete the anti-union tweet.
September 2019: A California judge ruled Musk and his EV company have been illegally sabotaging workers' efforts to unionize in the state, including letting security guards harass workers passing out union pamphlets, banning pro-union swag, and repeatedly interrogating organizers.
December 2021: The NLRB also instructs Tesla to hire back employee Richard Ortiz and pay him lost wages and more, after the company "coercively interrogated" him three times and then fired him as part of alleged union busting efforts.
August 2022: NLRB rules that Tesla's 2017 dress code (Tesla T-Shirts or other pre-approved black ones) is unlawful because it effectively bans clothes with union logos.
September 2022: Tesla is accused of violating national labor laws by allegedly barring employees at its Orlando, Florida location from discussing pay, working conditions, as well as the hiring, suspension, or termination of employees.
Related stories
🤲 Workers at Tesla's Buffalo factory are trying to unionize
👕 Why Tesla workers' right to wear union T-shirts is so important
💭 Tesla doesn't understand that its goals are different from its employees'