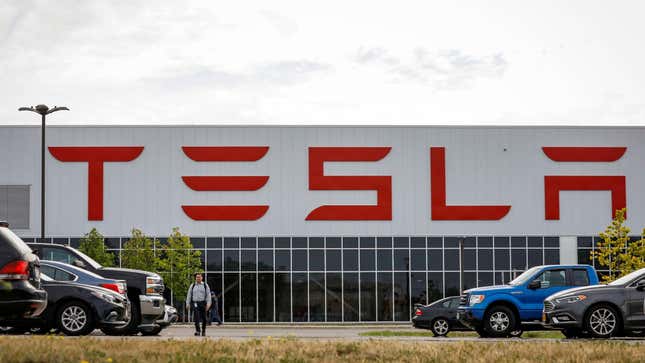 A group of Tesla workers in Buffalo, New York today (Feb. 14) launched a campaign to unionize, which, if successful, would mark the first union for employees of the electric vehicle company.
Paulina Porizkova on being an Estee Lauder model
The workers are demanding for higher pay and benefits, as well as a voice in the workplace. "We want a sustainable future, not just for the company, but also for us as its employees," said Tesla Workers United, the organizing committee, in a press release. The employees are organizing with Workers United Upstate New York, the organization that worked with Starbucks employees when they formed the coffee chain's first union in 2021.
The Tesla factory in upstate New York manufactures solar panels and solar roofs as well as commercial and home batteries. The factory has about 2,000 workers, the committee estimates, and Tesla has said many of the 5,000 clean energy jobs the company will create over the next decade will be in New York. Some 800 workers contribute to developing driver-assistance software for cars, including helping to label images and videos that train the system. (No previous experience in AI or data labeling required.) Starting pay is about $19 an hour.
This is not the first time workers have attempted to unionize at the electric vehicle manufacturer. In 2021, the National Labor Relations Board reportedly found Tesla had illegally fired a worker involved in organizing at the company's factor in Fremont, California. In 2017 and 2018, workers had attempted to organize, but neither ended up petitioning for a unionization vote.
Will unionization efforts be different this time around?
The unionization efforts come as Tesla CEO Elon Musk, who bought Twitter last year, is being accused of not paying enough attention to the EV company. At the same time, Tesla faces growing competition from both newer EV startups and established automakers.
Musk has spoken out against unionization efforts at Tesla in the past. "A union is just another corporation," he tweeted last May. In 2018, he replied to a tweet asking about Tesla factory workers unionizing by noting that unionized workers would lose stock options.
The unionization attempt at Tesla is the latest in a wave that has included successful efforts at companies like Amazon, Apple, and Trader Joe's.