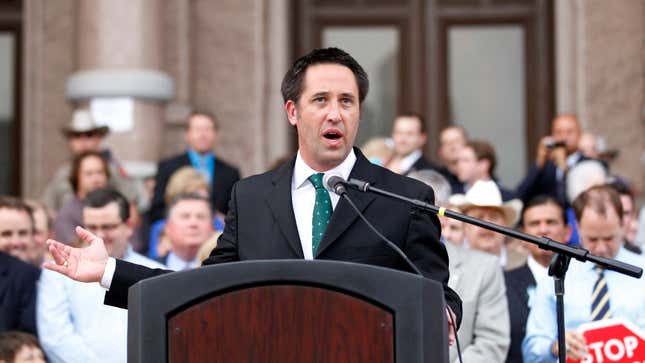 HSBC's slow crawl away from oil and gas is still too much for Texas.
Texas comptroller Glenn Hegar yesterday (Mar. 20) added Europe's largest bank to his office's list of companies that boycott the oil and gas industry in light of the bank's new fossil fuel funding policy.
In December, HSBC announced it will "not provide new finance, or new advisory services" for projects pertaining to new oil and gas fields, where the final investment decision was taken after Dec. 31, 2021. It will also not invest in infrastructure "whose primary use is in conjunction with new O&G fields."
Under Texas law, a state governmental entity is required to sell, redeem, divest, or withdraw all publicly traded securities of a company—HSBC, in this instance—that is added to this comptroller's list, which keeps tabs on the companies that make investment decisions driven by environmental, social, governance (ESG) principles. Initially issued in August 2022, the list only applies to state governmental entities and to their investments and contracts; not individuals and their business dealings.
The only way HSBC or any other blacklisted company can get off this roll is if they choose to revert to business as usual with the energy companies, without terminating deals with or penalizing energy companies "because they are energy companies," according to the Texas comptroller's office.
Hegar's move came on the day the UN's Intergovernmental Panel on Climate Change (IPCC) released a report emphasizing the need to switch to renewable energy and away from fossil fuel production to avoid the worst consequences of climate change. According to the IPCC, the cost of climate action would be offset by the health benefits resulting from reducing emissions.
Texas comptroller criticizes ESG push, in his own words:
"HSBC's new energy policy is a prime example of a broader movement in the financial sector to push a social agenda and prioritize political goals over the economic health of their clients [...] HSBC's policies threaten Texas jobs, our state economy and our national security, and the tax dollars of hard-working Texans should not be leveraged to force policies that undermine Texas' fiscal health and stability." —Texas comptroller Glenn Hegar in a statement dated March 20, 2023.
Texas' finance sector sanctions, by the digits
11: Financial companies on the comptroller's list. Besides HSBC, there's Blackrock, BNP Paribas, Credit Suisse, UBS, and more
350: Individual funds on the comptroller's list, subject to the same provision as the companies
30 days: Time by which state government entities must notify the comptroller of their direct or indirect holding in blacklisted companies
180 days: How long state government entities have to divest at least 50% of their assets from blacklisted companies
360 days: How long the state governmental entities have to fully divest from blacklisted companies
HSBC isn't even that environmentally friendly yet
Environmental activists and groups would scoff at HSBC being labeled a "prime example" of a financial company prioritizing ESG.
It wasn't long ago that Stuart Kirk, HSBC's former head of responsible investing, made light of floods in Florida and downplayed climate change risks. In the infamous speech, delivered in May 2022 at a Financial Times conference in London, he mentioned how there was always "some nut job telling me about the end of the world." He was reportedly suspended and finally exited the bank in July (according to Kirk's LinkedIn profile, he has since become a columnist for the Financial Times).
Under its new policy, HSBC will continue to finance existing fossil fuel projects that are "in line with current and future declining global oil and gas demand."
Will HSBC stopping oil and gas financing entirely make a difference?
HSBC's annual lending to fossil fuel projects is to the tune of $20 billion, which constitutes only about 2.7% of global lending to the sector, according to David Simpson, a professor at the School of International Service at American University.
Simply put, the bank alone can't make a dent. "If other large banks do feel compelled to follow HSBC's lead, the action might be more effective," Simpson said.

Rabbit hole: Biden pushes back on Republican anti-ESG push
The same day as Texas sanctioned HSBC, US president Joe Biden issued the first veto of his presidency to reject a Republican-led measure concerning climate change.
The bill in question, which passed votes in the House and the Senate at the start of March, aimed to reverse a rule the Labor Department drafted in November under the Employee Retirement Income Security Act, which allowed fiduciaries the right to consider climate change and ESG factors as they invested in privately held retirement plans. It was expected that Biden would intervene, and he did.
"This bill would risk your retirement savings by making it illegal to consider risk factors MAGA House Republicans don't like," Biden said.
Place of interest: Florida
Texas isn't the only ESG-wary state. Several Republican-led US states allege that prioritizing ESG is leading to financial firms discounting their financial duties.
In December, Florida's chief financial officer said his department would pull $2 billion worth of its assets managed by BlackRock, making it one of the largest anti-ESG divestments. Last month, Florida governor Ron DeSantis introduced legislation to "protect Floridians from the woke ESG financial scam," arguing that ESG should be removed from financial decision-making.
It hasn't been a cakewalk, though. Bills to prohibit state support of ESG investing have been struck in deep-red states like Mississippi, North Dakota, and Montana, as state-level banking groups rally to retain their freedom.
Following Biden's veto, DeSantis has spearheaded an alliance of 18 states dedicated to efforts to "protect individuals from the ESG movement that threatens the vitality of the American economy and Americans' economic freedom."
Related stories
🔧 ESG is broken but we can't afford to scrap it
🔵 Blue states are flipping the script on Republicans in the ESG battle
⚽ How companies can move from playing ESG defense to ESG offense