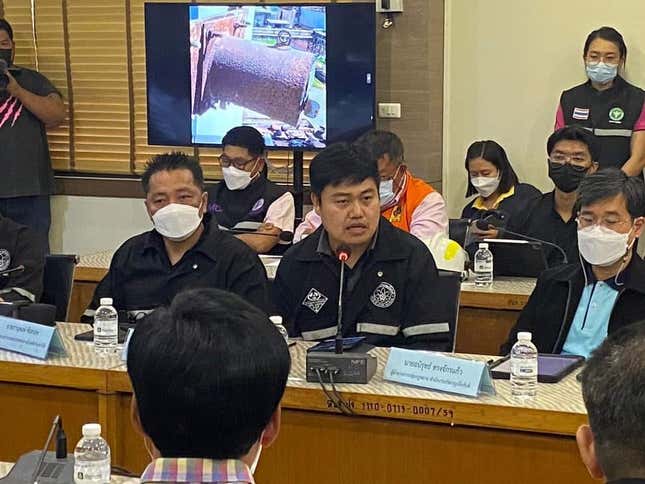 Last Friday (Mar. 10), a radioactive cylinder was reported missing in Thailand. Nearly a week on, it's still nowhere to be seen.

Why a tightening of credit conditions could lead to a weak economy
Thai police in the Prachin Buri province in central Thailand have been frantically trying to track down the hazardous tube, which apparently went missing from the National Power Supply Public's power station several days before authorities were alerted, on Feb. 23. The 30 centimeters (12 inches)-long and 13 centimeters (5 inches)-wide steel tube was part of machinery at the plant, which is located around 100 kilometers east of Bangkok.
Radiation tests at the plant show the tube is no longer in the area. But beyond that, its whereabouts are hard to pinpoint. Si Maha Phot district police chief Mongkol Thopao told CNN that "it is unclear if the item was stolen and sold to a recycling shop or misplaced elsewhere," while security camera footage provided "limited views" of the machine. The police are checking everywhere—junk yards, scrap metal yards, and secondhand shops.
Quotable: The radioactive cylinder is hazardous to health
"If someone breaks the cylinder, when you are directly exposed to it, you could be exposed to a high risk of cancer and serious illness, so please don't break the cylinder," said Office of Atoms for Peace Secretary Permsuk Sutchaphiwat.
What's in the radioactive tube?
The steel tube contains an undetermined amount of Caesium-137. It has a salt-like texture, which means it could be easily disturbed if the shell is opened. The casing carries no warning labels to deter anyone from opening it. At the least, it would cause rashes and burns. In extreme cases, exposure to the material could result in death.
Luckily, records dating back one month at hospitals and healthcare centers in the province and ongoing surveillance hasn't revealed any suspected case of sickness or injuries related to exposure to the radioactive material.

One big digit: The cash reward for finding the cylinder
50,000 baht ($1,450): Cash reward for anyone who can provide information about the cylinder, offered by Kittiphan Chitpentham, a representative of the National Power Supply Public Co.
Throwback: The last time to Thailand was searching for missing radioactive containers
In 2000, workers stole a cobalt-60 cylinder from a discarded X-ray machines. It ended up in the hands of a garbage scavenger, who sold it to a scrap dealer, who broke the highly-radioactive tube and left the parts scattered in the junkyard. Five workers at the scrapyard, who opened the cylinder, and four waste collectors, who removed the cylinder, ended up in hospital with radiation sickness. More than 1,800 people in the area were exposed to harmful radiation in the aftermath.
Deputy secretary general Pennapa Kanchana has abated some fears, though, saying that this time's missing cylinder is far less radioactive than the incident in 2000.
Place of interest: Australia
More recently than the last Thai incident, a radioactive canister containing Caesium-137 went missing in Western Australia this January. A six-day search led to the discovery of the missing cylinder on an outback highway, where it was apparently misplaced during transport from an iron ore mine to a depot in Perth.
Optimism runs a little lower in the southeast Asian country, though. Unlike a remote Australian road, authorities in Thailand are searching in a densely populated area, where almost half a million people reside, and which is frequented by both local and international tourists for its famed national parks.
Related stories
☢ Grand Canyon visitors may have been exposed to radioactive material for two decades
🗑️ Race is the biggest indicator in the US of whether you live near toxic waste
👨‍⚕️ Did the Woolsey fire disturb a nuclear waste site? California says no, and a group of doctors say yes