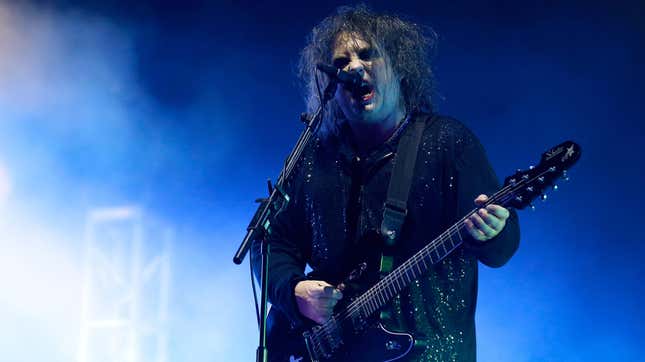 Fans of The Cure who bought tickets to their US tour on Ticketmaster could see between $5 and $10 paid back into their accounts.

Robert Smith, the band's co-founder and lead singer, tweeted to fans on Mar. 16 that he was "as sickened as you all are" by exorbitant fees on Ticketmaster ticket sales. The British rock band had deliberately kept ticket prices low—"I felt like I was spending 1989 money today to buy these tickets," one user tweeted—and only opted for the Verified Fan program, which allows them to partake in an advance sale. The intention of the program is to fight scalpers, who use bots to purchase tickets in bulk to resell them at higher prices.
But despite the band's best efforts to keep tickets affordable, Ticketmaster added various fees that, in some cases, exceeded the cost of the ticket itself. Outraged fans started sharing the evidence on social media. For instance, one screenshot showed a $11.65 service fee and $10 facility charge per ticket, plus an overall order processing fee of $5.50, being levied for those using Ticketmaster's Verified Fan program. The total cost for four $20 tickets amounted to more than $172.
After the band frontman's pointed protest, the ticketing company agreed to the refunds. By the end of day yesterday, Smith said the company would debit money into accounts of ticket buyers, and lower fees on future sales
Quotable: The Cure's Robert Smith convinced Ticketmaster to refund partial fees
"After further conversation, Ticketmaster have agreed with us that many of the fees being charged are unduly high, and as a gesture of goodwill have offered a $10 per ticket refund to all verified fan accounts for lowest ticket price transactions and a $5 per ticket refund to all verified fan accounts for all other ticket price transactions, for all Cure shows at all venues; if you already bought a ticket you will get an automatic refund; all tickets on sale tomorrow will incur lower fees." —Robert Smith's two tweets on Mar. 16
How Ticketmaster fees work, according to Ticketmaster
The fees, agreed upon and shared between the client and the platform, are used by Ticketmaster to provide software, equipment, services and support to manage tickets and box office, and, and the sales network. "The remainder, when taken with other revenues, is how we earn a profit," the company says.
The ticketing platform's website offers some, albeit vague, breakdown of the ticket price and fees:
Face Value Price: The base ticket price is determined by clients and is remitted to clients. Taxes are typically included in this price.
Service Fee: The convenience charge levied per ticket.
Order processing fee: A transaction charge levied once per order, which offsets the costs of ticket handling, shipping and support. It typically is not tacked on to in-person box office sales. In some cases, Ticketmaster's order processing costs may be lower than the order processing fee—that's when the company "may earn a profit" on the order processing fee.
Delivery Fees: Vary from even to event and according to mode of delivery—Mobile Tickets, Will Call pickup, Print-at-Home, US Mail or UPS. "The UPS delivery fee may not reflect the actual cost UPS charges Ticketmaster to deliver tickets via UPS," the company says. "In some cases, delivery fees may include a profit to Ticketmaster."
Facility Charge: Additional fees, decided by clients, which typically helps them operate and invest back in the venues themselves. Ticketmaster does not share in facility charges.
One big number: Ticketmaster fees
30%: cost of added fees US concertgoers can expect to pay, on average, compared to the ticket's face value
No Ticketmaster surge and Platinum pricing for The Cure
Another way The Cure had tried to keep prices down was by declining to participate in the company's dynamic pricing and Platinum ticket scheme because, according to Smith, it "is a bit of a scam." That system—where prices fluctuate based on demand—is what caused individual tickets for Bruce Springsteen, who opposed the Ticketmaster and LiveNation merger back in 2009, and for Taylor Swift, to sell for thousands of dollars.
A brief timeline of Ticketmaster's irksome sales model
1994: Pearl Jam took on Ticketmaster for levying exorbitant fees. Unable to keep ticket prices on the platform under $20, the band ended up canceling its summer tour. It took the ticketing firm to court for operating a monopoly, but to little avail.
2010: Live events company LiveNation buys Ticketmaster. By 2022, Ticketmaster will hold an 80% share in primary ticketing in the US and its parent company LiveNation will control 70% of the combined ticketing and live event venues market.
April 2021: Four politicians write to the Biden administration to reevaluate the decade-old merger which gave LiveNation a "near monopoly of the primary sales of tickets," accounting for 70% or more.
November 2022: After pre-sales for Taylor Swift's Eras tour—her first since 2018—began for "verified fans," users got stuck in long queues and faced "technical glitches." New York House democrat Alexandria Ocasio-Cortez calls for the break-up of Ticketmaster and LiveNation. Congressman Bill Pascrell and David Cicilline call out the company, with the latter saying the excessive wait times and fees are "a symptom of a larger problem" at "an unchecked monopoly."
January 2023: The US Senate holds a hearing about the company to discuss ticket sales, monopolisation, resale markets and Ticketmaster's influence on the live music industry. "We need to do better and we will," Joe Berchtold, president of Live Nation, Ticketmaster's parent company, said in the Jan. 24 hearing, writing the Taylor Swift debacle off as a one-off event driven by a wave of bot attacks creating "a terrible consumer experience."
Related stories
💔 Taylor Swift fans' rage sparks calls to break up Ticketmaster and Live Nation
✅ Bruce Springsteen may have solved ticket scalping
💰 The Live Nation scandal shows the concert industry needs to learn economics from Taylor Swift