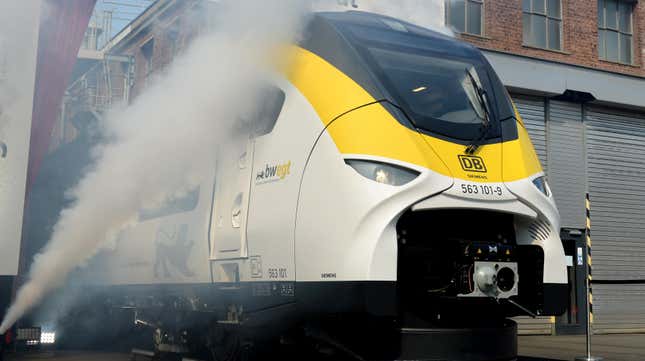 The first adopter of commercial hydrogen trains is switching tracks and eyeing an all-electric future instead.
LVNG, a German state-owned railway company, has been devising ways to phase out diesel since 2012. In September 2018, it started running hydrogen fuel-cell trains–the Alstom Coradia iLint trains—on trial routes in the Lower Saxony region.

The commercial rollout of these trains on a railway link, in August 2022, had already been derailed on several occasions. The trains required new hardware and software to be retrofitted for their routes, driver shortages left no spare time to educate them on running hydrogen trains, and there were troubles at the hydrogen refuelling station in winter.
Now a year after the commercial launch, the Lower Saxony state ministry has abandoned ideas for future hydrogen trains, arguing that battery-electric models "are cheaper to operate."
By the digits: Hydrogen and electric trains
€93 million ($85 million): The sum that LNVG had invested in hydrogen trains

14: The number of LVNG hydrogen fuel-cell trains that started commercial operations last August on the route between Cuxhaven, Bremerhaven, Bremervörde and Buxtehude.
1,000 kilometres (620 miles): The range of the Alstom Coradia iLint model, which lets them run all day long on just one tank of hydrogen on the Elbe-Weser railway and transport company network, according to Alstom
€8.4 million: The federal government's contribution via a grant to the project, over half of which was spent on the world's first hydrogen refueling station, built by Linde in the town of Bremervörde
80%: How much more expensive hydrogen trains will be in the long run compared to electric options, according to a 2022 study commissioned by the German state of Baden-Württemberg
102: The number of new battery-electric trains that the Lower Saxony government plans to introduce by 2029. All diesel trains will be phased out by 2037
27: The number of non-battery catenary-connected train models that Lower Saxony plans to introduce
Company of interest: Alstom
Alstom hasn't given up on hydrogen trains entirely. In mid-June, the French manufacturer undertook a demonstration project, in which a Coradia iLint hydrogen train carried its very first North American passengers in Canada.
"Hydrogen technology offers an alternative to diesel and demonstrates our ability to provide more sustainable mobility solutions to our customers, agencies and operators, as well as passengers," Michael Keroullé, president of Alstom Americas, said then.
Alstom has also been working with the Czech government to bring hydrogen trains to the country, which has been facing a severe natural gas crunch since Russia, its primary supplier, invaded Ukraine in February 2022.
A non-exhaustive list of countries adopting hydrogen trains
🇺🇸 Last year, California ordered more than two dozen hydrogen trains for intercity travel
🇯🇵 Since last year, East Japan Railway has been testing a hydrogen-powered train with the aim of starting commercial operations by 2030
🇮🇹 Earlier this year, Italy's ministry of infrastructure and transport allocated €300 million to six projects to convert diesel trains to hydrogen ones
🇨🇳 In June, China claimed to launch the world's most powerful hydrogen train. The "Ningdong" engine, capable of carrying 270 kilograms of liquefied hydrogen, can reportedly run for up to nearly eight days and be refuelled in two hours

🇳🇦 Namibia, with a little financial help from Germany, is set to launch Africa's first hydrogen locomotive
🇮🇳 India is looking to launch 35 hydrogen trains, starting with a prototype in Haryana's Jind-Panipat route, as early as March 2024
One more thing: In Germany, electric cars are rivalling diesel models
The share of battery-driven electric vehicles rose to 17.7% of new registrations, while the share of diesel vehicles fell by 10 percentage points to 17.8%, according to figures from KBA, the nation's transport authority.
Related stories
🇩🇪 The world's first hydrogen-powered train hits the tracks in Germany
🤔 The world's first hydrogen-powered train makes (almost) complete sense