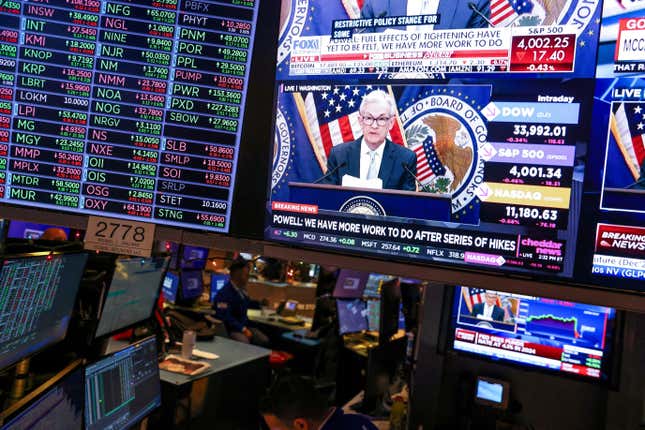 After over a year of hiking interest rates, the Federal Reserve has decided to take a break from tightening credit.

Quartz Smart Investing with Meera Pandit, Part 1
The Fed rarely chooses to skip an interest rate hike on the road to its target rate. Normally, it either keeps hiking or pauses altogether. But unemployment is at 3.7%, inflation is coming down for both consumers and businesses, and the monetary policy committee at the Fed wants to take some time to assess the implications of its interest rate hikes.

Be prepared for the possibility of another rate hike, though
The Fed is forecasting that its benchmark rate will hit 5.6% by the end of the year. Currently it's around 5%—which means there's likely going to be a 50 basis points increase coming at some point.
The Fed is no longer concluding that a US recession is inevitable
Notably, the Fed is also no longer forecasting a recession in its summary of economic projections.
The median forecast from the central bankers shows they expect unemployment to reach 4.1% by the end of the year. In March, the central bank officials had predicted it would rise to 4.6% at a time when the unemployment rate was around 3.5%.
This previous forecast essentially told observers that the Fed was ready to plunge the economy into a recession to bring down inflation.
The Fed's median forecast for gross domestic product also moved up from 0.4% to 1%.
This story is developing and will be updated. For more coverage of the global economy, visit qz.com.