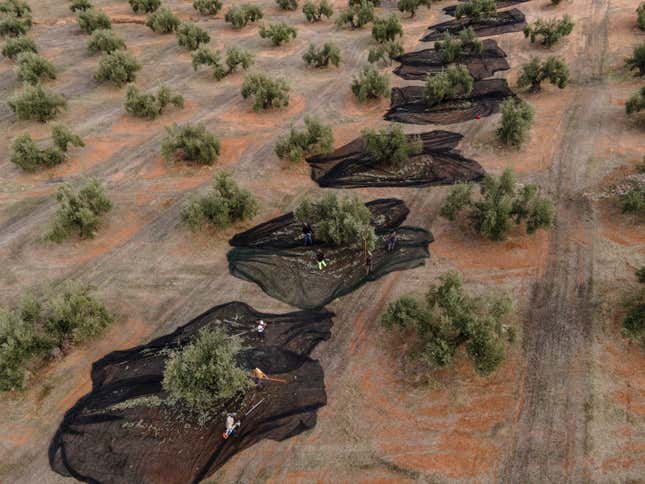 Heat and drought in the Mediterranean are harming production of olive oil, causing its price to spike. The global price of the oil is now almost $6,000 per metric ton, according to data from the International Monetary Fund (IMF). That's the highest since 1997, when it reached $6,225.

How HubSpot created a "Connect Four" program
The last olive harvest, from October to February, yielded only 50% of what it typically would in Spain, the world's top olive oil producer. As a result, the global market could continue to see an oil shortage and higher prices.

Drought is driving high olive oil prices

Spain normally produces more than a million tons of olive oil a year, according to the United Nations' Food and Agriculture Organization. Other countries like Italy and Greece make significantly less, around 300,000 tons each annually. Cutting Spain's production by half means that while the nation still produces the most olive oil, it's now at a baseline comparable to its rivals.

The entire western Mediterranean is feeling the strain of climate change on olive oil production. Italy suffered its worst drought in 70 years in 2022, impacting olives in its northern region, arborio rice used to make risotto, and tomatoes. Italian production of olive oil has fallen an estimated 37% this year, to 208,000 tons.
Shifting olive oil production
Greece is expected to boost its olive oil yield as the center of olive production moves eastward, thanks to rains and relatively mild temperatures. While Western Europe and North African countries have experienced record-breaking droughts and heatwaves, producers in the Middle East are reporting ideal weather conditions for abundant harvests.
Turkey almost doubled its production of olive oil in 2022, to some 400,000 tons, versus 228,000 the previous year. As a result, Turkish exports of olive oil for 2023 are expected to triple the five-year average.