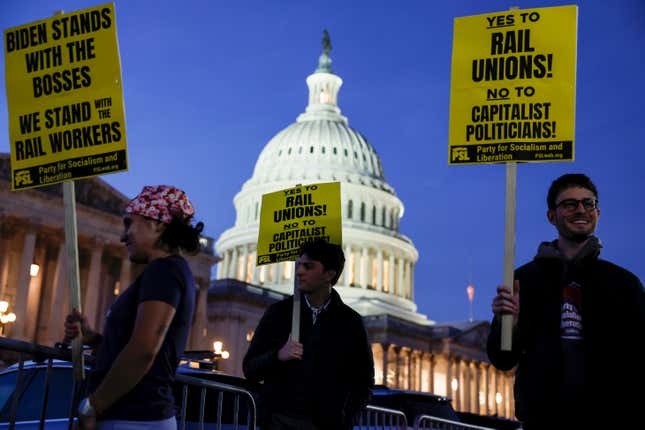 Pro-union sentiment in the US reached a 57-year high last year. New data reflects how this changing attitude towards organizing has translated into action.

Why a tightening of credit conditions could lead to a weak economy
US labor action swelled from 2021 to 2022, according to a newly published report from the Cornell University School of Industrial and Labor Relations, though numbers still fall short of high-water marks in previous decades.
According to the Labor Action Tracker 2022 annual report (pdf), there were 424 work stoppages last year, involving approximately 224,000 workers, for a total of nearly 4.5 million strike days. Work stoppages increased by 52% compared to 2021, as labor movements sustained their momentum amid the covid pandemic.
Growth in US labor activity from 2021-2022
Workers in the accommodation and food service industry organized the most strikes and lockouts in 2022, with over 90% of actions led by organizers at Starbucks. But overall, education workers made up the majority of those involved in labor actions, reflecting roughly 60% of all demonstrating workers and 56% of all strike days. Even nonunion employees staged walkouts, organizing nearly a third of all actions.

Though labor actions did increase from 2021 to 2022, numbers are still far lower than records hit in the late 2010s, or those of decades past. The last comprehensive report from the BLS, which dates back to 1979 (pdf), recorded 4,827 work stoppages—over 11 times the activity seen in 2022.

What are US workers demanding?
The majority of work stoppage demands were related to concerns like pay, healthcare, and retirement benefits.
Filling the gaps in US labor data
The Cornell-ILR Labor Action Tracker and accompanying annual report were both started in 2021 to fill a gap in federal statistics that has existed for decades. In 1982, due to funding cuts under the Reagan administration, the US Bureau of Labor Statistics (BLS) changed the way it captured data on work stoppages, dropping any actions with less than 1,000 workers from the public record.
The lack of data "leaves practitioners, policymakers, and scholars misinformed about the true level of workplace conflict," says the report, which aims to give a comprehensive view of US labor activity.
The greater visibility of small-scale organizing could prove an asset to workers as behemoths like Meta, Tesla, and Amazon continue to quash union efforts. And as the labor movement continues to grow, the question remains for employers on whether they'll rethink their approach in responding to employee demands.