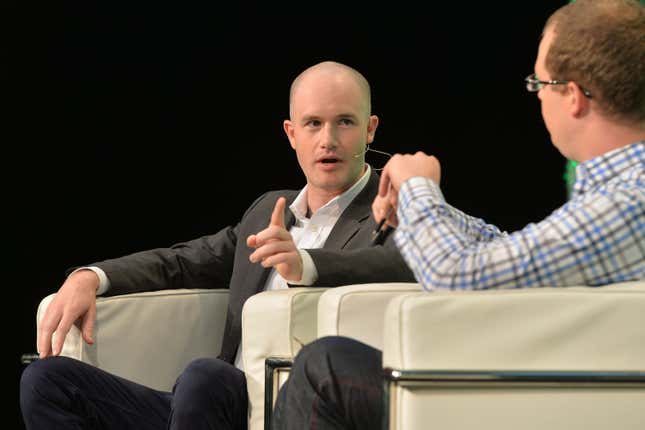 The US Securities and Exchange Commission (SEC) sued the crypto company Coinbase, one day after filing a lawsuit against Binance. Nearly a year after SEC chair Gary Gensler asserted that most cryptocurrencies are, in fact, securities, the agency is finally trying to bring the crypto industry into compliance.
What's the future of crypto regulation? | Ben McKenzie
In its complaint (pdf), filed June 6 in federal court in Manhattan, the SEC claims that Coinbase has operated illegally as an "unregistered securities exchange, broker, and clearing agency."
"You simply can't ignore the rules because you don't like them or because you'd prefer different ones: the consequences for the investing public are far too great," SEC enforcement director Gurbir Grewal said in a statement. "As alleged in our complaint, Coinbase was fully aware of the applicability of the federal securities laws to its business activities, but deliberately refused to follow them."
In a statement to Quartz, Coinbase chief legal officer and general counsel Paul Grewal criticized the SEC's "enforcement-only" strategy for regulating crypto and called for fresh legislation.
"The SEC's reliance on an enforcement-only approach in the absence of clear rules for the digital asset industry is hurting America's economic competitiveness and companies like Coinbase that have a demonstrated commitment to compliance," Coinbase's Grewal wrote. "The solution is legislation that allows fair rules for the road to be developed transparently and applied equally, not litigation. In the meantime, we'll continue to operate our business as usual."
What are the charges against Coinbase?
According to the SEC, Coinbase and its parent company, CGI, violated federal securities laws—both the Exchange Act and the Securities Act—by meeting the legal definition of a securities exchange, a broker, and a clearing house without registering as any with the agency.
The company also failed to register with the SEC its staking-as-a-service program, by which customers make money by locking up crypto for set periods.
Coinbase had some advance warning about the suit. In March, it received a Wells notice from the SEC, which the agency uses to notify a company of a potential lawsuit and give them time to preemptively respond or settle.
In bringing the suit, the SEC also implicated a number of cryptocurrencies that it claims are unregistered securities: solana (SOL), cardano (ADA), polygon (MATIC), filecoin (FIL), sandbox (SAND), Axie Infinity (AXS), chiliz, flow (FLOW), internet computer (ICP), near (NEAR), voyager (VGX), dash (DASH), and nexo (NEXO).
Yesterday (June 5), the SEC brought similar charges against Binance, the world's largest crypto exchange by volume, for selling unregistered securities. Coinbase trails only Binance by that metric.
The twin lawsuits signal that after years of threatening to force the crypto industry into compliance, Gensler is finally going after the biggest fish.