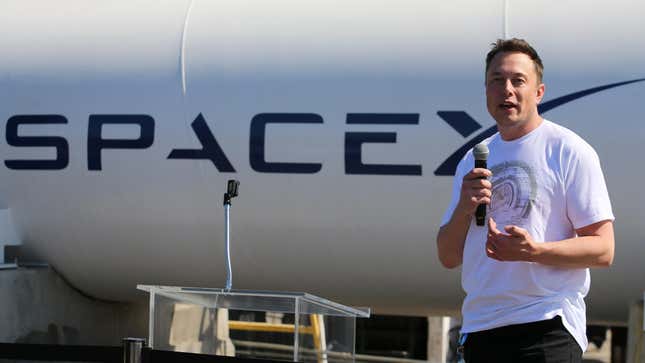 The US justice department yesterday (Aug 24) filed a lawsuit against SpaceX for "routine, widespread, and longstanding" employment discrimination against asylum recipients and refugees.

What inspired Elon Musk's design for Tesla's Cybertruck?
Between September 2018 and May 2022, "SpaceX imposed what amounted to a ban on their hire regardless of their qualification, in violation of federal law," said Kristen Clarke, an assistant attorney general in the DoJ's civil rights division. The jobs in question don't just pertain to advanced tech and science roles like rocket scientists, but also to a variety of other positions, including welders, cooks, crane operators, baristas, software engineers, marketing professionals, and more.
SpaceX officials, including the company's CEO Elon Musk, have incorrectly claimed that International Traffic in Arms Regulations (ITAR) and Export Administration Regulations (EAR) only allow the recruitment of US citizens and lawful permanent residents. In June 2020, Musk told his 36 million Twitter (now X) followers then that "US law requires at least a green card to be hired at SpaceX, as rockets are advanced weapons technology." Musk has also made that claim in various videos that have racked up millions of views on YouTube. The vice president of human resources, a manager of technical recruiting, and other officials at SpaceX have given job candidates similar excuses.
Since 1986, the Immigration and Nationality Act has prohibited citizenship status and national-origin discrimination with respect to recruiting, unless a law, regulation, executive order, or government contract requires the employer to do so. This applies at all stages of the process, from screening candidates to interviewing to hiring.
The Immigrant and Employee Rights Section (IER), an office within the civil rights division of the DoJ, which opened the investigation against SpaceX in May 2020, "seeks fair consideration and back pay for asylees and refugees who were deterred or denied employment at SpaceX due to the alleged discrimination" as well as civil penalties and policy changes.
Quotable: Musk claims SpaceX was instructed to hire only US citizens and permanent residents 
"SpaceX was told repeatedly that hiring anyone who was not a permanent resident of the United States would violate international arms trafficking law, which would be a criminal offense. We couldn't even hire Canadian citizens, despite Canada being part of NORAD! This is yet another case of weaponization of the DOJ for political purposes."

—Elon Musk in an Aug. 24 post on X. He also replied to a post suggesting SpaceX being sued was the Biden administration's attempt to get at Musk for his "political dissent" with a bullseye emoji.
By the digits: Hiring discrimination at SpaceX and beyond
1 out of 10,000: The number of asylum recipients per hire at SpaceX between September 2018 to May 2022, according to data the company provided upon IER's request a whole year and a subpoena later
4: How many months SpaceX hired this asylee for, after IER notified the company of its investigation
14: The number of public announcements, job advertisements, and other online recruiting communications between September 2018 and May 2022 in which SpaceX said it could only hire US citizens and lawful permanent residents

$1.1 million: The total sum of civil penalties that the DoJ collected from 20 employers for posting job openings with unlawful citizenship status restrictions on platforms operated by the Georgia Institute of Technology and other schools. In June 2022, 16 companies paid more than $832,000—KPMG paid the biggest chunk at over $306,000—and three months later, in September, Walmart, Capital One, CarMax, and Axis Analytics settled for a cumulative $331,000
Related stories
🤖 America's first law regulating AI bias in hiring takes effect this week
🧠 Three signs of a poor hiring process—and four ways to fix it
🛂 There's much more we can do to integrate refugees into the economy