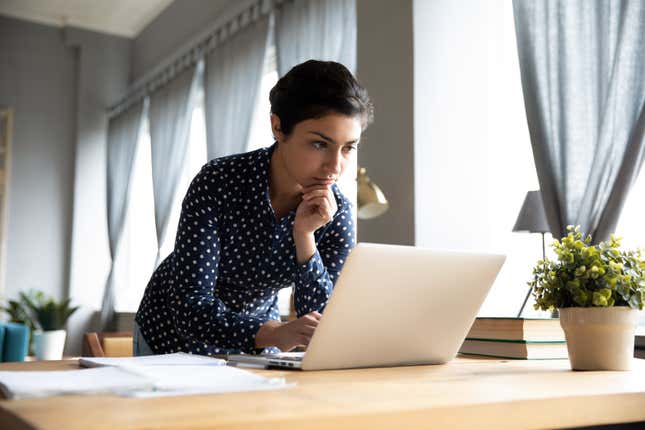 Did you get the memo? Did you see that email? Tell me you saw that update. It's a good thing when colleagues check in with each other after companies send out updates to employees, as many of these messages go unread. Researchers at Axios HQ recently reviewed 8.7 million internal email deliveries and determined that readership isn't great—with the best days to send only resulting in an average 54% open rate.

Should you keep investing in Big Tech?
Drill down further, though, to specific three-hour windows of time during the day, and the open rates can drastically improve. That's especially true on Sundays between 3pm and 6pm US eastern time, when open rates for internal communications peak at 94%. The second-best open rate (86%) was for emails sent between 6pm and 9pm eastern on Sundays.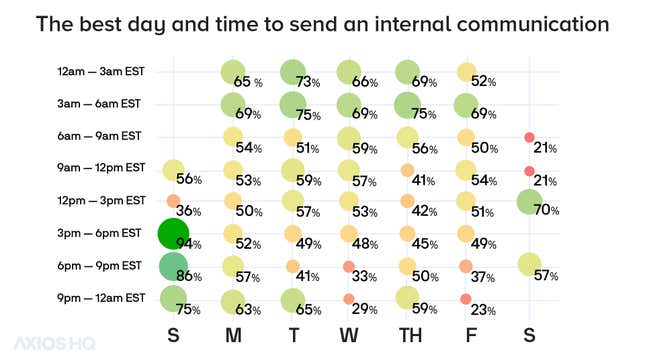 But companies scrambling to send out updates on Sundays should be wary of the message this sends to employees. Weekend email doesn't connect well to employer commitments to nurture productivity or employee well-being. If your company is struggling to get communication to stick, it's time for new strategies.

5 actions to improve internal communications
To tame your communications calendar and increase readership, I recommend companies focus on five actions:
Use your data to get to know your readers better—not only when they're reading but what they're reading.
Tailor your messaging for the audience. When a change needs to be broadly communicated, are you first providing enough background for your managers and looping them in earlier so they can help reinforce the message?
Pick a recurring day when key internal messages are shared. This can subtly train employees to know where and when they can find needed information.
Pair emails with notifications sent using other office tools. Use your intranet as a home base for all need-to-know updates and leverage the chat tools on Slack or Teams, posting to a channel you encourage all employees to join.
Survey employees on what they want to hear more (and less) about.
And remember, despite the low views through much of the week, email continues to be employees' favorite tool for receiving vital internal updates, with Axios HQ finding that 70% prefer something in their inbox. Email can often serve as an employee's to-do list or task tracker. Just keep in mind that within an inbox, company updates are probably battling with inbound marketing messages, outside communication, newsletter subscriptions, and the like, making competition for attention pretty steep. That's why open rates can be pretty low—and why you also need to be reinforcing your messages elsewhere.