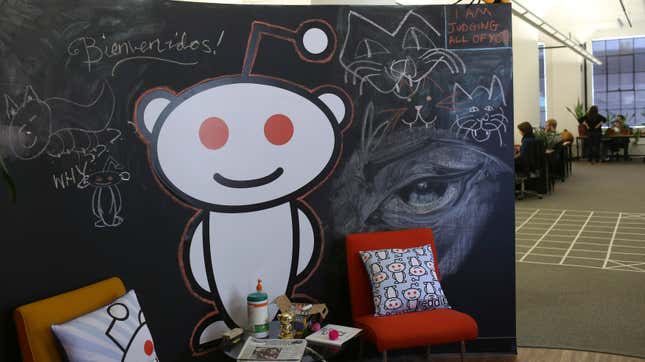 Thousands of communities on the platform will become inaccessible today (June 12), and stay that way for at least two days.
Should you keep investing in Big Tech?
Moderators of some of the biggest subreddits—forums created around a particular interest or topic that Redditors can join, follow, and converse on—are making their communities private for 48 hours to protest against some controversial changes Reddit is making, including exorbitant charges, prohibitions around not suitable for work (NSFW) content, and usage of ads.
Users can no longer view or submit posts, until moderators decide to call off the online demonstration. There's a possibility the blackout is extended beyond 48 hours.
A brief explanation of the changes Reddit is making
Reddit came into existence in 2005, but its own app didn't make a debut until over a decade later in 2016. In the meantime, several other apps—Apollo, Reddit is Fun, Sync and ReddPlanet—sprung up, building on Reddit's Application Programming Interface (API) to bring the site's contents to mobile apps people could access.
On April 18, Reddit said its API is moving to a paid model for third-party apps, but the price eluded third-party developers for weeks. The platform planed to charge for any "request," which essentially includes everything you do on Reddit: upvoting, downvoting, commenting, loading posts, loading subreddits, checking for new messages, blocking users, filtering subreddits, and so on.
On July 1, 2023, these changes will go into play:
🤑 Reddit expects third-party developers to pay sky-high prices, which will essentially drive them out of business quickly.
🔞 NSFW content, which includes nudity, gore, violence, most things sexual or sometimes excessive language, will not be shown, but will continue to be shown in the official app).
📮 Reddit is blocking ads in third-party apps, thereby forcing a paid subscription model. This, while Reddit's official app mints hundreds of millions of dollars from ads.
Moderators are protesting not just taking issue with third-party apps being squeezed and their role being eroded—they want to keep the reins on moderating NSFW content through API—but they see it as a bigger problem.
 A user named Toptomcat put it across as a "step toward killing other ways of customizing Reddit, such as Reddit Enhancement Suite or the use of the old.reddit.com desktop interface." (Reddit chief Steve Huffman has assured old.reddit isn't going anywhere.)
Users will also suffer. For instance, the official app is apparently not accessible for blind people, and without a third-party solution, they're essentially alienated. Although Reddit has said apps that further accessibility will not have to pay, how they're being picked and assigned remains unclear.
Quotable: Why Reddit is making changes to its API policy
"Reddit needs to be a self-sustaining business, and to do that, we can no longer subsidize commercial entities that require large-scale data use...We respect when you and your communities take action to highlight the things you need, including, at times, going private. We are all responsible for ensuring Reddit provides an open accessible place for people to find community and belonging."—Co-founder and CEO Steve Huffman
Reddit protest, by the digits
3,489: The number of subreddits that will be inaccessible during the protest, including five of the 10 most popular communities on the site" - r/gaming, r/aww, r/Music, r/todayilearned and r/pics

30 million people: Membership numbers for each of the five popular communities which will be inaccessible
Over 3 million: Total number of subreddits on Reddit
100 queries per minute per day: The rate limits to use the Data API free of charge. Over 90% of apps fall into this category and can continue to access the Data API for free, Huffman said. Mod Tools and Mod Bots can keep accessing the Data API for free above the free limits
$0.24 per 1K API calls: Rate for apps that require higher usage limits
$12,000: How much 50 million requests cost, according to Christian Selig, the creator of Apollo, a third-party app to browse Reddit. "For reference, I pay Imgur (a site similar to Reddit in user base and media) $166 for the same 50 million API call," he wrote
$20 million: How much it would cost annually to keep Apollo running. Even if Selig only retained subscription users, they each make an average of 344 requests per day, amounting to $2.50 per month, "which is over double what the subscription currently costs, so I'd be in the red every month," Selig explained. Apollo's premium tier, Apollo Ultra, costs $1.49 per month, $12.99 per year, or $50 for a lifetime subscription
30-day: The very short timeline between when the pricing was announced and developers will start incurring charges
$3.4 million: The value of unpaid labor thousands of unpaid moderators, or mods, do for Reddit annually, equivalent to 2.8% of the site's revenue
466 hours: Hours of work reddit moderators put in daily to ensure subreddits are free of off-topic, banned, and illegal material
3%: Mod actions that come from third-party apps, as per Huffman, who says "we've reached out to communities who moderate almost exclusively using these apps to ensure we address their needs"
Apps of interest: Apollo, ReddPlanet, Reddit is Fun, and so on
Christain Selig, the creator of Apollo, has announced the eight-year-old app will shut down on June 30. Soon, others like Reddplanet, Reddit Is Fun, Sync, Narwhal, and Bacon Reader announced the same doomsday for folding.
"I think showing humanity through apologizing for and recognizing that this process was handled poorly, and concrete promises to give developers more time, would go a long way to making people feel heard and instilling community confidence. Minor steps can make a potentially massive difference," Selig, who built Apollo as a recent university grad who was fresh out of an internship at Apple, wrote on Reddit ahead of the blackout. "Outside of that, keep fighting the good fight and thanks again. No better community on the internet exists, and if this is it for all of us, it's been an absolute pleasure."
Related stories
💰 AI bots trained on Reddit conversations. Now Reddit wants to be paid for it.
🗣️ Reddit is shutting down its Clubhouse-style feature Talk
🤲 Reddit is the best social media site because it gets community right