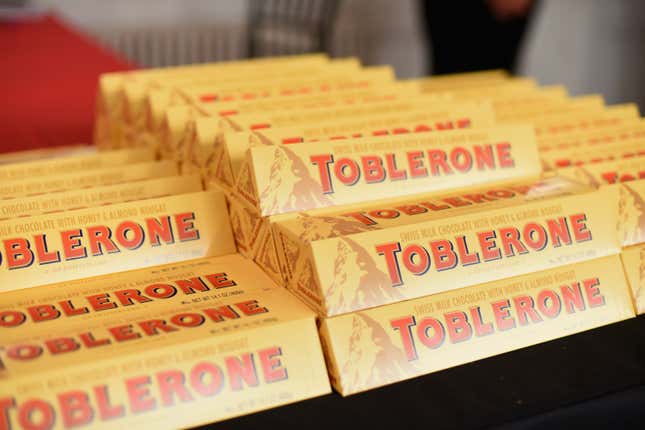 Toblerone, the chocolate bar known for its triangular pieces, is removing the image of the Matterhorn from its wrapper as it moves production to Slovakia this year. Strict laws in Switzerland prohibit using any national symbol on products manufactured in other countries.
Marcus Samuelsson on the New York City restaurant scene
The chocolate bar's US owner, Mondelez, opted to move some production to chocolate factories in Bratislava, Slovakia, in order to cut costs. Produced in the Swiss capital of Bern for almost 125 years, Toblerone was acquired by Mondelez in 1990.
The chocolate company will also be forced to remove "Swiss-made" from the packaging, switching to "Established in Switzerland."
Switzerland's marketing laws came into effect in 2017, after research showed that associating a product with the country can add as much as 20% to the price. The country is well known for luxury goods such as watches and knives, and lawmakers said they had to defend that reputation from misuse.
In order to qualify as Swiss-made, food products must source at least 80% of raw materials domestically.
Italy, which holds the southern portion of the Matterhorn, has been quiet about the use of the image, as well as the name Toblerone, which the company says is a play on the name of the founder, Theodor Tobler, and the word torrone, meaning "nougat," in Italian.
Mondelez announced the new packaging will feature a "modernized and streamlined mountain logo that aligns with the geometric and triangular aesthetic," but the company has yet to release any images. However, the company did confirm that the elusive bear hidden within the Matterhorn on the packaging will be sticking around.

Toblerone, a timeline:
1868: Jean Tobler opens a chocolate shop in Bern, Switzerland, selling chocolate produced by factories around the country.
1899: With demand for his chocolates increasing, Tobler founds his own chocolate factory.
1908: Tobler's son, Theodor Tobler, invents the modern Toblerone after experimenting with white nougat.
1964: Toblerone is featured at the 1964 world's fair in New York City.
1970: The Matterhorn is introduced on the candy bar's packaging for the first time.
1990: Toblerone is acquired by Mondelez, an American candy company.
2022: Mondelez announces Toblerone will move some production outside of Switzerland.
Related stories:
🎃 Candy prices are up 13.1% with Halloween right around the corner
🍫 Toblerone is halal and the far right is furious
🔺A two-year travesty comes to an end as Toblerone reverts to its original shape