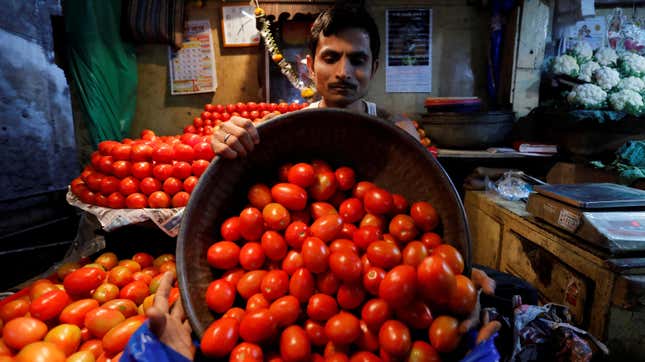 Residents of India's Pithoragarh district in the state of Uttarakhand have reportedly found a solution to the problem of surging tomato prices: buy them across the border in Nepal, where the food staple can be found for almost half the price.

Should you keep investing in Big Tech?
While tomatoes' availability in India has always followed seasonal patterns, this year prices have reached new records. In Delhi, one kilogram of tomato costs Rs168 ($2.05) as of today (July 13), nearly five times Rs35 ($0.43) compared to a year ago. The highest retail price today was recorded in Hoshiarpur, Punjab, a whopping Rs224 ($2.73).
India's plight is an opportunity for Nepal, whose government has been pushing farmers to diversify their crops, encouraging a shift from grains to vegetables, including tomatoes, to serve Indian demand.
Charted: Tomato prices are through the roof in India's capital Delhi
Why tomatoes are getting pricier
👨‍🌾 Lean production season. Peak harvesting season for tomatoes occurs from December to February with July to November traditionally see slimmer pickings, which contributes to cyclical price seasonality.
🌧️ Monsoons. Rains pose crop maintenance and distribution-related challenges and result in increased transit losses, all of which exacerbate price changes. In some parts, heavy rainfall has also caused fungal diseases, rendering some of the produce unusable.
🗑 Early perishability. The government launched a hackathon called "Tomato Grand Challenge 2023" at the end of June, with the aim of developing cost-effective technologies for pre-production, primary processing, post-harvest, storage and the pricing of tomatoes.
Modi's government answer to the tomato crisis
As the tomato crunch is putting a strain on both households and eateries—and even Bollywood stars!—the Indian government suggested a remedy not too dissimilar from the solution implemented by border town residents.

The department of consumer affairs yesterday (July 12) directed the top bodies of agricultural and consumer cooperatives in the county to "immediately procure" tomatoes from mandis, or vegetable markets, in the high producing regions of Andhra Pradesh, Karnataka and Maharashtra for distribution in major consumption centres where retail prices have soared, like the Delhi-National Capital Region (NCR), at "discounted prices." Until now, most Delhi tomatoes have come from its northern neighbor, Himachal Pradesh, owing to its proximity.
It's not immediately clear how the government is funding the cross-country tomato transport and sales, nor is it apparent what funds, if any, are being used to guarantee lower prices once the tomatoes reach their destination.
The government expects market prices to cool down soon, anticipating new crop arrivals from the Maharashtra and Madhya Pradesh agriculture belts.
One big number: Western and southern states supply tomatoes
56%-58%: Share of all India tomato production that happens in the southern and western regions of India, which includes the states singled out by the government for tomato procurement.
Company of interest: McDonald's
Reminiscent of McDonald's downsizing fries amid Japan's potato shortage, the fast food chain dropped tomatoes from their burgers and wraps in the northern parts of India, citing shortages and quality concerns.
Westlife Foodworld, the McDonald's franchisee for more than 350 outlets in India's western and southern regions, said there were "no serious tomato-related issues."
Multiple grocery item prices are rising in India
Tomato is one Indian kitchen staple whose prices are making headlines, but it's not the only ingredient whose cost has soared as a result of supply-demand mismatch.
Ginger, chillies, and cauliflower prices are among those increasing. Spices like cumin have become more expensive than ever as growers grapple with climate change.
India, the world's largest consumer of milk, is also seeing rising dairy prices because of increased costs in feeding cows and a cattle disease.
Related stories
🧅 India is seeking help from students and startups to curb onion prices
🥚 Instead of acting like headless chickens over eggs, Indians should worry about vegetables
🍅 Why tomatoes are the exception to soaring food prices in the US