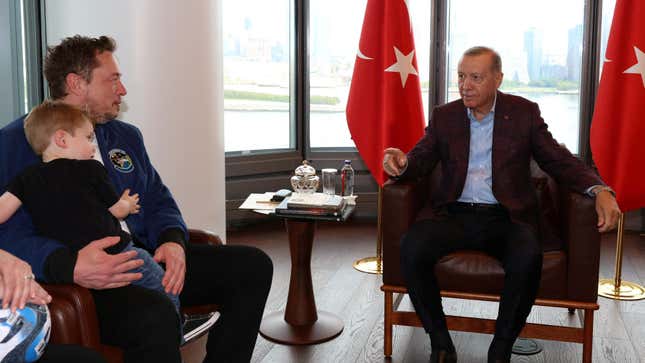 Turkish President Recep Tayyip Erdoğan asked Elon Musk to build a Tesla factory in his country during a sit-down on the sidelines of the UN General Assembly meeting in New York City.
What inspired Elon Musk's design for Tesla's Cybertruck?
But pictures of the meeting didn't show Tesla executives in attendance. Instead, Musk was accompanied by Lauren Dreyer, who directs business operations for Starlink, the satellite internet network operated by Musk's company SpaceX. Ryan Goodnight, the SpaceX executive in charge of opening up new markets for the internet service, and Omar Kunbargi, who sells SpaceX rockets, were also in the room with Erdoğan and his officials.
Judging by the official communiqué from the Turkish government, Erdoğan's request for an electric car factory came in response to Musk asking for permission to operate Starlink in Turkey. The talks highlight the complicated position that Musk, the world's richest man, finds himself in when negotiating with foreign governments who can play his various companies against each other.
The unique architecture used by Starlink—thousands of satellites circling the planet instead of remaining fixed over a single region—means that success as a business depends on signing up users across the globe. Otherwise, the expensive network loses money as it passes over regions where it doesn't have market access. Turkey, the 19th largest economy in the world and home to some 85 million people, has been one of these money-losing dark spots, and thus a prime target for Starlink for years, but thus far the company has been unable to gain permission to operate in the market. The future of the company Musk wants to take him to Mars depends on Starlink, a $10 billion bet that so far has generated much less income than the company or outside forecasters imagined.
SpaceX has a long-standing relationship with Turkey. The rocket maker has launched multiple satellites for TurkSat over the years, despite protests in 2020 from the Armenian community over the use of those satellites to support military attacks by Turkey's ally, Azerbaijan, in a long-simmering conflict with Armenia. ViaSat, a satellite operator that competes with Starlink, stopped doing business with Turkey after similar criticism. In 2022, SpaceX did launch Armenia's first satellite.
Turkey's government, though, isn't necessarily interested in expanding connectivity for its citizens. The NGO Freedom House said last year that Turkish internet users are not free due to restrictions on content and retaliation against users for online speech. Telecommunications are state-controlled, and Turkey traditionally asks foreign satellite firms to partner with TurkSat. But Starlink's network doesn't have an obvious role for the state-backed firm to play.
However, as Erdoğan's request makes clear, high-tech investment that creates jobs and raises international prestige is always sought after. With Tesla expected to announce the location of its seventh factory sometime later this year, Musk will have to weigh the interests of publicly-traded Tesla's manufacturing footprint against the market access priorities of privately-held SpaceX.
A similar dynamic has been seen by analysts in Musk's relationship with China, where Tesla's Shanghai manufacturing operation and sales of its EVs in the country influence behavior at Musk's other companies. Starlink executives have said the company will not seek access to China's tightly controlled telecom market, and Musk parrots Chinese talking points about control over Taiwan on Twitter, now dubbed X, the social media platform he purchased in 2022.
Musk has always exploited synergies between Tesla and private companies that he controls, particularly when deploying Tesla engineers to assist with materials science at SpaceX or to plunge into the codebase at Twitter. While investors have expressed concern about those conflicts, particularly in a shareholder lawsuit about Tesla's acquisition of Musk's renewable energy company SolarCity in year 2016, courts have dismissed those concerns.