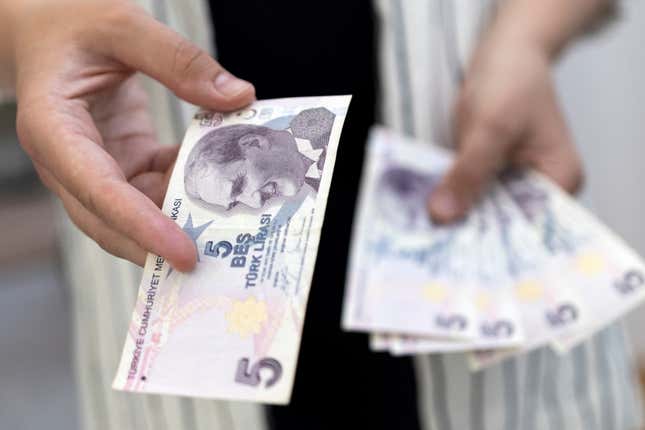 The Turkish lira slipped to a fresh record low against the US dollar today (May 30), in reaction to the re-election of the country's president Recep Tayyip Erdogan on Sunday (May 28).

The country's currency fell to 20.4 per dollar, losing more than 8% this year so far. The lira has shed 90% of its value over the past decade.
In part, the slide in the lira's value reflects a deficit of confidence on the part of foreign investors, as far as Erdogan's handling of the Turkish economy goes. Erdogan's methods thus far have included heavy handed state intervention in the market, amid ultra-low interest rates and very high inflation.
"An Erdogan win offers no comfort for any foreign investor," Hasnain Malik, head of equity research at the Dubai-based research firm Tellimer, told Bloomberg. "With very high inflation, very low interest rates, and no net foreign reserves, a painful crisis affecting all assets could be on the way."

Erdogan, who has been at Turkey's helm for the last 20 years and has been criticized for his increasingly authoritarian rule, won another five-year term after an electoral run-off on Sunday. Economists believe that a continuation of his policies will result in an acute currency crisis in the country.
A perilous path for the Turkish lira
The troubles for Turkish currency do not seem to have an end in sight.
Earlier this month, the foreign currency reserves held by Turkey's central bank ran into negative territory for the first time since 2002, sinking to -$151.3 million as of May 19, according to the official data.

Analysts believe the depletion in forex reserves was due to futile efforts by authorities to stabilize the falling lira. To curb sharp depreciations in its currency, a country's central bank can sell dollars from its reserves. The Turkish central bank has been doing just this, depleting its reserves in the process. But as its coffers run lower and lower, resorting to this tactic to boost the lira becomes more and more difficult.

Ahead of the election results, several companies reportedly rushed to stock up on foreign currency, expecting a further slump in the Turkish lira. The demand for dollars stood at a record high, Reuters reported.
Turkey's looming balance of payments crisis

"Without a change in policy direction, Turkey is heading towards a more extreme balance-of-payments crisis with a rising likelihood of tighter capital controls," Roger Mark, an analyst at the UK-based investment management firm Ninety One, told Reuters. According to Mark, Turkey may forcibly convert citizens' dollar reserves into lira, and Turkish borrowers may begin defaulting on their external obligations.
Morgan Stanley expects the lira to slide further to 28 per dollar by the end of 2023 if Erdogan does not pivot his economic policies. Wells Fargo predicts the currency to hit 23 by the end of June.
On the other hand, Turkish stocks rose, with the benchmark BIST 100 index rising by 3.2% and the banking index by 8.4%. Turkish investors have turned to the stock market for refuge amid soaring inflation and a severe cost-of-living crisis.