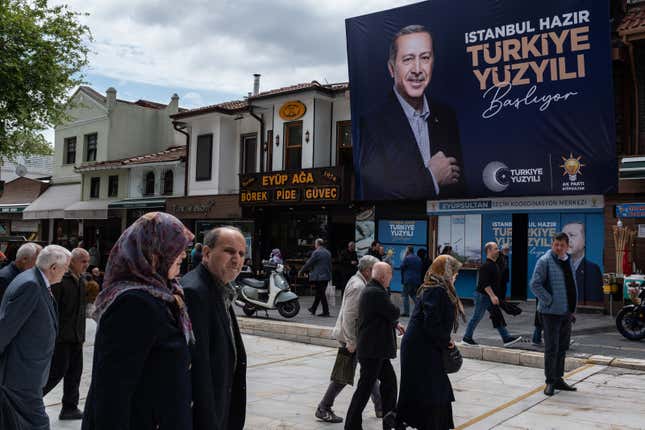 Turkish president Recep Tayyip Erdoğan is losing in the most recent polling for the first round of the presidential election this Sunday (May 14), with broad implications for Turkey's role in the North Atlantic Treaty Organization (NATO) and the Ukraine war at stake.
How HubSpot created a "Connect Four" program
Kemal Kilicdaroglu, the candidate for the main opposition party, is polling at 49.3%, more than five points ahead of Erdoğan's 43.7%.
His bid was recently bolstered by the last-minute withdrawal of candidate Muharrem Ince on Thursday (May 11). Despite only polling at 2.2%, support from Ince's base could help push Kilicdaroglu over the 50% benchmark needed to avoid a runoff election.
If no candidate reaches 50% of the vote this weekend, a runoff election between the two candidates with the largest shares of the vote will occur on May 28.
Who is Kilicdaroglu, Erdoğan's main challenger?
Kilicdaroglu—the standard-bearer for the Republican People's Party—has been Erdoğan's main opposition since 2010. He is currently running as the leader of a six-party coalition and is considered the best chance to unseat Erdoğan after more than 20 years in power (11 as prime minister and nine as president).
A noted reformer, Kilicdaroglu has pledged to strengthen Turkey's ties to the NATO and reopen the country's application to join the European Union, and has portrayed his campaign as important for "Western civilization."
He has also confirmed that if elected, he would follow NATO when it comes to sanctioning Russian economic interests, following the lead of the US and European allies, amid the Russian invasion of Ukraine.
Although Kilicdaroglu has committed to maintaining Turkish investments in Russia, his election would further isolate Moscow. It could also pave the way for Sweden to join NATO, something Erdoğan has prevented, citing the country's support for Kurdish protestors that vocally oppose the current Turkish government.
Turkish markets rally on Erdoğan's polling dip
The main Istanbul stock index was up 8 points at the close of market on Thursday (May 11), after Ince's departure raised hopes that Kilicdaroglu could prevail in the election's first round.
Erdoğan has presided over years of unpopular fiscal policies, including slashing interest rates amid record inflation and tightly controlling the exchange rate of Turkey's lira.
According to a report by Bloomberg News, foreign investors have halved their holdings in Turkish equities in the past five years, and own less than 1% of lira-denominated government bonds, demonstrating how Erdoğan's policies have spooked international financiers.
Conversely, Kilicdaroglu has promised to not interfere with an appointed central bank chief and roughly follow the interest rate policies of Western allies.
Related stories: