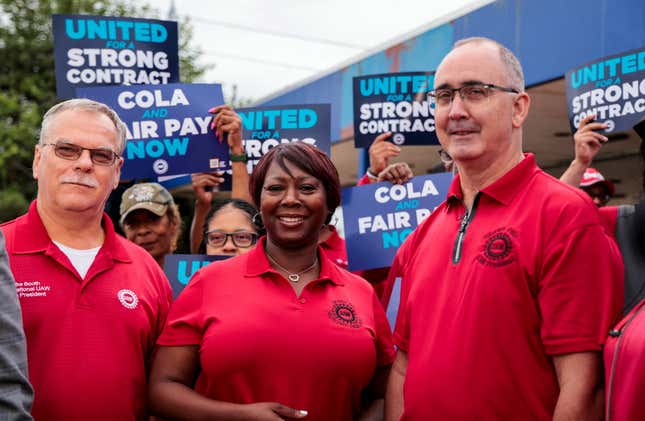 The United Auto Workers (UAW) union is preparing to up the ante in its contract negotiations with the "Big Three" automakers—Ford, GM, and Stellantis—and will vote next week on authorizing strikes against the Detroit trio.

Why a tightening of credit conditions could lead to a weak economy
UAW president Shawn Fain said over a Facebook livestream yesterday (Aug. 15) that discussions at the bargaining table have been "too slow," and that "the clock is ticking." The union's contracts with the automakers are set to expire at 11:59 p.m. on Sept. 14.
"Today marks 30 days until our contract expires, and yet we're still bargaining over non-economics at all three companies. That's unacceptable," said Fain. "The Big Three need to get serious, and they need to get down to business."
Fain told local union offices to report the results of their votes by Aug. 24. Voting to authorize strikes is a standard practice during contract negotiations, and grants union leadership the ability to call for a labor stoppage, though it is not guaranteed to happen. Usually members overwhelmingly vote in favor of strike authorization, an outcome that Fain encouraged during the livestream: "We're done taking their crap and the scraps they want to feed us."
The UAW has about 150,000 members. Quartz contacted Ford, GM, and Stellantis for comment.
A list of the UAW's 2023 contract demands
46% wage increase over four years
32-hour work week paid at 40 hours
Elimination of tiers on wages and benefits
Pensions and healthcare coverage for all retirees
Significant increase in retiree pay
Restoration of cost-of-living adjustments (COLA)
Right to strike over plant closures
Working families protection program
Ending abuse of temp workers
More paid time off
The UAW and Big Three leadership are butting heads
Stellantis COO Mark Stewart criticized the UAW's demands in a letter sent to employees on Aug. 11, as Reuters reported, calling the terms a "losing proposition" and that an agreement should be based on "economic realism."
A few days prior, on Aug. 8, Fain had tossed Stellantis's proposal in a trash can during a livestream, stating that the company intended to cut healthcare coverage and employer contributions to retirement funds, among other provisions. "Management has chosen to spit in our faces," Fain said.
The union accused the Big Three of pocketing billions in profits to enrich upper management and investors, rather than support workers. Fain cited in his Aug. 15 livestream that the companies made $250 billion in profits in North America in the past decade, and brought in $21 billion in the first half of 2023.
Detroit automakers have pushed back, saying the UAW's demands are financially unfeasible and would hurt their competitiveness. "The breadth and scope of the Presidential Demands, at face value, would threaten our ability to do what's right for the long-term benefit of the team," said Ford in a statement on its website dedicated to the 2023 negotiations.
According to people familiar with the automakers' estimates, quoted in Bloomberg, the UAW's proposal would lead to labor costs tripling to about $150 per hour, and by $80 billion overall. The UAW remains unphased. "Big Three CEOs saw their pay spike 40% on average over the last four years," Fain said on an Aug. 1 Facebook livestream. "We know our members are worth the same and more."
One big thing: The transition to EVs is a point of conflict
The auto industry's transition to electric vehicles is proving a sticking point in this year's negotiations. Firms, including the Big Three, have poured billions into cleaner technology. Meanwhile, the UAW remains wary that workers will lose out in the process.
The UAW has demanded that workers in joint venture battery plants be granted the same benefits and protections as other autoworkers, and criticized the Biden administration for subsidizing non-unionized plants. President Joe Biden, caught between the two parties, has tried to maintain a balanced message.
"The middle class built America, and unions built the middle class. The need to transition to a clean energy economy should provide a win‑win opportunity for auto companies and unionized workers," Biden said in a White House statement released Aug. 14. While some labor unions have already endorsed a Biden 2024 reelection bid, the UAW has yet to do the same.
Related stories
🚚 Everyone wants to be a UPS driver now
🪧 Food service workers at T-Mobile Arena in Las Vegas are demanding a new contract after nearly a year of negotiations
🎥 The Marvel universe has new avengers: Visual effects workers want to unionize