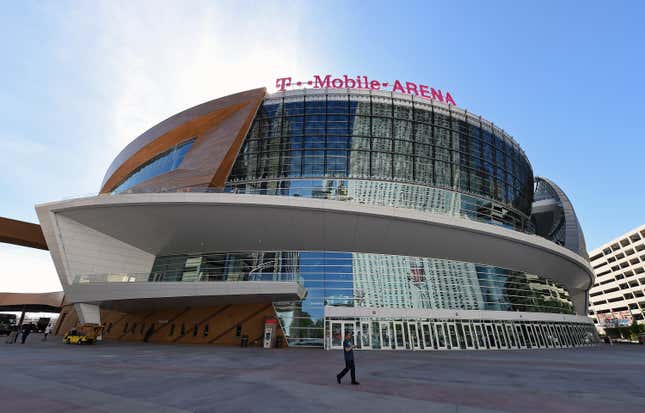 Food service workers at the T-Mobile Arena in Las Vegas announced plans to protest stagnant wages on the Las Vegas strip on Thursday (Aug. 10), after almost a year without a contract from the hospitality company Levy Restaurants.
Why a tightening of credit conditions could lead to a weak economy
Two weeks ago, the roughly 200 workers—represented by the Culinary Workers Union of Nevada—overwhelmingly voted to authorize a strike if a new contract is not reached in the near future.
"Workers are negotiating for fair wage increases, health care and pension benefit protections, seniority, opportunity to work in other venues, faster resolution to grievances, and so that one job is enough to provide for their families," the Culinary Union, which represents 60,000 workers in Nevada, wrote in a press release announcing the labor action.
The employees are part of the extensive hospitality staff at the T-Mobile arena, a new stadium that was opened in 2016 as a home for the Vegas Golden Knights, Nevada's professional hockey team. It is co-owned by hotel conglomerate MGM Resorts International and sports entertainment giant Anschutz Entertainment Group.
A press representative for Levy Restaurants said that the hospitality company was committed to reaching an agreement with its employees.
"We are discouraged that UNITE HERE Local 226 / 165 has chosen to take this action now, as we have been at the bargaining table with the Union over the past several months, and we have shared how eager we are to continue those discussions," the company spokesperson said in an email to Quartz. 
"We remain committed to working diligently with the Union to reach a fair agreement that shows our team members how much we value them."
The union confirmed that workers were taking steps to prepare for a strike, including making picket signs and signing up for strike benefits. As of yet, no date for a strike has been set, as negotiations with Levy are ongoing.
Screenwriters announce new negotiations with Hollywood studios
As workers in Las Vegas prepare for the possibility of strike, one of the most visible labor campaigns in recent memory enters a new phase. The Writers Guild of America has announced new negotiations with Hollywood studios beginning on Friday (Aug. 11), after 101 days of striking. The union informed its members that it is resuming talks with the Alliance of Motion Picture and Television Producers (AMPTP) in a union-wide email.
"We expect the AMPTP to provide responses to WGA proposals," the WGA wrote. Our committee returns to the bargaining table ready to make a fair deal, knowing the unified WGA membership stands behind us and buoyed by the ongoing support of our union allies. We will get back to you."
The decision to return to the bargaining table comes amid a major work stoppage in the entertainment industry, with the Screen Actors Guild (SAG) going on strike on July 14. The simultaneous strikes have brought virtually all scripted production in the US to a stop.
Editorial note: The author of this story is a member of WGA East. Unionized journalists are not currently on strike.
(8/11, 8:30am): The story was updated with a comment from Levy Restaurants.
Related stories:
📧 Everyone wants to be a UPS driver now
🎭 Broadway actors narrowly avoided a strike after workers reached a deal with producers