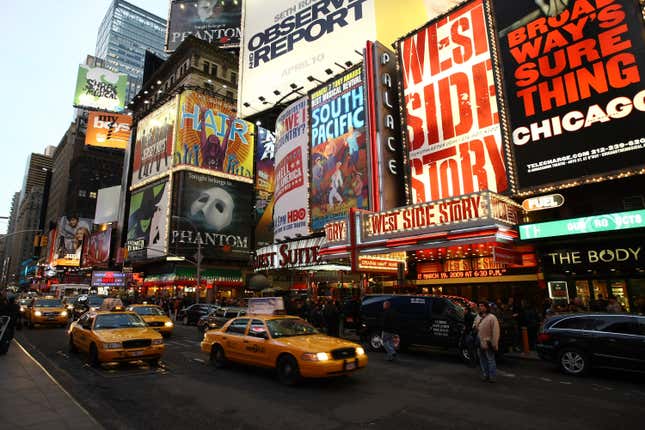 A preliminary deal was struck between a union representing theater workers on Broadway and a number of organizations representing management—including Disney theatrical, a major subsidiary of the media conglomerate—on Thursday (July 20). The agreement helped avert a looming strike that would have paralyzed an industry already facing a sharp increase in labor activity, including two major strikes by Hollywood writers and actors
Should you keep investing in Big Tech?
The deal was reached less than a day before the union planned to walk off the job, shutting down 28 major shows in New York and a handful of touring performances around the country. The deal needs to be ratified by union membership before the risk of a strike is over.
The International Alliance of Theatrical Stage Employees (IATSE), which represents backstage employees like costume designers and set hands, first proposed the strike to improve wages and working conditions. The preliminary deal reportedly includes employer-provided healthcare and guaranteed housing for actors on the road.
The Broadway League—the trade organization negotiating on behalf of management—issued a joint statement with the IATSE announcing the deal, and said the organizations would "inform their members of the details of this agreement in the coming days."
A summer of strikes? It's not just Hollywood
A strike by the IATSE would have been the latest in a series of labor actions roiling the entertainment industry, with unionized Hollywood actors joining screenwriters on strike last week.
All told, more than 75,000 industry workers—represented by the Writers Guild of America (WGA), the Screen Actors Guild (SAG), and the American Federation of Television and Radio Artists (AFTRA)—have walked out over diminished wages, lowly residuals from streaming platforms, and attempts by studios to use artificial intelligence to steal their likeness.
It's not just the entertainment industry. According to a Bloomberg News analysis, 650,000 American workers are either on strike or threatening to go on strike this summer, marking the busiest summer for unions in decades.
Most of that mind-boggling figure stems from the looming nationwide strike by the United Parcel System (UPS), which—with more than 340,000 workers—would be the largest strike in US history. Over 97% of rank-and-file UPS workers, represented by the Teamsters, voted to authorize a strike in June, giving ongoing negotiations a deadline of July 31.
Additionally, the United Auto Workers (UAW) threatened a strike against the three largest American automakers—Ford, General Motors, and Stellantis—after negotiations broke down between management and more than 150,000 unionized employees. The conflict stems from the automaker's broad plans to lay off employees, despite all three companies reporting profits in the first quarter of this year.
Editorial note: The author of this story is a member of WGA East. Unionized journalists are not currently on strike.
Related stories:
🎥 Hollywood actors are now on strike
📧 UPS workers resumed practicing for a strike after negotiations broke down