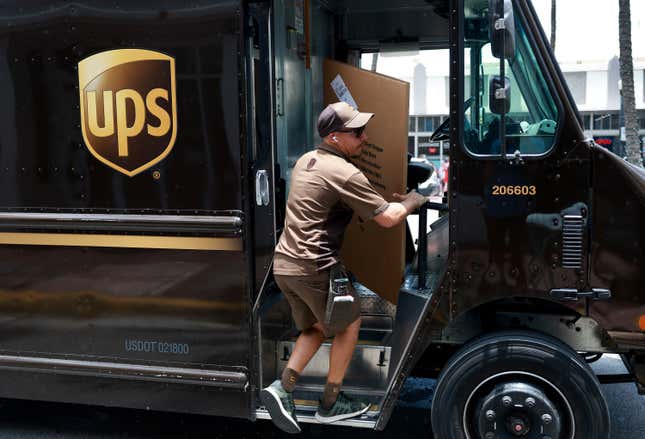 UPS workers in Gardena, California, were picketing yesterday (July 6)—but the strike hasn't started yet. It's a practice protest. Teamsters, the union representing over 340,000 United Parcel Service (UPS) workers whose contract is due to expire on July 31, is in a deadlock with the shipping and delivery service. They want to send a message to UPS that they're not making empty threats—they're ready to start what would be the largest single-employer strike in US history.
Should you buy McDonald's and Caterpillar stock right now?
Last week, there was a mock strike in another California warehouse, in downtown LA. Workers in Longview, Texas kicked off the ritual of practice protests on June 27. Besides sending a message to the company, practice strikes are a way to teach workers how to behave on the picket line.
"All locals representing UPS members should be participating in or organizing practice pickets at UPS facilities now," according to the Teamsters website, which also says "Practice picket signs and rally signs have been shipped to all UPS locals, alongside tubes for mounting picket signs."
The union, which is fighting for better wages, working conditions, and protection from harassment, says that UPS walked away from the bargaining table after presenting an unacceptable offer" at 4am on July 5. It has no further negotiations planned.
UPS, meanwhile, pointed the finger back at Teamsters, urging the union to return to the bargaining table. "Refusing to negotiate, especially when the finish line is in sight, creates significant unease among employees and customers and threatens to disrupt the US economy," UPS said in its statement yesterday (July 5).
With no ceasefire or resolution in sight, a nationwide work stoppage is looming. Over 97% rank-and-file UPS Teamsters voted to authorize a strike in June. The strike was expected to happen at the end of last month, but UPS came up with an amended counteroffer with "significant movement on pay and other economic language" at the last minute.
A UPS strike would have dire consequences, delaying delivery of goods, raising prices of products and shipping, and breaking down an already ailing supply chain further.
UPS, by the digits
6%: Share of the US gross domestic product UPS moves in its trucks every day
18.17 million: Domestic packages UPS handles each day.
80 days: How long negotiations on a national contract have been underway for. They started on April 17. It's unlikely there's enough time to agree on and ratify a new contract
15 days: The length of the last widespread UPS Teamsters strike in 1997, which involved more than 185,000 workers, leading to losses amounting to $850 million. "The strike hobbled package deliveries around the nation, cutting UPS' volume to less than 10% of normal and nearly overloading the post office and Federal Express," according to an August 1997 New York Times report
$13.1 billion: UPS's operating profit last year
18,672: Total average daily package volume in the quarter ended Mar. 30, 2023, down from 19,741 a year ago, as a result of "challenging macroeconomic conditions, including high inflation, declines in US manufacturing production and changes in consumer spending." The company anticipates volumes to continue declining for the rest of the year
$39: The maximum hourly wage for full-time UPS drivers, the higher tier in the dual wage system
$5: Difference in hourly pay between part-time drivers make hourly compared to full-time drivers
$346 million: Teamsters strike fund size—the amount of money that can be used to pay workers who are members of a trade union if they are on strike—which'll be exhausted within three weeks of a strike starting, according to strike risk analysis from Deutsche Bank
Quotable: UPS workers want a better offer
This multibillion-dollar corporation has plenty to give American workers — they just don't want to. UPS had a choice to make, and they have clearly chosen to go down the wrong road. —Teamsters General President Sean M. O'Brien in a July 5 statement
A non-exhaustive list of what UPS and its workers have already agreed on
🚚 Among the noneconomic issues the company and the unionized workers see eye-to-eye on is giving drivers 24 hours notice before a supervisor ride along.
🥵 Along the same lines, UPS finally agreed to install heat shields and put fans in old trucks, and have air conditioning fitted in trucks bought from Jan. 1, 2024, after social media posts by drivers toiling in temperatures of 120°F (48°C) went viral on social media PS workers.
💸 The company's controversial dual wage system will be scrapped. Part-time drivers who do not work traditional Monday-Friday shifts will be reclassified as part of the regular workforce and have their pay adjusted as per seniority.
⏳UPS will end a mandatory overtime policy for unscheduled days…
😌 …and acknowledge Martin Luther King Jr. Day as a paid holiday.
One more thing: FedEx is ready to plug the UPS gap
As talks broke down between UPS and its workers, FedEx swooped in with some self-serving advice on July 6: "Shippers who are considering shifting volume to FedEx, or are currently in discussions with the company to open a new account, are encouraged to begin shipping with FedEx now."
Reading between the lines, FedEx is urging customers to ditch UPS before the likely disruption. It even explicity claimed its ground service "is faster to more locations than UPS Ground."
But not everyone is positive a UPS workers' strike would benefit the company's competitors. Mike Parra, who was at DHL in 1997 during the last 15-day Teamsters strike and is currently the Americas chief at DHL Express, recalled that period as "horrific." He told Freightwaves no one company can fill the UPS-sized logistics hole and, whichever business gains occur from the strike, they don't last. "We got flooded with volume, and on Day 16 all of that business went back to UPS. It impacted our loyal customers that have been there with us," he said.
Related stories
🥵 UPS drivers are collapsing from heat exhaustion—and bringing it to the bargaining table
📦 Amazon now delivers more US packages than FedEx
🇨🇳 China wants its homegrown logistics giants to take on FedEx and UPS