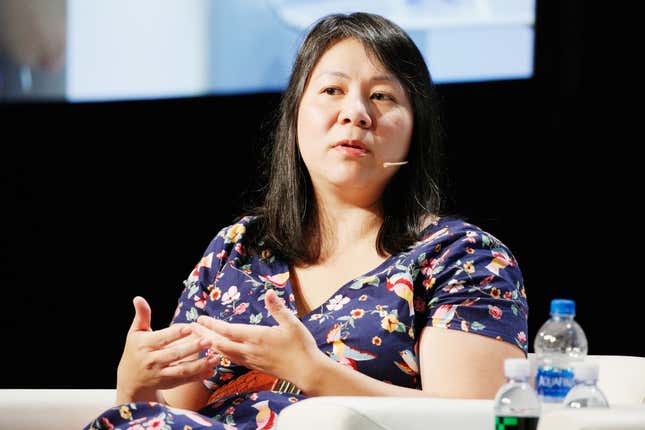 Bo Young Lee, Uber's chief of diversity, equity, and inclusion (DEI), has been suspended after hosting an event about "the spectrum of the American white woman's experience." Employees of color escalated complaints about the event after finding it racially insensitive.

The New York Times reported that the DEI chief is on a leave of absence, as confirmed by an Uber spokesperson on Sunday (May 21).
Lee, who has worked at Uber since 2018, hosted two events titled "Don't Call Me Karen," one in April and one last week, the New York Times reported. The events were part of a series titled "Moving Forward," that Uber started in 2020 amid the Black Lives Matter protests, according to the Times.
The latest "Don't Call Me Karen" event was intended to be an "open and honest conversation about race," according to an internal event announcement obtained and posted on Twitter by Richard Hanania, president of conservative organization Center for the Study of Partisanship and Ideology.
But employees of color did not find it the case. "It was more of a lecture—I felt like I was being scolded for the entirety of that meeting," said one Uber employee in a Slack message exchange posted by Hanania to Twitter.
Following complaints, CEO Dara Khosrowshahi and chief people officer Nikki Krishnamurthy asked Lee to go on leave while they "determine next steps."
"We have heard that many of you are in pain and upset by yesterday's Moving Forward session," an email from Krishnamurthy to Uber employees states, according to a screenshot uploaded to Twitter. "While it was meant to be a dialogue, it's obvious that those attended did not feel heard."
Quartz contacted Uber for comment on the events and suspension.
What does "Karen" mean?
"Karen" is a popular culture term that has gone viral in recent years as a way to call out racist and entitled behavior by white women, especially in public.
The meme especially went viral through videos showing white women calling the police or management on minorities. An incident that took place in New York City's Central Park has become emblematic of the phenomenon.
In 2020, a white woman named Amy Cooper called the police on a black man named Christian Cooper (no relation), stating "there's an African-American man threatening my life," after he asked her to put her dog on a leash in an area of the park that requires leashes.
The video was uploaded to social media and spread across the internet, sparking widespread condemnation and outrage.
Related stories
🏋️ Workplace diversity is under attack: Here's how employers should respond
🟰 There IS a road to parity for women in tech
👐 3 tactics your company can use to support employee well-being